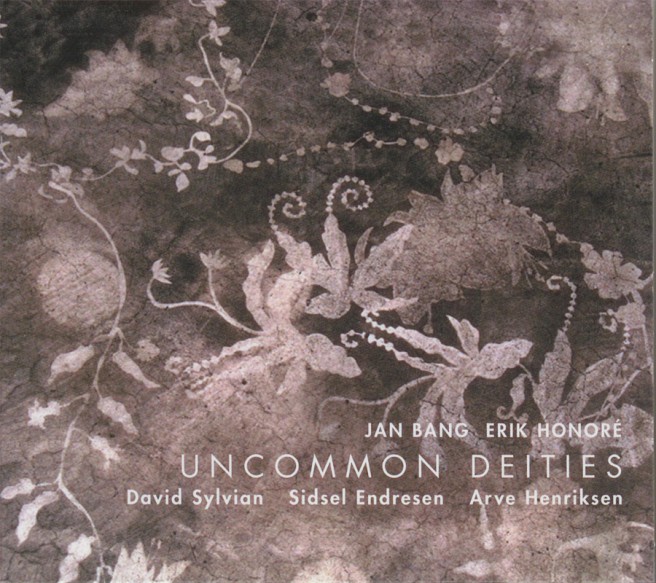 Released at September 24, 2012
(p) & (c)2012 samadhisound IIc.The copyright in these sound recordings is owned by david sylvian under exclusive licence to samadhisound iic.
Concept based on the audio-visual installation "Uncommon Deities" by David Sylvian, commissioned by the Punkt Festival.
Presented in a 6 panel digipack (with a matte laminate finish) featuring artwork by Hannah Bertram, the standard edition CD comes with a credit sheet folded and inserted into the digipack itself. This is limited to a pressing of 3000 units.
Uncommon Deities, a reinvention of David Sylvian's audiovisual installation, produced by Jan Bang and Erik Honoré and featuring  performances by David Sylvian, Arve Henriksen and Sidsel Endresen.
David Sylvian:
Uncommon Deities is a release by Jan Bang and Erik Honoré based on my stint at the Punkt festival of last year. The work is built around my readings of poems, especially commissioned for the Uncommon Deities installation, by the celebrated Norwegian poets Paal-Helge Haugen and Nils Christian Moe-Repstad, along with samples taken from the numerous performances that littered that wonderful three day event. It also features contributions from two of my most favoured musicians; Arve Henriksen and Sidsel Endresen.
Credits
Produced by Erik Honoré.
Recorded and mixed by Jan Bang and Erik Honoré at Punkt Studio, Kristiansand
Edited by Erik Honoré at the Green Room, Oslo
Live recordings by Arnaud Mercier, Thomas Tharaldsen ( Kristiansand) and Johnny Skalleberg (Tallinn)
Voice recorded by David Sylvian at Samadhisound
Mastered by Helge Sten at Audio Virus Lab, Oslo
Art direction – David Sylvian
Design – Chris Bigg
Artwork – Hannah Bertram, Now they are gone, I hold them (2009) Ash from Australian bush fires and rain water on gallery floor. More of Hannah Bertrams imagery can be found in the deluxe A5 Book version of Uncommon Deities.
Thanks to Yuka Fujii, Atsushi Fukui, Adrian Molloy, Helena Tulve, Madli-Liis Parts, Greta Aagre, staff and volunteers at the Punkt Festival
From samadhisound.com:
At last falls Punkt Festivalone of the worlds premiere get-togethers of improvising and adventurous musiciansthe Srlandets Kunstmuseum in Kristiansand, Norway played host to Uncommon Deities, an unusual confluence of talents and media. Walking into the gallery's large space, visitors were greeted by a series of paintings by Atsushi Fukui that culminated in the striking, hermaphroditic figure in The Botanist. An audio installation by David Sylvian filled the space, and the opening night celebration brought poets and musicians into the mix: the acclaimed Norwegian poets Paal-Helge Haugen and Nils Christian Moe Repstad read alongside Evan Parker and Arve Henriksen, and their works were read in English by Sylvian, whose recorded voice was accompanied by John Tilbury, Philip Jeck, and Sidsel Endresen.
The CD release of Uncommon Deities isn't a document of the installation, but a reinvention: the poems and Sylvian's readings are placed in new settings by Jan Bang and Erik Honoré. The cofounders of the Punkt festival and close collaborators on the original installation, Bang and Honoré draw on new performances by the deeply sympathetic trumpeter Arve Henriksen and the startling, elemental singer Sidsel Endresen. These improvisations join live material captured at last years Punkt events, in a production thats spacious and atmospheric, somber and escapist, light-hearted and steeped in historya recording as rich as the ancestry of the work that inspired it.
Uncommon Deities grew out of an earlier installation. In 2009, Sylvian was commissioned to create a work for the Biennial of Canaries on Gran Canaria of the Canary Islands. He collaborated with composer Dai Fujikura and a small ensemble on the resulting audio installation When we return you wont recognize us. The piece was inspired by a 2003 genetics research article focusing on the Canary Islands, which discovered that despite Spanish colonization and the slave trade, fully half to three-quarters of the population retains its aboriginal genetic lineage. Sylvian explains, My interest lay in the connection between the physical or scientific reality of our biological make-up, the links to lineage (genetic genealogy), location and, to move beyond the realm of science into intuitive logic, the interior life of a community or people. An implied cultural heritage.
Ahead of Punkt 11, where he served as Artist in Residence, Sylvian was invited to reinstall the work at a Kristiansand art museum. It occurred to me that, rather than recreate the audio installation as was, why not expand upon the concept of the work by inviting [Atsushi] Fukui to be a part of the piece, adding a much-desired visual element, and invite performers to participate in the installation, be they writers, poets, musicians , recalls Sylvian. There was room for all of these elements to interact without a sense of too many cooks, without a loss of the impetus that brought the original audio piece into existence.
For the visual element, I requested that Fukui recreate The Botanist on the wall of the museum and that wed work with a lighting designer, one with whom Id worked with previously on past touring projects, to augment the work. On the surrounding walls Fukui created 30 original works, like frames from a Japanese manga comic, that expanded upon the story of The Botanist but not in a linear or narrative sense.  Were talking archetypes and creation myth.
Bang and Honoré recruited two Norwegian poets and long-time Punkt participants. Paal-Helge Haugens inspiration came straight from the  title. The bulk of this recording features his portraits of small deitiesthe god of sleeplessness, the god of smaller gods. Says Paal-Helge Haugen, About twenty years ago, I met the great Italian writer Antonio Tabucchi for the first time, recalls Haugen. During our first conversation, we talked about a lot of things, and Antonio proposed, in a jokingly-earnest way, that we should join forces and write an encyclopedia of unknown gods and other celestial beings. As it  turned out, we never undertook such a venture, but the idea never quite left any of us.
As soon as I heard Davids title Uncommon Deities that must have touched on the old idea of Antonios. From there everything evolved.  Of course I had to make a small selection of all the hidden and forgotten gods that go unnoticed by us in our mundane existence. To choose which gods to include was the difficult part. There are lots of them. Some of them I regret not being able to document. That would have been a weeks continual performance. At least.
Its always been my goal that text and music shall be turned into some kind of symbiosis. Not that you're going to have a text or a poem accompanied by music or vice versa, its always been very important for me that text and music sort of blend together, says Nils Christian Moe Repstad, whose text is heard in the final track, I Swallowed Earth For This.
Says Bang, The poems and Davids reading were the guidelines for gathering the material to what has become a set of miniatures. The final recording intersperses the readings with solo improvisations by Arve Henriksen and Sidsel Endresen, while the bedrock of each track includes material sampled from Punkt performances recorded last year in Kristiansand and Tallinn. Many of the musicians Sylvian selected for Punkt 11 appear on his album Manafon, as well as Died in the Wool, which features Bang and Honors signature sampling and production techniques and listeners will hear a thread through all three albums, as well as new risks and inventions. While some of the backdrops are vanishingly ambient, others are rich with fragments snatched from an improvisation and given new aims: a burble of chip tunes are joined by an upright bass; jolts of strings from a piece by Dai Fujikura dance against a heart-rending utterance by Endresen.
This record isn't a snapshot of the installation, or a collage of the festival; its a wholly new work, melding disparate pieces into a gorgeous, absorbing experience. The crossing of boundaries of language, form, performance practice, and recording strategy is a manifestation of the ideas that have infused the piece from the start. Says Sylvian, The Botanist is an archetype. Im reminded of Ramana Maharshi, of his embodiment of the male and the female energies and their manifestation in the physical nature of his being. We embody both the male and the female energies within us. These are obviously multidimensional, subtle and extremely complex. Different aspects of our nature and behavior can be influenced by the precedence given to any one particular energy, or confluence of these energies, as they manifest themselves in us, at any given point in time. I am not one but many and we are not many but one.
Uncommon Deities, the new album of Jan Bang and Erik Honore w/ David Sylvian, Sidsel Endresen, Arve Henriksen a.o. (a short review)
(by Michael Engelbrecht, October 1st, 2012)
Poetry and music always gets mixed reviews, because there are always critics who call such things high brow. A singer has to sing, not recite poems. Bullshit. The poems by two Norwegian lyricists are sensual explorations and mythical fantasies about the lifes of absent gods. A spiritual journey that will even please hard core atheists. Sidsel Endresen is the singer here. She never sings conventional language. But a careful listener will detect more torch and passion in her performance than in any well-mannered, recycled love song. The landscape created by the musicians adds to the lyrics, opens door after door. The voice of Sylvian is in the center, calm and concentrated, telling stories about twilight worlds of power, well, the loss of power, and alienation. And it is a voice that knows when to leave the stage for the spirits around him. Five stars. Look for the home page of samadhisound!
Gallery
Tracklist