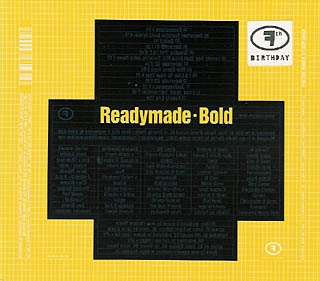 Released at May 28, 2001
F-Communications 137-0138-020
Album of Readymade FC, featuring David on Sugerfuel
Tracklist:
Funiculaire 5'55"
Sugarfuel featuring David Sylvian 4'18"
Bold 5'58"
Interlude 01 1'28"
Breathe 'part 1 & 2' 6'41"
Lonely Boy 'Hard Bossa Mix' featuring Juice Aleem 4'07"
Interlude 02 0'54"
Mid-Class Hero 5'04"
I'd Like To Hear This 6'31"
Interlude 03 1'15"
Jailhouserock 5'10"
Eden 'Apple' (edit version) 7'00
Family Life 1'04
The package is pretty plain. Jewel case with outer card sleeve. It credits David for vocals on track 2 and states that he appears courtesy of Virgin Records Ltd. It also states that Sugarfuel was recorded at Synergy Studios, Napa (CA) and that it was engineered by David Kent.
Very, very good album!
Gallery
Tracklist