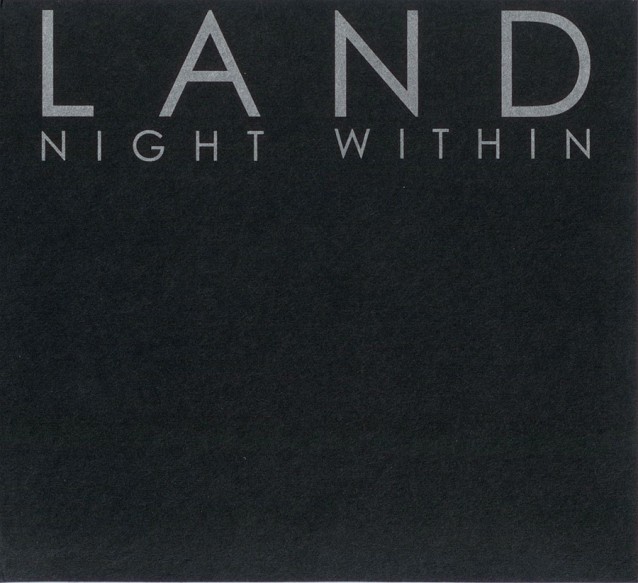 Released at September 7, 2012
Copyright Control LAND 2012.
David contributes on the first track of this album.
Packed in a black 2 panel cardboard sleeve.
Guest contributions include David Sylvian, Daniel O'Sullivan (Miracle and Ulver), Duke Garwood and many others with the two creators, Daniel  Lea and Matthew Waters, both taking a directorial role. The album was sculpted in Reykjavik by Ben Frost, enhanced by his signature aural physicality and visceral sub bass. The album is a vast collision of sound, from free brass and woodwind to "geometric" bowed cymbals and metallic percussion.
But more than simply music, the multidisciplinary L A N D draw on and evoke a wide range of art forms. They describe this work as, "approaching an apocalyptic noir narrative," and Night Within, despite its slate visual appeal which recalls the grey paintings of Gerhard Richter, thematically points towards a world occupied by the early postmodern detective stories of Paul Auster and the urban neon dislocation of Taxi Driver with its existential protagonist roaming the city alone late at night.
"This is easily one of the most intriguing and enigmatic debuts to surface this year, as two musicians that I am completely unfamiliar with have managed to assemble a killer noir jazz ensemble and enlist collaborators as impressive as Ben Frost and David Sylvian." Brainwashed
"Lea and Waters have, through a combination of a clear vision plus pure physicality, created a project where music creates its own universe, instead of simply accompanying it." SSG Music
"It's the best record I've heard in a long time: the debut by L A N D Night Within" Anobium
"The music is telling its own story, sneaking intersensorially into the visual to hijack fluttering eyelids and instill its own sinister narrative." Tiny Mix Tapes
Composed and produced by Daniel Lea & Matthew Waters.
Mixed by Ben Frost at Greenhouse Studios, Reykjavik
Mastered by Christian Wright at Abbey Road Studios, London
All material Copyright Control LAND 2012.
Nothing Is Happening Everywhere:
Vocals by David Sylvian
Recorded at Samadhisound
Music by Daniel Lea & MAtthew Waters
Lyrics by David Sylvian
Published by Samadhisound Publishing/Campbell Connely & Co Ltd./Copyright Control
Credits
Paul Cook: Drums & Percussion
Matthew Cousins: Bass & Percussion
Tom Farmer: Double Bass
Dom Garwood: Clarinet
Duke Garwood: Saxophone & Alto Clarinet
Jamie McCarthy: Strings & Piano
Daniel O'Sullivan: Piano
David Sylvian: Vocals
Alexander Tucker: Bowed Mandolin
Richard Turner: Trumpet
In memoriam of Richard Turner R.I.P.
Tracklist
1. Nothing Is Happening Everywhere
2. Into The Blue
3. Stillman
4. Nighthawks
5. Cosmopolis
6. Hotel Room
7. Cold Desire
Gallery
Tracklist