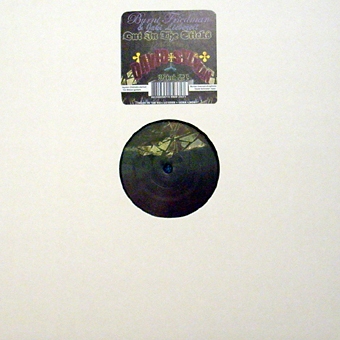 Released at May 17, 2005
Features different version of The Librarian and a track that is a version of The Day Earth Stole Heaven
Tracklisting:
A1 Out In The Sticks 11:00
B1 The Librarian 8:40
B2 182/9 3:45
Released on vinyl only. Comes in a generic 12″ cover with a full color sticker.
All tracks are different to previously or published versions. Track A1 was also just called "The Sticks", Track B2 is a different version of "The Day Earth Stole Heaven" and of "Sikkerhed"
Labelprints:
Side A: "Woods"
Side B: "Love Love Love"
Since their first collaborative album "Secret Rhythms" came out on Nonplace in 2002, Friedman & Liebezeit have been playing live all over the world, improving cyclic grooves and creating new ones. Paradoxically, their rhythms are difficult to grasp but easy to listen to. The 3 exclusive tracks for this vinyl only mini LP casually manoeuvre round the jagged rocks of "four-four time".
Jaki Liebezeits signature drum-mantra is etched into the vinyl of the coolest moments of rock history, and the potency of his distinctive style is barely diminished since his legendary moments in the early 70s.
Burnt Friedman has again conspired with the upper echelons of the musically interesting, this time teaming up with David Sylvian.
During the process of remixing 2 of David Sylvians "Blemish" album tracks, both producers decided to start a new, ongoing project. Nonplace is proud to present their first collaborative piece, "The Librarian", featuring David Sylvian as vocalist.
In addition to Friedman and Liebezeit, guitarist Tim Motzer weaves funky touches all the way through. He has resided in Philadelphia, U.S. since 1985and ha s been busy working with a virtual who's who of Philadelphia artists over the years including recordings and world tours with poetess Ursula Rucker, King Britt and the French duo Les Nubians.
Lined up for the groups live appearances is Hayden Chisholm. Originating from New Zealand, he studied in Germany and India and has since performed all over the world. His compositions have been recorded by BBC and by WDR radio and has an instrumentalist he has released several albums. He currently plays with Pluramon as well as creating the music for several of Rebecca Horn's recent installations. He contributed all horn melodies to this mini LP. Other guest musicians are Morten Grønvad, vibraharp and Daniel Schroeter, electric bass guitar.
You can also order the record at samadhisound, go to http://www.samadhisound.com, and click on SHOP below and then click on VINYL.
Gallery
Tracklist