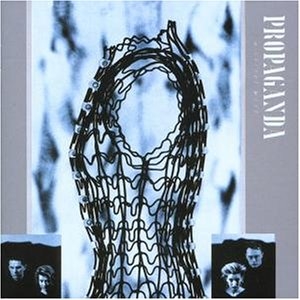 Released at June 17, 2002
1994 ZZT/WEA 94749/
7-4509-94749-2
David plays keyboard on P-Machinery and made an (unreleased) gorgeous watery slowed down version of Duel.
There are a lot of 7″, 12″ and CD singles of P:Machinery, but I included one as an example and features some rare mixes, Great single!
P:Machinery (UK) cat#: 1995 Seven SEVE 04CD
Tracklist:
1. P:Machinery (adventurous edit)
2. P:Machinery (original 7″ mix)
3. P:Machinery (the adventure continues)
4. P:Machinery (Polish, original 12″ mix)
Outside Wold
Also worth to mention is a compilation album including a bonus DVD with the video-clip of P:Machinery, but it is also of interest for the rare versions, including P:Machinery!
On the German only CD+DVD release ( Repertoire REP4953, 2000 copies only), the Connected Machinery (12:52) can be heard (previously only on cassette) and on the UK version (see different artwork on the right), the track Complete Machinery is featured.
UK version comes in 2 releases: CD only (ZTT180CD) and CD+DVD (ZTT180CDX).
German release includes DVD.
Another reason for including this compilation is the bonus DVD (regions 2-6), with the video of P:Machinery! Just for completists, but a great compilation.
CD:
1. Dr Mabuse (13th Life Mix)
2. Lied (from Duel 2X7″)
3. p:Machinery (Beta)
4. Duel (Bitter Sweet)
5. The Lesson (from Duel 2X7″)
6. Frozen Faces (12″ version)
7. Jewel
8. p:Machinery (Connected) (German) Complete Machinery (Int.)
9. Dr Mabuse (DJ 12″ promo version)
10. Femme Fatale
11. Echo of Frozen Faces
bonus DVD:
1. Dr Mabuse (version 1)
2. Dr mabuse (version 2)
3. Duel (version 1)
4. Duel (version 2)
5. P Machinery
6. Dr mabuse TV commercial
7. Duel TV commercial
Read in the article Paul Morley discusses "A Secret Wish" with Andrew Harrison the inside story of David's involvement on the tracks Duel and P-Machinery:
…. When Trevor pulled out of producing them (ed. Dr. Mabuse) any more, figuring it was going to take too much out of him to do ten Mabuses especially as Mabuse itself had turned into ten Mabuses, I actually asked David Sylvian to produce them. While he was thinking about it, he came up with the ghostly top line of P:Machinery the music, if you like and a gorgeous watery slowed down version of Duel, but he decided against producing them, and it stayed within the Sarm pop factory. Actually, another sign of the split between sensibilities at the label: I asked
David Sylvian, and Jill approached Stock Aitken and Waterman. One side of ZTT was seeing them as a sort of Dollar (a Deutsche Mark) and the
other side was seeing them as a sort of supremely eerie avant-pop ensemble…..
…. Also, a major breach in the group actually came from the old classic, the songwriting, the royalty sharing. I felt it unfair that Claudia and Suzanne were receiving no financial reward from songs that were credited to Mertens and Drper even though they wouldn't have existed without
the substantial abstract compositional contribution of Lipson and Horn and indeed Sylvian and one or two others neither of who received credit and who to an extent were making their contributions based on an idea of the group that contained the two girls. I suggested a four-way split, which particular seemed fair once the group went on tour, when Ralf actually stayed at home, leading to a situation where Claudia and Suzanne were on the road and liable to make no money, as the album cost so much to make it would probably never ever recoup, while Ralf, with his writing, keeping his job in the bank, which he was doing, would make money…..
Gallery
Tracklist