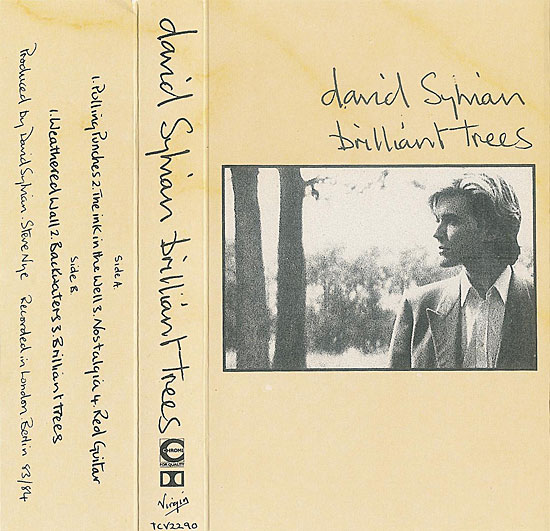 Released at July 7, 1984
UK 1st release: TCV 2290
UK 2nd release: OVEDC 239
Japan: VCW 1850
Italy: VX72290
The cassette release of the first solo album.
The pictures show a few variations:
First release cassette TCV 2290, no barcode on cover, grey/black cassette with red writing
Second release cassette OVEDC 239, with barcode on cover, plain text for track listing, black cassette with silver writing
Japanese release VCW 1850 comes in a standard jewel cassette box witha cardboard sleeve which slips over the case. Inside it has a folded printed sheet (on glossy paper). On the front it is all in Japanese, on the back it is translated into English.
Also shown a remarkable issue from Italy, catalogue# VX72290.
Images made possible by Clive Madment, Ozboyz and Stefan C. Attrill
Credits: All songs written by David Sylvian, except 5&7: Words by D. Sylvian, music by D. Sylvian & J. Hassell.
Produced by David Sylvian and Steve Nye.
Engineered by S.Nye and P.Williams, mixed by S.Nye,
assisted by D.Sylvian and P.Williams
except #2,6 mixed by D.Sylvian and N.Walker, assisted by M.Buttler
Cover Design: Sylvian Fujii / Photography: Yuka Fujii
David Sylvian
:
vocal, guitar, prepated piano,
synthesizer, percussion, tapes
Holger Czukay
:
dictaphone, guitar, french horn, voice
Steve Jansen
:
drums, percussion, synthesizer
Richard Barbieri
:
synthesizer on 1,5
Ryuichi Sakamoto
:
piano, synthesizer on 4,5,7
Steve Nye
:
piano, synthesizer on 3,4
Jon Hassell
:
trumpet on 5,7
Kenny Wheeler
:
flugelhorn on 2,3
Mark Isham
:
trumpet on 4
Phil Palmer
:
guitar on 2,4
Ronny Drayton
:
guitar on 1,4
Wayne Braithwaite
:
bass on 1,4
Danny Thompson
:
double bass on 2
Thanks to the Ozboys for the scan of the Italian release.
Gallery
Tracklist