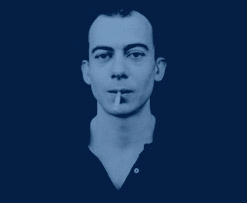 Published at August 15, 2014
Plays: keyboards, guitar and composes/remixes
1966
Born as Jean-Philippe Verdin in Brittany without mishap (France).
Happy childhood between his father fan of jazz and his sisters classical musicians.
According to his jazz, mods, ska or pop influences, he played keyboards, the guitar or even composed in several groups.
 
1987
Fascinated by painting and image, studied five years in Art School. Became a designer. Among his works, a MTV Europe advertising campaign
and creations for the label Dorado.
1991
A rave party. Discovered the house music. Became convinced that it happens right here . His route led him from the baggy, to the Detroit and Chicago pioneers, and to the drum&bass.
Then he decided to give his group away to compose in his home studio alone.
1997
Opack was his first Ep on F Communications (1997).
Dynamo the second one was released the following year. Unanimous enthusiastic reaction in the media (A groove check selection in the NME).
Composes soundtracks for show-rooms, fashion shows, CD-Roms or video games.
2001
First album Bold (F Com) (feat. David Sylvian and Juice Aleem) acclaimed all around the world, that "ploughes a way for French electronica" (Libération), awarded "album of the month" by Trax and "the most mature French project of the year" by Coda Makes Readymade a major composer/producer/arranger, developing a deceptively chaotic and deeply melancolic world fed by hip-hop, pop, electronica, dub, house and techno.
Remixes of Gainsbourg, Henri Salvador, Octet.
Starts playing live and DJ (opening david Sylvian concert in Paris).
2002
After playing DJ or live in London (The End), Barcelona (Lolita), Berlin (WMF), Paris (with Royksopp, Carl Craig or Underworld), Taiwan, or Tokyo, he will play live in Berlin in January and in London (The Fabric) in February.Readymade composed the original music for Dior Homme autumn-winter 2002-2003 ('Flexion') then for Dior Homme spring-summer 2003 ('F. Me').
The tunes are available on 2 vinyls in France and on 1 collector CD in Japan only (F Com). Part from the Own n°2 magazine, he released a DJ mix and is working on a compilation for the n°3.
He remixed Ennio Morricone, Chet Baker and Canvas.
The track Funiculaire from the Bold album was chosen as a soundtrack for the new Diet Coke commercial in France.
Last but not least, Jean-Philippe Verdin has just produced, arranged and programmed the two latest singles by Luz Casal.
(taken from the fcom.fr bio)
Gallery