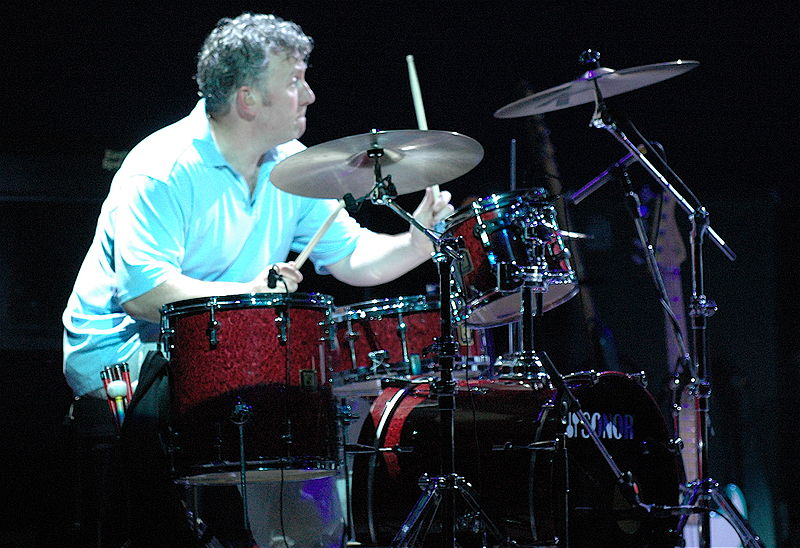 Published at August 15, 2014
Plays percussion.
The first Latin percussion instrument that Danny Cummings ever acquired was a second-hand conga he persuaded his parents to buy him for his 21st birthday. "I remember thinking that black fiberglass drum marked the beginning of a new era for me," says Cummings. And perhaps it did: In the 20 years since, the London-based percussionist has recorded with such rock notables as the late John Martyn, Dire Straits, Tina Turner, George Michael, Les McKeown, Penguin Caf Orchestra, Elton John, The Pet Shop Boys, Simply Red, Daniel Beddingfield, Talk Talk, David Sylvian, Mark Knopfler and Bryan Adams.
His playing is particularly well showcased on "Ocean Drive" by The Lighthouse Family, and on the cabaret-tinged "Shag Tobacco" by vocalist Gavin Friday (on which Cummings recorded more than 60 overdubs). He also appears on Knopfler's CD Kill To Get Crimson and on Bryan Adams' most recent album, On a Day Like Today.
At age 12, Cummings began playing snare drum in his school band, then got hooked on percussion with a pair of bongos that his grandparents brought him from Trinidad. His early musical influences included Curtis Mayfield, Isaac Hayes, and Bill Withers, and "as any percussionist who plays congas in contemporary music will tell you, Santana (Carlos) was a most powerful influence."
Today, in addition to congas, shakers, and tambourines, Cummings plays a collection of original African instruments and experiments with electronic sounds: "I like the idea of blending very traditional instruments with futuristic, cosmic things."
Danny has embarked on several projects with Knopfler, both as part of Dire Straits and Knopfler's solo band. The last Dire Straits album On Every Street featured Cummings as a percussionist and he also contributed to Knopfler's solo album releases All the Roadrunning, Kill to Get Crimson and Get Lucky. He toured with Knopfler on the tours for each of these albums, and featured on the live CDs and DVDs On The Night and Real Live Roadrunning (featuring Emmylou Harris).
Cummings also appears on Guy Fletcher's albums Inamorata (2007) and Natural Selection (2010).
He now lives in the south of England with his wife and 2 boys
Gallery