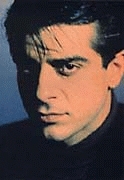 Published at August 15, 2014
Born Anthony Michaelides on July 24th 1958. Died in Londen, Januari 4th, 2011. Played: bass
At the time of his birth, his Greek family lived on Cyprus an island situated in the Mediterranean. Three years later, they moved to England and settled in Lewisham, London where his father worked as a butcher. The move played a crucial part in shaping Mick's future, as during his schooldays in London he met the people with whom he would later undertake his best-known musical venture – the band Japan.
Mick was educated at Catford Secondary School in south London. There he became friends with one of his classmates, David Batt, and subsequently met David's younger brother Steve. During his time at school, his musical career began in earnest.
While growing up, Mick was influenced by the music his mother played. Later, he decided to learn an instrument himself and, after a couple of false starts, eventually took up the bassoon. Mick has a great talent for playing by ear. He was accepted for the London Schools Symphony Orchestra, but played only briefly with them because soon after he joined his bassoon was stolen and the school wouldn't supply him with another.
However, his apprenticeship as a musician didn't end there. He and his friends David and Steve had decided that one way of working together outside school was to form a band. The rest is history…
The fledgling band began with David obtaining a guitar and Steve a drumkit. Mick ended up with the option of bass guitar, as well as contributing saxophone and a selection of woodwind instruments. Another of their school friends, Richard Barbieri, joined them as keyboard player and the final member, guitarist Rob Dean, was recruited after answering an advert which they'd placed in "Melody Maker". Mick was originally the vocalist, but handed this job over to David just prior to the band's first performance.
Mick is noted for his remarkable and distinctive style of bass playing and this is something which he was determined to develop from the outset. He knew right away that he wanted to depart from the traditional bass style in such a way that the instrument would be more clearly heard. His rhythmic, often melodic bass lines have been entrancing audiences and inspiring would-be musicians ever since.
The band's first performance was at Mick's brother's wedding and their first gig proper also took place in London. Contrary to rumours, it was at this stage that David chose "Japan" as the band's name. He and his brother were also to change their own surnames to Sylvian and Jansen respectively.
During the late Seventies, Japan secured more live performances and also joined forces with manager Simon Napier-Bell. Their look at this time was "glam", in total contrast to the Punk movement which was by now sweeping youth culture. However, by the early Eighties they were readily accepted as part of the "New Romantic" phenomenon. Despite struggling in their early years, the band eventually enjoyed great popularity in Europe and Japan. Their biggest chart success came thanks to the album "Tin Drum", from which they released the haunting single "Ghosts".
In 1981, having announced his intention to give up touring for a time, Gary Numan had parted company with his backing group. Whilst they went on to pursue their own career, Gary was preparing to record the album "Dance" and he recruited Mick as bass player. Another interesting sideline for Mick around this time was the Penguin Caf?, a restaurant in the October Gallery for which Richard Barbieri composed several pieces to be used as background music.
The following year, as tensions within Japan were beginning to come to a head, Mick laid the foundations for a solo career with the release of the album "Titles". At the end of 1982, Japan eventually split having recorded six albums together.
Despite Japan's demise, Mick had plenty to keep him busy. Following the work with Gary Numan, he found himself very much in demand as a session player with a diverse range of artists, including Bill Nelson and Kate Bush. He is also an accomplished sculptor and held various exhibitions of his work during the 80s.
As the decade progressed, he collaborated with the likes of Pete Murphy (as Dali's Car) and Midge Ure. In 1987, he joined David Torn in Europe and the US for two tours with Mark Isham and Bill Bruford.
The same year also saw the release of his next solo album, "Dreams of Reason Produce Monsters". David Sylvian wrote lyrics and provided the vocals for two tracks, "Buoy" and "When Love Walks In".
As the Eighties drew to a close, the four main members of Japan got together again, this time naming themselves Rain Tree Crow. The resulting CD appeared two years later.
Another productive decade for Mick, during which he was involved in a large number of noteable projects. In 1996 he moved to San Francisco for several months to experiment with living and working in a totally new environment. He has also continued to collaborate with Steve Jansen and Richard Barbieri – the trio are now known as JBK.
Some of his finest work of the decade included his participation in Andy Rinehart's "Jason's Chord", Sugizo's "Truth" and the "Polytown" album with David Torn and Terry Bozzio.
In addition, Mick continued to develop his own talents as a composer and instrumentalist, releasing two solo albums, "Bestial Cluster" and "The Tooth Mother" in 1993 and 1995 respectively.
In 1993, Medium Productions was set up with the intention of enabling Mick, Steve and Rich to continue recording whilst remaining independent of the big record companies. Their inaugural work on Medium was "Beginning to Melt" and this has been followed by a number of other recordings, right through to JBK's most recent CD "_ism".
Mick rounded off the decade by touring with NiNa in Japan, where their debut album had topped the charts.
Gallery
Official site