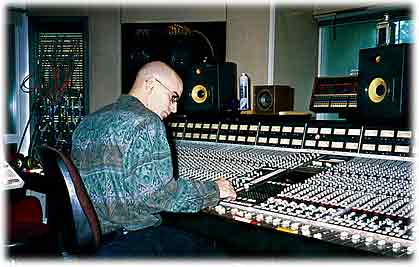 Published at August 15, 2014
Producer / Mixer
What do the diverse artists Peter Gabriel, Godsmack, Kid Rock, Mudvayne, Joni Mitchell, Coheed and Cambria, Silverchair, Staind and Tool all  have in common? Each has had the privilledge of having albums produced or mixed by 3 time Grammy Award winning Producer/Mixer David Bottrill.
When asked what genre of artists he focuses on, in a 2003 interview with MTV news Bottrill stated, I want everything to have a strong identity and be varied Ive done lots of different things over the history of my career and hes done it all with a tremendous amount of success with his albums having sold over 15 million copies worldwide.
Davids ability to work in between a variety of genres has given him a real insight into how to get the most out of the artists hes working with, regardless of their style. Fair to Midland guitarist Cliff Campbell once sited Bottrill as a large influence on his writing style, saying that as a band, All of our writing processes have always been usually someone writing a songand then everyone coming in and orchestrating what to do around ithe kind of helped us write songs together as a band (Netwavzradio.com).
In 2008 David became a co-owner of a cutting edge, artist friendly studio in his native Toronto called Rattlebox Studios.
Bottrill's production credits include the following:
David Sylvian & Robert Fripp – The First Day (1993)
David Sylvian & Robert Fripp – Darshan (The Road To Graceland) (1993)
King Crimson – Thrak (1995)
Tool – nima (1996)
Ultraspank – Ultraspank (1998)
dEUS – The Ideal Crash (1999)
Dream Theater – Metropolis Pt. 2: Scenes from a Memory
Tool – Salival (2000)
Tool – Lateralus (2001)
Muse – Origin of Symmetry (2001)
Flaw – Through the Eyes (2001)
Mudvayne – The End of All Things to Come (2002)
Silverchair – Diorama (2002)
Erase the Grey – 27 Days EP (2002)
Dream Theater – The Making of Scenes from a Memory: The Alternate Mix (2003 – the first "official" release of Bottrill's entire mix)
Godsmack – Faceless (2003)
V Shape Mind – Cul-De-Sac (2003)
I Mother Earth – The Quicksilver Meat Dream (2003)
Flaw – Endangered Species (2004)
Staind – Chapter V (2005)
Coheed and Cambria – Good Apollo (2005)
Blackbud – From The Sky (2006)
Fair to Midland – Fables From a Mayfly: What I Tell You Three Times is True (2007)
Silverchair – Young Modern (2007)
Placebo – Battle for the Sun (2009)
Moneen – The World I Want to Leave Behind (2009)
Counterfit fifty – second studio album (2009)
Everyone's Talking – Dragonflies (2009)
Circa Survive – Blue Sky Noise (2010)
Negramaro – Casa 69 (2010)
Gallery