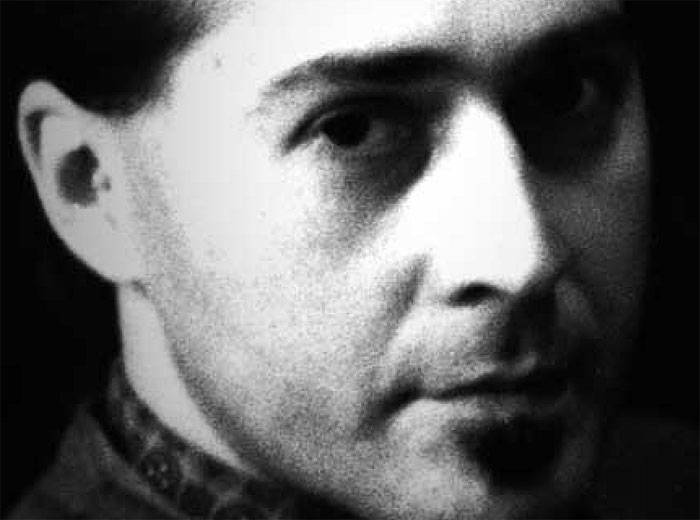 Published at August 15, 2014
Plays: drums and keyboards
Born in Piacenza, Pier Luigi Andreoni is a drummer and keyboard player, with a degree in Theory and solfeggio from the Conservatory of Piacenza.
Studying electronic composition for many years, he has achieved an in-depth experience in the use of computer in musical language, and in time also specialized in graphics, communication and interactive multimedia.
Over various years he has held numerous concerts in Italy and abroad, first of all with the group A.T.R.O.X., with which he released two albums, "The Night's Remains" and "Water Tales" (recorded between 1984 and 1985 for Contempo Records in Florence). He has composed music for videos, participating in many national competitions, and for the theatre (presently he is also collaborating with director Flavio Ambrosini at Milan's Teatro Piccola Commenda, where he has worked as sound designer for various performances). In 1989, with sculptor Mario Ciccioli, he released the record "Aeolyca", for the American label Violet Glass Oracle Records. The album features an emblematic interaction between electronic music and plastic art, in which the sounds are produced by the wind playing through sculpture installations. With Riccardo Sinigaglia, musician and Professor of Electronic composition at Milan's Conservatory, he founded Doubling Riders, a multimedia group which released four records: "Doublings & Silences vol. I" in 1988 and "Doublings & Silences vol. II" in 1989 for Recommended Records, "World!" in 1990 for Supporti Fonografici, and "Garama" in 1991 for Andreoni's own label Il Museo Immaginario. With Doubling Riders he also participated in the CD "All Frontiers" released by Materiali Sonori in 1991. Again with Doubling Riders he appeared on stage in the most important Italian avant-garde music festivals (among which Bari's Time Zones in 1987, Gorizia's All Frontiers in 1989, Naples' Ear Nerve in 1989, Milan's Immaginazione in 1990).
In 1991 Andreoni participated in the project "Fairy Tales & Myths", a musical-esoteric performance released on record by the 3Rio Art Magisch Theater Production of Antwerp, Belgium.
The following year he collaborated with the Belgian group Hybryds on a CD titled "Music for Rituals", again released by 3Rio Art Magisch Theater Production.
With Milanese musician Silvio Linardi, in 1990, he recorded "An Island in the Moon" for Recommended, which was also released as a video. In March 1991 he composed the music for "I Graffiti di Orione e delle Pleiadi", an experiment combining music and poetry broadcast on Rai Radio Tre's programme Orione.
In September 1992 the CD "Armonie Celesti", fruit of his collaboration with Nicola Alesini, was released with the magazine Esoterica; then in 1994 he participated on Alesini's record "Italian Soundtrack", on the label Tirreno Edizioni.
In 1998 he collaborates on Arlo Bigazzi's record "[2]" and begins working with Roger Eno on recordings for "Points of Light".
Together with Nicola Alesini and Giampiero Bigazzi of Materiali Sonori, Andreoni conceived the multimedia project "Marco Polo", witnessing the participation of David Sylvian, Harold Budd, Alberto Andreoni, Arturo Stalteri, Steve Jansen, Richard Barbieri, Roger Eno, Damiano Puliti, David Torn, Arlo Bigazzi and Fabio Capanni.
During 1999 one of his tracks was the signature tune for the literary programme "Caccia al libro", broadcast on Rai Radio 3 each day in the early evening.
He is currently working with the group "Orchestra Elettronica", whose first CD, entitled "Colorado!", has recently been released, on the American label Mp3 Inc. (www.mp3.com).
Together with Arlo Bigazzi he recently founded "KEEN-O". The group which also includes Blaine L. Reininger of the Tuxedomoon and Roger Eno, has been released the first CD: "Nobody knows how and why" (Materiali Sonori).
Gallery
Official site