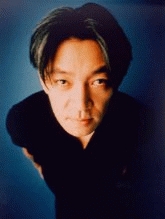 Published at August 15, 2014
Plays: … everything… and composes. Born: 1952 in Tokyo, Japan
If you got tongue from David Bowie, it might change your life. It certainly brought one Japanese pop star-actor-composer-musician into the limelight. In "Merry Christmas, Mister Lawrence," the slow-motion screen kiss between Bowie and Ryuichi Sakamoto was a turning point in his career. Of course, it didn't hurt that Sakamoto composed the soundtrack to the flick, as well.
Sakamoto had broken up his band, Yellow Magic Orchestra, just the year before. They were big in Japan, but everywhere else, even if you knew they sounded like an Asian Kraftwerk, you still couldn't name one of their tunes. For Sakamoto, that changed overnight in 1983 when the theme song for "Merry Christmas," "Forbidden Colors," became an anthem for the straight queens of '80s glam. In his well-laundered uniform, the stiff yet conflicted Sakamoto cut quite a figure himself as the Japanese concentration camp commandant: an icon was born.
Of course, Sakamoto officially claims he hates his performance in "Merry Christmas," but acting isn't what he's really about, anyway. With degrees in electronic and world music from the Tokyo National University of Fine Arts and Music, Sakamoto has always been first and foremost a composer and musician. So while he did take a bit part in "The Last Emperor" and a vanity role in Abel Ferrara's "New Rose Hotel," his primary focus has always been musical.
With "Merry Christmas, Mr. Lawrence," Sakamoto began a run in the soundtrack arena, following up with award-winning music for luminaries like Bertolucci ("The Sheltering Sky," "Stealing Beauty," and "Little Buddha"), De Palma ("Snake Eyes"), and Almodavar ("High Heels" and "Beauty"). He has also collaborated with Brian Wilson, David Byrne ("Little Buddha"), Iggy Pop, Bootsy Collins, Robbie Robertson, and Thomas Dolby, to name just a few.
At nearly 50, Sakamoto is a mature artist whose constant reaching across genres and cultures for inspiration is producing new music from old cadences. Recent performances show the continuous mixing of lowbrow, highbrow, Eastern, and Western influences. His 1998 work, "Discord," moves into classical music with four long, lush slabs of new-agey sound that give the big boys like Gorecki and Glass a run for their money. Meanwhile, with the reuniting of YMO, Sakamoto has remained one Japanese pop star Westerners can be sure to name.
Gallery