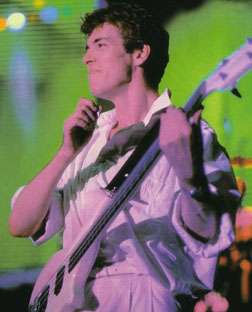 Published at February 26, 1952
Born: 26.2.1952, Bells Hill, UK.
Musical experience: John Giblin was a member of Simple Minds (he left after 'Street Fighting Years'). Apart from that he has worked all over the place.
On the picture he looks young but that's because it's an old Simple Minds fan picture. Evie and John Giblin themselves ordered me to get the 'press-picture' and this info off the site. Weird dude.
One of Britain's top studio bassists, John has always seen his role as that of a team player. More often than not, John says, he gets called in to complete the musical picture.
John got his strong sense of melody from his musical Scottish family, and by listening to lots of blues and traditional Irish music. At an early age, John began to appreciate rhythms and melodies, and learned the value of the group sound. John's talent was recognized at an early age, and he eventually was asked to play with Phil Collins, Annie Lennox, and Kate Bush. He played on and toured with Peter Gabriel for Peter's third album, after which he was asked to replace Derek Forbes, the bassist in Simple Minds. Being Scottish, John found and developed a kindred spirit with the other band members, and soon added his fretless flavor to their sound. The relationship lasted for three albums before John resumed his studio career.
John's long history of studio work has included recordings with Al Green, Roberta Flack, Paul McCartney, Sting, Elton John, Mark Knopfler, Brian Eno, and KD Lang, to name just a few.
His bass can be heard on the James Bond film "Tomorrow Never Dies" and on the Dreamworks film "Ratz". New to this year are tunes with Simple Minds, Natalie Imbruglia, Peter Gabriel, and George Martin, including a "newly discovered" John Lennon recording titled "Grow Old With Me".
Check out the March, 1996 issue of Bass Player magazine for a short article on John.
Partial Discography:
With Peter Gabriel:
"Peter Gabriel III"
With Kate Bush:
"Never Forever"
"The Red Shoes"
With Simple Minds:
"Street Fighting Years"
"Once Upon a Time"
"In The City of Light"
With Phil Collins:
"Face Value"
"No Jacket Required"
Personal Notes: "The fretless is almost in danger of becoming extinct, because everyone is still trying to sound like Jaco. I wish people would get just as egotistical because they can play like James Jamerson or Ron Carter."
Bio courtesy of John and Eveline Giblin and Bass Player Magazine.
Gallery