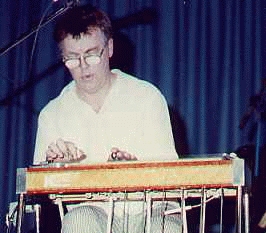 Published at August 15, 2014
Plays pedal steel guitar.
Born 17 June 1946, London, England.
Although initially a photographer, Cole was subsequently drawn to music, inspired by the work of guitarists Hank Marvin, Chet Atkins and Eddie Lang. "Sleep Walk", the atmospheric instrumental by Santo And Johnny, was also a notable influence and by 1964 the artist was playing a lap steel guitar. Cole fully embraced country music in the late 60s as a member of Cochise, which in turn established him as one of the UK's leading exponents of the pedal steel guitar. On the band's demise he completed the idiosyncratic New Hovering Dog, before contributing to many, often contrasting, recordings as a session musician. These included "More Questions Than Answers" (Johnny Nash), the first use of pedal steel on a reggae song, "No Regrets' (Walker Brothers), I Robot (the Alan Parsons Project), plus hit singles for Andy Fairweather-Low, Deacon Blue, Paul Young and Level 42. The artist's work with David Sylvian (Gone To Earth) and Danny Thompson's Dizrythmia, meanwhile, showed him using his chosen instrument in a challenging and innovative manner. A founder-member of the Hank Wangford Band, Cole produced two of the singer's albums, Hank Wangford (1980) and Hank Wangford Band Live (1982) and, in partnership with Stuart Coleman, performed similar duties on three Shakin' Stevens releases, Hot Dog", "Hey Mae" and "Marie Marie". In 1989, he recorded Transparent Music, an "ambient"-styled release, which in turn provided the basis for his Transparent Music Ensemble. Cole remains an in-demand musician and in 1991 completed work with such contrasting acts as Harold Budd, John Cale and the Beautiful South. In the UK Cole has no rival. His title as leading exponent of the pedal steel guitar cannot be challenged. Recently, he has attempted to further interest in the instrument outside the country genre, recording Stop The Panic with maverick DJ Luke Vibert in 1999.
Gallery