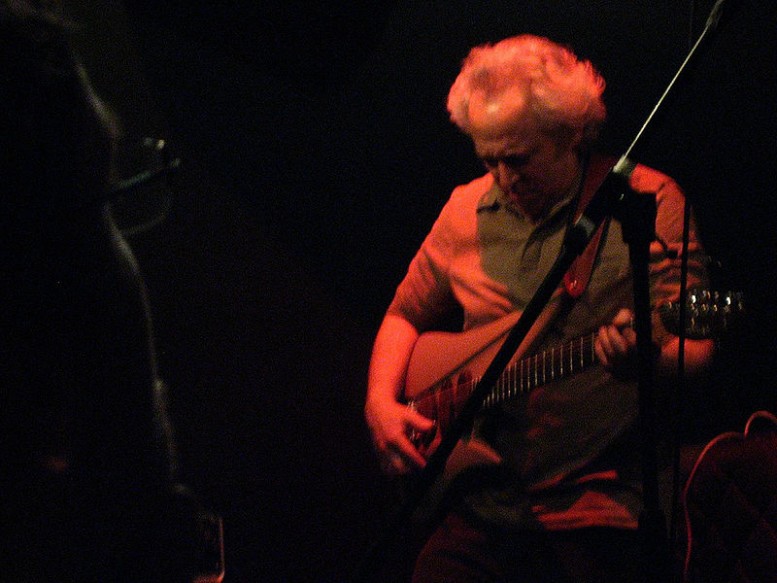 Published at January 1, 1952
David Torn (born 1953) is an American composer and guitarist.
He is known for the organic blending/manipulation of electronic and acoustic instruments and performance techniques that have an atmospheric or textural quality and effect, along with a particular harmonic richness. He is particularly well known among guitarists for his use and technological  influence upon the development of looping effects. Torn studied with Leonard Bernstein (within the "Music for Young Composers" series), as well as with guitarists John Abercrombie, Pat Martino, Paul Weiss and Arthur Basile.
David Torn is married to a Brecht, is the son of L.J. and R. Torn, the father of both Elijah B Torn and Cody Torn, the brother of M. Torn, and he is a cousin of Rip Torn, Angelica Torn, Geraldine Page, Sissy Spacek and Ina Garten, AKA The Barefoot Contessa.
Torn was born in Amityville, New York, and began his career with the Ithaca-based jam band Zobo Funn Band in the 1970s, and rose to prominence as a member of The Everyman Band and Jan Garbarek's quartet in the mid-1980s. He has recorded six albums as a leader for the ECM, Windham Hill, CMP, and 75 Ark record labels. He has also recorded a series of CD-ROMs with looping and other ambient music and "integrated noise" materials that can be used as samples by other artists. Torn has contributed to recordings by artists including David Bowie, kd lang, John Legend, Tori Amos, Bill Bruford, Tony Levin, Mick Karn, David Sylvian, Chocolate Genius, Michael Shrieve, Steve Roach, Patrick O'Hearn, Andy Rinehart, Matt Chamberlain, Meshell Ndegeocello and Don Cherry.
In 1992 he was diagnosed with an acoustic neuroma; in his case, a life-threatening form of brain tumor. The surgery that followed left him deaf in the right ear, but didn't rob him of the ability to compose, record and play. Torn even mixes many widely available recordings himself, although according to him this requires sitting sideways to the studio speakers and "visualising the stereo aspects of sound" in his head rather than experimenting with them by ear. He has, in fact, produced a Grammy-winning recording for Jeff Beck, as well as many recordings for Tim Berne, Drew Gress, Dave Douglas (another Grammy nominee), Douglas September as well as many others.
Torn's contributions have been featured in a number of films, including Velvet Goldmine, Adaptation, The Big Lebowski, The Departed, Fur, The Hoax, Kalifornia, Traffic, Reversal of Fortune, Tibet, Three Kings, Everything Must Go, and so on. In 2006, Torn's film-score for Believe in Me won the Best Score-award at the Jackson Hole Film Festival; in 2005, he composed an evocative score to Friday Night Lights, and in 2003, his score for the film The Order was nominated for a Grammy Award.
He works out of his personal studios, known as Cell Labs; occasionally, he uses the pseudonym "splattercell".
Torn's latest effort is a 2010 EP released under the name Chute. It's a five-track electronica collaboration with singer Donna Lewis.
Currently, it is available exclusively on iTunes.
Taken from Wikipedia
Gallery