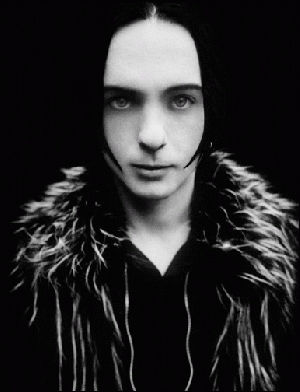 Published at August 15, 2014
tweaker a.k.a. Chris Vrenna. Nickname: Podboy
Hometown: Eerie, Pennsylvania  Born: 1967/02/23
It's exciting to share my new tweaker album with you after more than a year of late nights, holed up in my studio at home. This CD, titled 2 a.m. wakeup call, is the follow-up to my debut 2001 release the attraction to all things uncertain. It's scheduled to be released at the end of April.
For those who don't know, tweaker is the quasi-solo project (some say alter ego) that I started after my departure from Nine Inch Nails in 1996.
Since I'm the type of person who enjoys full albums (records that take me on a journey, teach me, have something special to say), I've tried to capture this with both tweaker records. Where the first album dealt with one concept (one man's journey through life to find contentment), 2 a.m. wakeup call is more of a concept within a concept.
It's a nighttime record about dreams, nightmares, and insomnia — things that keep us up at night.
My wife was suffering a long bout of insomnia, where she would bolt awake every night, strangely, at exactly the same time: 2 a.m.. It led to me sharing her insomnia night after night and I wound up staying up with her and discovered that when the world-at-large was fast asleep I had unearthed a wealth of creative energy in myself. These were the hours when most of the work on 2 a.m. wakeup call occurred.
When collaborating with the guest singers, I explained what my inspiration was and only gave them the directive 'What keeps you up at night? And what do you dream about?' What you hear lyrically on the album is how each singer interpreted the music and direction.
The album cover for 2 a.m. wakeup call is the painting Adaptation by my friend Joe Sorren. It perfectly captures the mood of the new album, just like his painting Elliot's Attraction to All Things Uncertain was such a big inspiration for my first album.
The new CD marks a more mature musical direction for me. Where the first record was more about programmed noises, this CD captures emotional, human performances and instrumentation – notably live drums, acoustic guitar, piano and glockenspiels.
I'm still in awe that I got the opportunity to work with such amazing and talented singers who were able to help realize my vision. These include David Sylvian (Japan) and Will Oldham (Palace Brothers, Bonnie 'Prince' Billy), both of whom also appeared on my first album. They sing Pure Genius and Ruby, respectively. Other wonderful vocalists include Robert Smith (the Cure), one of my longtime idols, on Truth Is, Mellowdrone on Worse Than Yesterday, Nick Young (A.I.) on Sleepwalking Away and Hamilton Leifthauser (the Walkmen) on It's Still Happening. Jennifer Charles (Elysian Fields) closes the album with the beautiful Crude Sunlight.
Since the last record I also met my best friend, and now partner, Clint Walsh. He was the guitar player in Jack Off Jill when I produced their Clear Hearts Grey Flowers and he quickly began doing guitars on my many remixes (U2's Elevation, P.O.D.'s Set It Off, amongst others). Clint and I began writing musical beds for tweaker together around Halloween 2002. When Clint's not holed up in my studio, he's the guitarist and co-producer for the Motels, guitarist for actress Juliette Lewis' new band as well being the guitarist for the seminal punk band the Dwarves.
When you listen to this, I hope you enjoy the journey. Listen late at night!
Chris Vrenna, a.k.a. tweaker
January 2004
Gallery