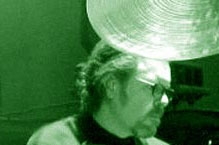 Published at August 15, 2014
Plays: drums, percussion
Performed at the Road To Graceland tour
Lee Patrick Mastelotto was born on the 10th of September 1955 in Chico, California. Pat an autodidact drummer who, like most kids in the 60's took inspiration from "the two R's – Radio & Ringo" as time passed and Pat found himself listening to everything from Hank Williams to Bela Bartok. His heroes became Ginger Baker and Mike Giles for their drumming and Lennon and Rundgren for their songwriting. Pat's own drumming begun at the age of 10, teaching himself by playing along to records.
By the time Pat moved to LA in 1973 his drumming heroes had become "the Jim's- Jim Gordon, James Gadson and Jim Keltner", within weeks of moving to LA he got his first LA 'session' gig with Juice Newton, but a year or two later when the record surfaced Pat's parts had been redone by Jeff Porcaro and Hal Blaine… reality bites.
Countless low budget 70's demos session led to meeting, then #1 producer, Mike Chapman who often used Pat for session work. With Chinn&Chap and partner producer Peter Coleman he played on records for Holly Penfield, Shandi, Michael Des Barres, Scandal, Nick Gilder, Danny Wilde, Bernie Taupin, Martin Briley. Mike also helped form a super band with hit songwriters Holly Knight and Michael Des Barres, paired with Prescott (The Knack) and Pat who recorded (later) hits like "Obsession", "Bleeding Babies". This band was crumbling into 'Device' when Pat met the Misters.
Like most LA musicians he earn a living doing some odd jobs (like stamping envelopes along side Chili Pepper drummer Cliff Martinez) when Kim Bullard (from Poco) advised Pat to contact Richard Page and Steve George. At Pat's audition singer Richard Page grabbed a bass and they jammed on a few of their new songs. Richard kept yelling 'Go!',… so Pat played more and more… Pat later learned Rich was saying 'Ringo!' (because Rich thought Pat had Ringo's feel) Half an hour later Mr Mister was born. They released three albums, the second a number 1 LP selling million's and delivered two #1 hits. This led to session work with Al Jarreau, Pointer Sisters, Kenny Loggins, Patti Labell, Eddie Money, Martika and many others.
In 1998 guitarist Steve Farris left and an extensive search for a replacement guitarist led Pat to call Adrian Belew's management only to learn Bowie had just reenlisted Adrian. The three remaining Misters went into the studio to record a fourth album (PULL) with guitarists Trevor Rabin and Buzz Feiten. During the two years writing and recording 'PULL' Pat also played on hit albums by XTC and Cock Robin and Jude Cole. On the 25th of September, 1990 the Misters were released from RCA, the fourth album has never been released.
During the early nineties Pat CoProduced Peter Kingsberry and did sessions including three CD's each for Jude Cole and the Rembrandts, hits within Tina Arena, soundtrack work with James Newton Howard as well as hired gun work for producers Tony Berg and Paul Fox who used Pat for Michael Penn, Ted Hawkins, Robyn Hitchcock, The Sugercubes, Too Much Joy and more. He even did some overdubs for a dance mix of a Rolling Stones Steel Wheels single with producer Don Was.
In 1993 Pat heard of the Sylvian/Fripp audition and flew to England and soon found himself touring with S/F throughout the year This led directly into the reformation of double trio King Crimson of 1994: At this same time Pat moved his family to the Texas hill country near Austin as Crimson stomped through over a hundred shows, "VROOOM", "THRAK", "THRAKATTACK", "B'Boom", "Deja Vrooom", and "Vrooom Vrooom" and after a short pause into the 1997 KC ProjeKcts.
As the Crim breaks extended Pat needed more 'human R&D' and started looking for local musical soul mates, finding Gumby and Monkey he formed MasticA and he developed an electronic alter R&D ego as BPM&M (with sound designer Bill Munyon) eventually releasing "XtraKcts & ArtifaKcts".
1999 saw Pat moving between home and Nashville where King Crimson recorded 'The Construcktion of Light" then back to p@ garage were BPM&M completed ProjeKct X just in time for the Y2CRIM's quick trip around the world pausing briefly to arrange and mix disc 3 of KC's "Heavy Construcktion".
2001 Pat rejoined Tony Levin but this time with the California Guitar Trio! Then helped introduce Crim to TOOL via emailing drumbud Danny Carrey. After a short cobill of TOOL and KC ending in Mexico City Pat started touring the very next day with the CGT and T Levin in Utah. After an exhilarating but physically abusive two week tour BPMM led the CG3+2 into their favorite Austin studio for 4 intense days of recording followed by several weeks of 24/7 editing until jumping right back into Crimson tour bus co-billing with John Paul Jones to finish out the year. Somewhere in the midst of all that Pat record with Abra Moore, Curt Kirkwood of the Meat Puppets, did live shows with Left Over Salmon and the Spoonfed Tribe and got another dog from the pound.
2002 marks a return to the studio with King Crimson. Cyber collaborations with German band CENTROZOON, release of the MasticAttack freakout CD, the completion of a duet CD with Terry Bozzio and the start of a duet projeKct with Rhythm Buddy Trey Gunn.
Pat currently resides in the hill country near Austin
(taken from the official Pat Mastelotto site)
Gallery