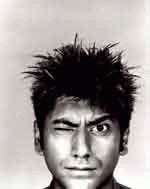 Published at August 15, 2014
Born in 1970 London, England

A question often asked:
What will music sound like in the 21st Century?
Ask Talvin Singh. He lives there already.
(David Toop)
Though his parents are Indian and he was born in England, Talvin Singh isn't claimed by either cultural heritage. In England he's considered Indian, while in India he's viewed as a Brit. But Singh feels this cultural fence-straddling lends itself to flexibility, not exclusion. He likens himself — and by extension, his music — to a potato: "It's a universal food — fried, boiled, roasted, garnished with a variety of spices, accompanying any number of foods — potatoes fit in anywhere and everywhere." He elaborates by saying, "When you eat McDonald's french fries anywhere in the world, you don't ask, 'Where did this potato come from?' A potato is a potato. People can't ask, 'Where is this music from?' Music is music. I make potato music."
Singh was educated mostly in his native England, moving to India at 16 to pursue his love of classical music. Though he studied the traditional tabla, the version he plays today is completely electronic — he calls the resulting music "tablatronics." He loved classical music but found that the old masters weren't able to accommodate his desire to innovate.
Discouraged, Singh returned to England to work with artists as diverse as Bjork, Sun Ra, The Future Sound of London, Siouxsie and the Banshees, and even American folkies like the Indigo Girls. He then founded Anokha (which means "unique"), a London nightclub where jungle DJs and Asian punk bands went head to head with Singh's tabla and percussion. After playing for and remixing many of the performers' recorded work, he eventually put out a jungle-esque compilation of songs from Anokha artists called Anokha: Soundz of the Asian Underground.
It wasn't until late 1998 that Singh released his first proper solo album, entitled "O.K." ("It's the most universal term I could find"). Gently melancholic string arrangements, traditional Indian instruments, faded guitars, and primal beats make up the album's sound. Mixing both the serene and the chaotic, Singh is both a product of his own experience and a leader in his genre. But Singh resists attempts to categorize his sound: "I refuse to be pegged. I make Talvin Singh music."
When listening to "O.K.," one gets the sense of a true musical melting pot. The opening of the track "Vikram the Vampire" is soft and yielding, inviting the listener in. But as the song builds in intensity, the droning vocals and edgy guitars stir increasing physical impulses — when all is said and done, Singh's interests are more dance-floor than background music. Most club tracks don't feature chanting, flutes, and sitars, but Singh's work is expanding the genre to include more World Music influences.
Like most musical pioneers, he's founded his own label, The Sounds of the Asian Underground, which puts out music from other Asian artists. These new artists will come into the industry with a path already blazed for them by the now mega-hyphenated singer-songwriter-producer-remixer-club owner and record executive Talvin Singh.
Gallery