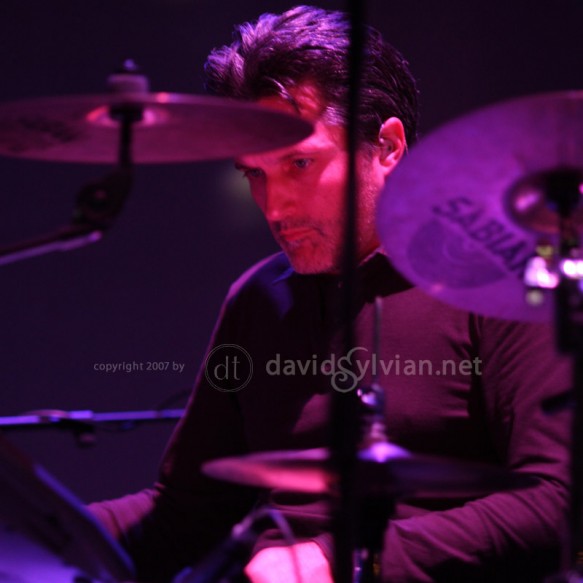 Published at August 15, 2014
Born Stephen Batt on December 1, 1959. Plays: drums, percussion
From his most formative years growing up in a household filled with the sounds of his Sister?s American Motown Records, it was seemingly pre-destined that Steve Jansen was born to be a musician. Born Stephen Batt on December 1, 1959, young Steve and his older brother David (born February 23, 1958) were big fans of music and science fiction. Music seemed to take more precedence in their lives as they hit their early teens, as their initial interest in Motown music evolved to include some of the most interesting Rock music acts of the day such as David Bowie, The Velvet Underground, and Roxy Music.
It was around this time that David had made friends in school that were also very interested in the top musical acts of the day. These friends were Mick Karn and Richard Barbieri. On Christmas of 1973, Steve received a drum kit from his parents, and David received a guitar. The seeds of a new musical act were born. Soon after, with not much musical experience under their wings, Steve and David joined Mick to play their first gig together at the wedding of Mick?s brother. By June of 1974, they were gigging regularly and making money doing so. Desperate for a band name, David?s hasty suggestion of Japan was used, and it stuck. Richard Barbieri would soon join into the fold on a regular basis, and guitarist Rob Dean was later added. Japan?s sound soon gelled together, powered by a fresh sound that featured many genres of musical interest from glam rock to Motown. In 1977, Japan received a recording contract from Hansa Records, and Japan?s first album was recorded and released by early 1978, entitled Adolescent Sex. Ironically, it was the Japanese audiences that embraced Japan the most, and they quickly hit a stride.
By 1979, Japan had released two more albums (Obscure Alternatives and Quiet Life respectively), and in 1980, the band had a new record contract with Virgin Records. Gentlemen Take Polaroids was released that year and more touring followed. Rob Dean bowed out of the band by 1981 and was replaced in the studio by Masami Tsuchiya. In 1981, Japan released Tin Drum, which more than ever showed a strong presence of far eastern musical flavor with the addition of Tsuchiya. The band toured one last time in late 1982. Sadly, Japan played their last show in Nagoya, Japan on December 16, 1982. The band broke up due to some internal pressures and the desires of many of the members of the band to take a new musical direction.
By no means would this be the end of Steve?s musical endeavours. He stayed busy throughout the 1980?s lending his unique drumming talents to several different projects, including records with his brother David, and several collaborations with his drumming idol Yukihiro Takahashi of the Yellow Magic Orchestra and the Sadistic Mika Band.
Always staying closely in touch with his best friends Mick Karn and Richard Barbieri, the trio decided to venture out to create their own musical label so as to curtail the entrapments of major record labels and their politics. The label would be christened Medium Productions, and JBK began turning out records that featured different configurations of the three members as well as several outside collaborators. Happily, Medium Productions has weathered the storm and is still in operation with new projects on the table as we speak here in January 2003. Steve Jansen has gained a reputation throughout the world as not only a great drummer and musician, but a great producer as well, and he has lent his groundbreaking production methods to many artists throughout the U.K. and Japan. 2003 promises to be another year that will see Steve continue to go against the grain to present music that might never see the light of day under the restraints of commercial recording companies, and to seek out the continued musical freedom that has become the foundation of his great achievements. Steve currently lives in London with his Wife and his son, Jude.
(taken from currently inactive http://www.geocities.com/stevejansen2003/home.html)
Gallery