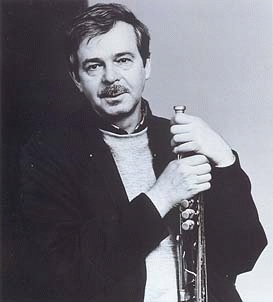 Published at August 15, 2014
Born Toronto Canada, 14 Januari 1930. Died London England, 18 September 2014. Played: Trumpet, Flugelhorn
After studying harmony and trumpet at the Royal Conservatory in Toronto (1950-51) he moved to London in 1952.
He played in English dance bands, and while a member of John Dankworth's Boporchestra (1959-65) studied composition with Richard Rodney Bennett (1962-63) and Bill Russo (1963-64). With Dankworth's group he made a recording in 1968 of his own composition "Windmill Tilter", a suite inspired by Cervante's Don Quixote. He also played bop in small groups with Tubby Hayes (recording in 1966), Joe Harriott (recording in 1967) and Ronnie Scott (recording in 1968).
Around this time he took an interest in free jazz, which he played with many important musicians and groups: the Spontaneous Music Ensemble (1966-70), Tony Oxley (1969-72), Anthony Braxton (at intervals from 1971 to 1973, regularly from 1974 to 1976), the Globe Unity Orchestra (from the early 1970's), the trio Azimuth (from 1976), which also included John Yaylor and Norma Winstone, Dave Holland (from around 1983), and his own small group and big band. He also played jazz-rock, in particular on recordings with Mike Gibbs (1969-75) and Bill Bruford (1977), and as a member of the United Jazz and Rock ensemble (from 1978).
Although Kenny devotes much attention to composition and writes all of the material that he records as a leader, his work as a trumpeter and flugelhorn player is more important. His playing is well suited to what may be called the house style of the ECM record label; it is clear, relaxed, lyrical, and marked by a wide ranging harmonic and rhythmic imagination.
Gallery