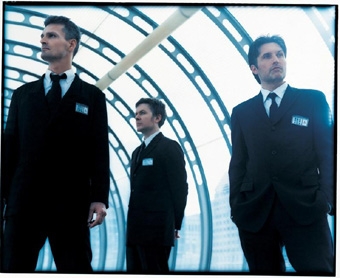 Published at August 15, 2014
Nine Horses is a collaboration between David Sylvian, his brother and frequent collaborator / drummer Steve Jansen (also formerly of Japan) and electronic composer / remixer Burnt Friedman.
Nine Horses Snow Borne Sorrow is a collaboration between Samadhi Sound founder David Sylvian, his brother and frequent collaborator drummer Steve Jansen and electronic composer and remixer Burnt Friedman. David Sylvian's last major release Blemish saw him exploring new directions in minimalist composition and improvisation with collaborators Derek Bailey and Christian Fennesz. Many of the songs on Snow Borne Sorrow date to the same time as Blemish, but, like a number of the remixes of Blemish songs on The Good Son vs. The Only Daughter, Snow Borne Sorrow's sound is expanded, maximalist, full, rooted in traditional song structures like some of Sylvian's classic disks including Brilliant Trees, Secrets of the Beehive and Dead Bees on a Cake.
Jansen described the process by which the songs on Snow Borne Sorrow as evolving gradually, over some three years or more. Initially David and I explored our renewed relationship through composition, trying many possibilities, writing off the cuff with improvisation techniques as well as composition through sound design. Much time had lapsed since we'd last collaborated together on a recording so it seemed there were many paths to wander. Ultimately we felt that our more considered works were a truer representation of our combined sensibilities and interests. almost without word it became understood that the more laborious path would, as usual, yield the best fruit. The opportunity to take our time and find our footing was never more afforded and prevalent than now, with Samadhisound up and running.
Jansen and Sylvian's songwriting shifted after a chance meeting with Burnt Friedman in 2002 during the Blemish tour. Friedman sent Sylvian some recordings, inviting him to provide vocals for them. "It became apparent, says Jansen, that there was some level of continuity here, with David choosing to sustain the mood, both lyrically and vocally, from our own material across into Bernd's offering another dimension to what we already had but one that was not so far removed from it either.
Lyrically and vocally, Snow Borne Sorrow continues the maturing darkness of Blemish songs of struggle, doubt and resolve, Bergman-like glimpses of the realities and difficulties of intimate relationship, flashes of light and humility sparked by Sylvian's sadhana with his guru Sri Amritananda Mayi (Amma). The opening Wonderful World and Atom and Cell continue Sylvians engagement with the political situation in post-0911 America, begun on his 2004 single with Ryuichi Sakamoto, World Citizen, with caustic words about the excuses our leaders manage to find not to love thy neighbor.
Snow Borne Sorrow was made with a cast of collaborators dispersed in time and space, including Norwegian trumpeter and Supersilent member Arve Henriksen, Swedish vocalist Stina Nordenstam, who adds marvelously elliptical responses to Sylvian's vocal on the opening Wonderful World, and Ryuichi Sakamoto on piano. I always viewed the project as one created by this strangely disembodied band, says Sylvian. "I still have yet to sit in a shared space with Burnt and actually play music together with him but in the contemporary world of music making this is no longer an anomaly and there are many aspects of working in this manner that I fully appreciate and enjoy. It has as much going for it as sitting in a room with musicians performing together. The benefits are quite different as you'd expect but benefits there are.
"The choice of collaborators was, as is usually the case, governed by the requirements of the individual compositions. Stina Nordenstam was our first choice for the answer lead vocal on Wonderful World. I have great respect for Stina. I'd often thought of working with her in some capacity and when I'd completed the lyric for this piece she immediately sprang to mind. She can simultaneously invoke feelings of vulnerability and strength which works well in the context of this piece as it isn't always obvious as to whom is commenting on whom.
Burnt obviously brought a good many people to the table via the original demos, musicians from all over the globe in fact. Steve brought in Theo Travis on sax and flute whose contribution helped resolve 'A history of holes', possibly the most difficult of pieces to complete due to its tortured evolution. I called in Ryuichi and Arve Henriksen both of whom felt intuitively right for the respective pieces they contributed to. Arve's playing goes straight to the heart, he's a fantastically empathetic player.
Who are the Nine Horses? Whilst we were able to find common ground musically we found it more difficult to come together philosophically so we settled on a name embraced for its absence of meaning which may or may not be imbued with meaning over time. As for the title Snow Borne Sorrow, he comments: The title related well to the personal (I've lived in two states in America where the winters are excessively long. The literal and the metaphor have become indistinguishable to me) and to the sense of dislocated isolation that sometimes feels like the prevailing contemporary condition. But, put simply, the title spoke of the condition in which I found myself. Winter was hard.
Marcus Boon
All pictures used by Kevin Westenberg (kevinwestenberg.com)
Gallery
Official site