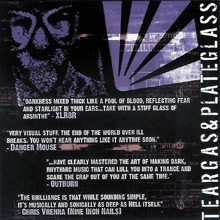 Published at August 15, 2014
Collaboratives with Sylvian
Evasive, reclusive and highly protective of their privacy, the incarnation known as Teargas & Plateglass first surfaced in 2002 collaborating with famed spoken word icon Ursula Rucker for the Being Black album alongside artists including Rob Swift, DJ Revolution, DJ Spooky and Dilated Peoples.
Shortly thereafter, several Teargas & Plateglass remixes for an unlikely array of artists floated onto the street, including tracks with Natacha Atlas, 311, Tweaker f/ David Sylvian, Tweaker featuring Jennifer Charles (Elysian Fields), Oba Funke f/Zap Mama and fellow anarchists (International) Noise Conspiracy .
Their debut, illbient self titled album dropped in 2004 and achieved critical acclaim in both the hip hop world and electronic music world. Difficult to describe, the album includes vicious murky breaks, thick somber synths, spectral voices and ethereally haunted strings.
Teargas & Plateglass recently provided music for the highly respected television show CSI NY as well as several art installations including the Los Angeles New Image Art Festival and Madison Film Festival.
Additionally, they contributed a song to the Genocide in Sudan CD which included songs from System of a Down, Thievery Corporation, Yoko Ono, DJ Spooky and Gorillaz to name a few.
They are currently working on their second full length album entitled Say Nothing; Do these Things; Do Not Describe Them . The album, slated for a 2005 release, includes tracks with Del Tha Funkee Homosapean, Noam Comsky, Murs and David Hykes' Harmonic Choir.
Gallery