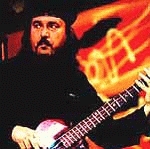 Published at August 15, 2014
Born 12.2.50. Salem, Illinois, USA
Before recording and producing' Album' Laswell worked with Lydon recording, producing and playing bass on the 'World Destruction' single by Lydon & Afrika Bambaataa (released December 1984). They also worked again on the track 'The Animal speaks' by 'The Golden Palominos', featuring Lydon on lead vocals (released December 1985).
Despite co-writing some of the material intended for 'Album' the 1984-5 live PiL line-up were fired prior to recording because of their "total inexperience" in the studio, and Lydon decided to record the next "Album" with Bill Laswell and session musicians instead. Laswell co-wrote three songs for the record ('FFF' and the two singles 'Rise' & 'Home'), as well as producing. He plays bass on all tracks except 'Ease'.
The release of 'Album' in January 1986 ended their partnership. Lydon decided to return to London and gather together a "new" PiL to tour the album. At Virgin Records request they met again in the summer of 1988, when the "new" PiL flew to New York to record '9' with Laswell as producer. However, Laswell liked neither the material nor the musicians and after three days of conflicts and disputes PiL gave up and returned to England.
Born in Salem but raised in Detroit, Laswell started as a guitarist but soon switched to bass. He moved to New York in 1978 and founded his own band 'Material' (1979-94), got involved in Rap and Hip-Hop in the early eighties working with an incredible amount of bands and musicians since. His breakthrough as a producer was Herbie Hancock's 'Rockit' hit single in 1983. Later he produced the likes of Mick Jagger, Iggy Pop & The Ramones.
In the eighties he partly owned Celluloid Records, then in 1990 he founded his own eclectic label 'Axiom Records' releasing an ever increasing amount of albums, both by himself, and other artists. Laswell found a like-mind in Jah Wobble and the pair have become regular collaborators over the last ten years. Releasing a string of records together, as well as playing live. Most notably the 2001 collaboartion Solaris, along with Jaki Leibezeit, Graham Haynes & Harold Budd.
Gallery