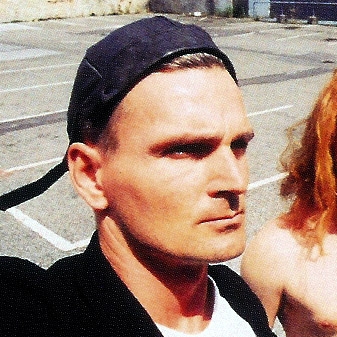 Published at August 15, 2014
Keyboardist and vibraphonist from Koeln (Germany), Burnt Friedman (real name Bernd Friedmann) is known by a number of aliases, having recorded as Drome, Flanger (with Atom Heart), Non Place Urban Field and Bernie The Bolt.
Friedman debuted with the moniker Some More Crime that released a few albums: Ohnmacht (ZZO, 1990), Code Opera (ZZO, 1991), Another Domestic Drama (ZZO, 1993), Fuzzy Sets (ZZO, 1995).
Drome was an ambient "chill-out" project. Anachronism (Silent, 1992), Final Corporate Colonization Of The Unconscious (Wigwam, 1993 – Ninja Tune, 1994), one of the first recordings to incorporate hip-hip breaks into chill-out grooves, and Dromed (Kiff, 1995) are works of manic assemblage that often match the complexity of Edgar Varese's avantgarde piece.
Nonplace Urban Field's music has been dubbed "ghost-town electronica". The albums Nonplace Urban Field (Wigwam, 1993) and NUF Said (Incoming, 1994) toyed with dance music, gothic music and jazz. The idea matured with the mini-album Raum Fuer Notizen (Incoming, 1996) and the album Golden Star (Incoming, 1996). The latter alternates Squarepusher-style incursions in jazz (Plane Spotting, Plusminus 30) and old-fashioned tracks of minimalist techno (Platikthai, Whimp).
In between came the solo Bernd Friedmann Leisure Zones (Ash, 1996), that expands on his Drome-period ambient texturing.
Then Friedmann worked in Chile with Uwe Schmidt under the moniker Flanger.
Friedman had already founded the Nu-Dub Players in 1996 during a vacation in New Zealand (precisely, the Great Barrier Island off the coast of Auckland). The album Just Landed (Scape, 1999), released years later, was the product of a painful process of cut up. While the sounds as heard on record were assembled in studio, the source was a set of live group performances. Therefore, Friedman's "nu dub" is true to the original live sound of Perry and Tuwby and sounds very unlike the digital dub collages of modern pursuers of the genre like Bill Laswell. Hut Selector, Just Landed, Cassock Attack, Worldwide Watchdog Peepshow, The Big Black Other, Railway Palace, Melbourne, Hohoura Head Far North, I Shot The Fashion Victim, It's Thunder, Dub To The Music (Note: the tracklist on the CD is wrong as it omits The Big Black Other).
Always fascinated by majestic nature, Friedman recorded Con Ritmo (Nonplace, 2000) in Argentina. Again, the album is the outcome of jam sessions with a group of real musicians, the Disposable Rhythm Section. This time it is jazz (a latin-tinged jazz, needless to say) that Friedman deconstructs, not dub. Horns, vibe and percussions embellish Octrahedal Spherical Caffufle, Demolition Derby, Los Corraleros , Destination Unknown. But the highlights are probably the tracks that leasu stick to the dogma: the ambient dub/funk of Platin Tundra and the surreal world-music of Escape the Night (somewhat reminiscent of Herbie Hancock). Friedman's cyber-jazz is a descendent of Weather Report's jazz-rock, as proven by the eleven-minute Das Wesen aus der Milchstrasse (with Uwe Schmidt on synth).
Plays Love Songs (Nonplace, 2000) is an eclectic divertissment, that was four years in the making. Friedman, aided by guitarist Joseph Suchy, alternates between swing, funk and ambient. The singing rules: Fucking Long Time, It hurts, I've Got My Love To Keep Me Warm. A piano figure in Conjoined or a jazzy rhythm in I Go With You do the rest.
Secret Rhythms (Nonplace, 2002), a collaboration with Can legend Jaki Liebezeit, yields mildly entertaining, but not too innovative, jazz-rock jams for drums, bass, guitar, keyboards and vibraphones. The psychedelic dub of Shades of Soddin Orion and the lengthy psycho-ambient suite Obscured by 5 are the highlights.
Nu-Dub Players' second album, Can't Cool (2003) is another intellectual divertissment.
Condensed (Nonplace, 2003) collects material from 1995-2002.
(taken from www.scaruffi.com)
Gallery
Nonplace