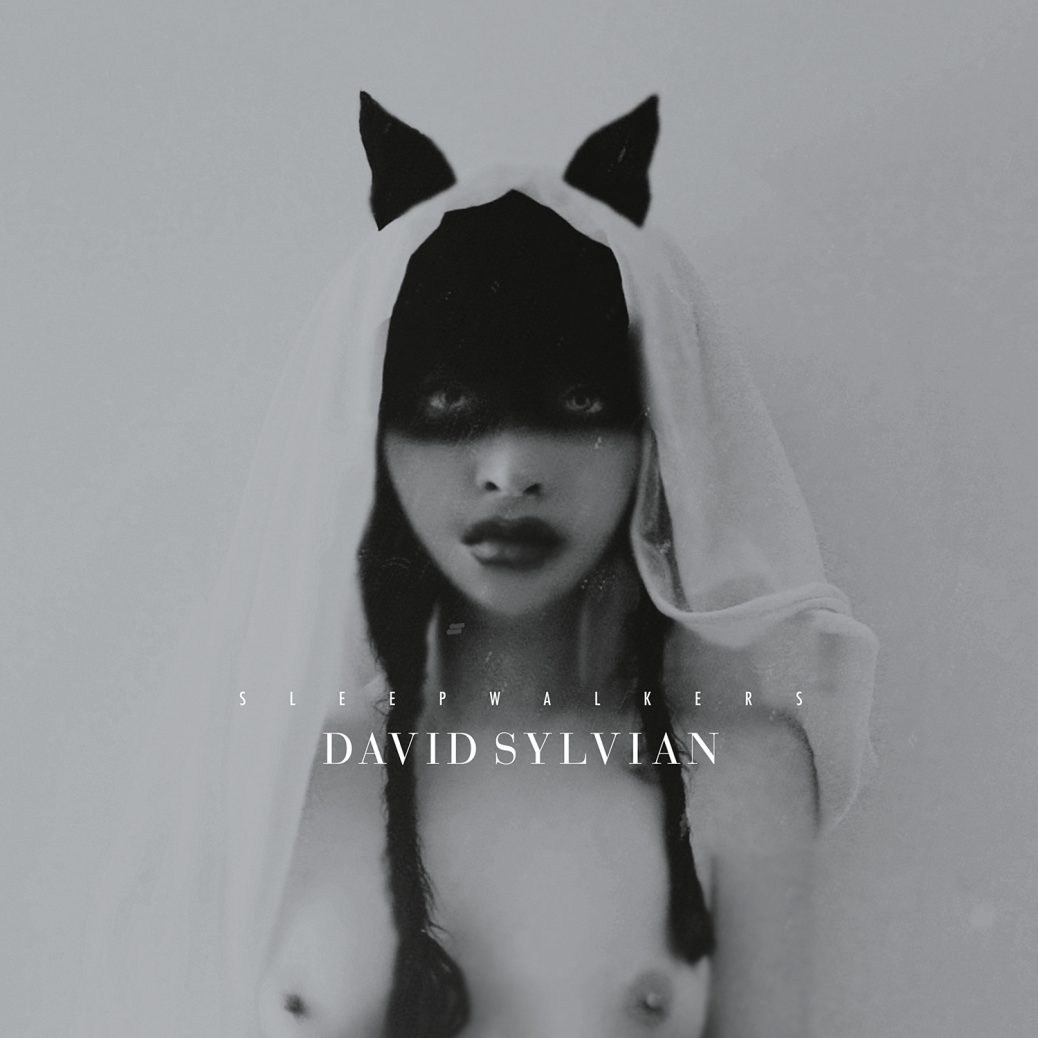 Released at June 10, 2022
(P) and (C) 2022 Groenland Records under exclusive license from the artist
Published by samadhisound publishing / campbell
CD: CDGRON256
LP: LPGRON256
Grönland Records released a revised, remastered reissue of Sleepwalkers by David Sylvian. available as a gatefold 2LP with exclusive art print and as a digipak CD in june 2022.
Additional tracks for 2022 edition: Do You Know Me Now? (first issue on cd), Modern Interiors (previously a download only release), and World Citizen.
Not included on 2022 edition are Ballad Of A Deadman and Playground Martyrs.
Notes by David on the Sleepwalkers re-issue microsite:
'as many of you will already be aware, despite relatively continuous work on solo albums, i've maintained strong ties with a number of musicians throughout my life in one context or another. on this new collection, let's call it SLEEPWALKERS 2.0, a selection of collaborative work produced over the period encompassing blemish through to manafon, i've included compositions by nine horses as well as more fleeting flirtations and one-offs. neglected offspring. represented also is long term friend and writing partner, RYUICHI SAKAMOTO, as well as more recent but potentially equally productive partnerships such as CHRISTIAN FENNESZ, ARVE HENRIKSEN and contemporary classical composer DAI FUJIKURA.

i hope you enjoy the work presented here, personally selected, remixed and sequenced and entirely remastered. these are the orphans, abused, estranged, exotic, migrating from diverse corners of the globe, brought together under one roof which they're learning to share despite their differences.

we contain multitudes. we're nothing if not contradictory.'
DAVID SYLVIAN, 2010

(consistency is contrary to nature, contrary to life: aldous huxley)
in the 00s, DAVID SYLVIAN produced two of his strongest and most solitary statements, BLEMISH and MANAFON. but those records don't tell the whole story. during that the same period, SYLVIAN created an alternate body of work: a series of collaborations and side projects with leading talents of pop and improv, electronic and contemporary classical music. the best of these recordings are gathered here on SLEEPWALKERS, meticulously sequenced and remixed: the fruits of one-off meetings and lifelong partnerships, they jump from bliss to intrigue, romance to sensuality, as arch experiments lead into the lushest pop.
the single 'world citizen – i won't be disappointed,' written with RYUICHI SAKAMOTO, is a sublime example, with an impeccable melody and lyric warmed by SYLVIAN'S gorgeous tenor. SYLVIAN has worked with SAKAMOTO for close to three decades. by contrast, on 'pure genius,' a collaboration with CHRIS VRENNA aka tweaker, he sounds like he's walked into a heist flick, singing the part of a delusional, dangerous bedroom genius. as sylvian explains, tracks like this 'give me a chance to write in a way that's completely non-personal, playful. it's an exercise of some kind, working within the parameters of a given assignment.'
intrigue of a different kind drives 'sugarfuel,' with music by JEAN-PHILIPPE VERDIN, aka READYMADE FC. the lyrics offered 'an opportunity to grapple with a more overt sexual theme than anything i'd previously attempted, as suggested by a vocal sample in the original track provided, a threateningly insistent 'i'm on your side.' so i took that as my point of entry and ran with it. i would love to write more on this subject should i find the right context. you're always aware of walking a thin line exploring sexuality with language alone. the failings of the great and the good are strewn all around.'
NINE HORSES' 'wonderful world' strolls in on a black tie bassline and the echoing coos of swedish chanteuse STINA NORDENSTAM, whose high chirps brush hands with SYLVIAN'S lead; there's the blistering 'money for all' by FRIEDMAN and SYLVIAN, an oblique response to the fallout of 9/11 and the war on iraq. this is followed by the last known recording of SYLVIAN'S singing voice in over a decade, 'do you know me now?', a live studio recording later augmented by JAN BANG, EIVIND AARSET and ERIK HONORÉ. it's certainly a title that's become more relevant over time as SYLVIAN, in the latter stages of his career, repeatedly comes face to face with a new generation of admirers fixated on the life and times of the band formed by his younger self. SYLVIAN is one of only a handful of musicians to have successfully moved on from overt pop beginnings into a domain all his own but is consistently plagued by the misguided desires or expectations of some unfamiliar with his evolution to do a u-turn, pick up where he left off in the late 90s. although this compilation, as well as his writing for NINE HORSES, adequately shows SYLVIAN'S traditional love of melody is intact, that it's consistently remained part of his output, there's no denying his focus has shifted, evolved.
the refusal to embrace complacency, the need to cover new ground 'as older generations of popular musicians have a moral duty to explore despite, or because of, the greater possibility of failure' will, i believe, lead to a reassessment of his later work that embraces a sightly more complex relationship with what we're referring to as 'melodic', accompanied by an exploration of improvisation without dogma or beholden to any 'givens' for which he's not infrequently been castigated. for SYLVIAN, there are no such boundaries. it's obvious that different facets of his work co-exist without conflict but not necessarily for the majority of his audience. again, this places SYLVIAN in the odd, rare, unenviable(?) position of moving forwards leaving many in his devoted audience behind as, should he decide to return to music, it's unlikely he'll be aiming to placate an audience in love with work that preceded the 00s. in fact we've no idea where new work, should it surface, may lead.
SLEEPWALKERS also spotlights the innovators who contributed to MANAFON and BLEMISH. CHRISTIAN FENNESZ hangs a crackling, shimmering curtain behind the vocal on 'transit,' matching his signature mass of sui generis sounds to sylvian's stately performance. and the title track began with an instrumental handed to SYLVIAN by MARTIN BRANDLMAYR of POLWECHSEL, soon after the first recording session for MANAFON. spite crackles in the gaps between the percussion, and onkyo artists TOSHIMARU NAKAMURA and SACHIKO M set the stage for the scathing lyrics in the chorus.
it cuts close to the bone and so do the two spoken word cuts, 'angel' and 'thermal,' produced by SAMADHISOUND recording artists JAN BANG and ERIK HONORÉ (and featuring ARVE HENRIKSEN on trumpet). SYLVIAN describes the latter work as a 'love poem' to his daughter. ''thermal' reflects on a period when our time in sonoma, ca was coming to an end. we'd stayed in temporary accommodation which had lulled us into a false sense of security. we had pear, apple, lemon, and figs trees growing in the yard. a small but exotic paradise. a cocoon. but the cracks were beginning to show in the relationship between [ex-wife] INGRID CHAVEZ and i which is where i think this underlying sense of anxiety, which runs throughout the poem, is derived from, coupled with the need to provide physical and spiritual stability to the children, the youngest of whom was just under two at the time. the poem is addressed to her. our world was dissipating, coming apart at the seams, but we were an island unto ourselves.'
'five lines' marked the start of a new partnership with acclaimed young composer DAI FUJIKURA, who at the time of recording was also working on remixes of MANAFON for what became DIED IN THE WOOL. the string quartet was performed by the celebrated ICE ENSEMBLE and written for SYLVIAN, who FUJIKURA cites as an early influence. says SYLVIAN, 'the composition moves through numerous changes in time signature but as i had no knowledge of what these were i just relied on my gut instinct, and responded, as i always do, with what felt right to me, composing an entirely new melody in the process. some months later i was working in a studio in london and dai dropped by. i rather tentatively asked if he'd like to hear a rough mix of the song as it stood, painfully aware that my contribution might make no sense to him at all but, to my relief he loved the result.'
there's one further new addition to this collection, the first official release of a track composed in response to the tsunami in fukushima, 'modern interiors', featuring SYLVIAN once again in collaboration with BANG and AARSET.
like 2000s EVERYTHING AND NOTHING, SLEEPWALKERS is a retrospective of a particular decade when SYLVIAN was free of major label interference and could follow his own instincts without having to explaining himself – but it's also an eye-opening complement to his solo releases. as SYLVIAN explains, 'some collaborations seem to be a one-off exchange but you can never be too certain of that fact. others have been long term. in this respect, RYUICHI comes to mind. there's others with whom you hope to continue working as you feel you've barely scratched the surface. other times offers come out of the blue, welcome, inspired. regardless, it's wonderfully explorative to have so many possibilities to juggle with. each collaboration seems timely. it's as if there's a rightness to the exchange at a given moment in time.'
in the meantime, we hope you enjoy the work presented here, personally selected, remixed and sequenced and entirely remastered. these are the orphans, abused, estranged, exotic, migrating from diverse corners of the globe, brought together under one roof which they're learning to share despite their differences.
Art Direction – David Sylvian
Artwork – Kristamas Klousch
Design – Chris Bigg
Mastered By – Tony Cousins
Sleepwalkers microsite
Gallery
Sleepwalkers main artwork

Sleepwalkers CD 2022 back

Sleepwalkers CD 2022 inner artwork

Sleepwalkers CD 2022 outer artwork

Sleepwalkers LP 2022 outer artwork

Sleepwalkers LP 2022 inner artwork

Sleepwalkers LP 2022 sticker

Sleepwalkers LP 2022 inlay artwork

Sleepwalkers LP1 front artwork sleeve

Sleepwalkers LP1 back artwork sleeve

Sleepwalkers LP2 front artwork sleeve

Sleepwalkers LP2 back artwork sleeve
Tracklist
Booklet