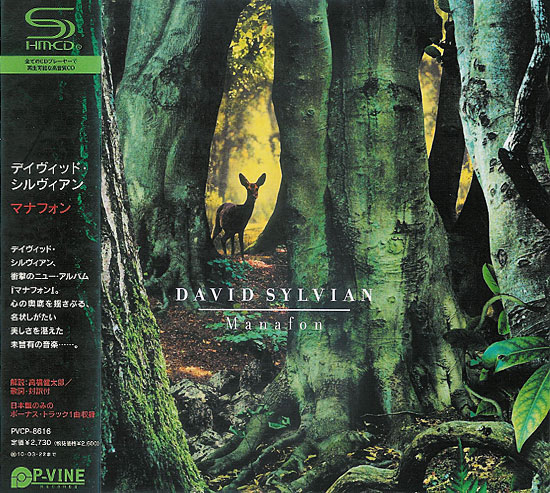 Released at September 23, 2009
(c) & (p) 2009 Samadhisound IIc.
P-Vine Records Japan PVCP-8616
The copyright in these sound recordings is owned by David Sylvian under exclusive licence to Samadhisound IIc.
Japanese release featuring a bonus track and booklet!
Presented in a 6 panel digipak featuring artwork by Ruud Van Empel, art direction by David Sylvian, designed by Chris Bigg. A big difference with the regular version is that the Japanese digi-pack is made of thicker carton. As the regular release, it comes with a credit sheet folded and inserted into the digipak itself. However, this release has a sheet which is adapted with information of the bonus track.
Also, there's an extra booklet in the digipack with (as usual) Japanese credit notes and all the lyrics in English and in Japanese.
Creditsheet notes:
Original sessions recorded between 2004-2007
Produced, engineered and mixed by David Sylvian at Samadhisound 2008
Additional engineering:
Vienna: Christoph Amann, Tokyo: Toshihiko Kasai, London: Sebastian Lexer, London: Neil Tucker
Recording session coordination: Adrian Molloy on behalf of Opium (Arts) Ltd.
Recording session coordination (Tokyo): Sari Hayashiguchi on behalf of Epiphany Works.
All compositions published by Samadhisound Publishing / Campbell Connely & Co Ltd. except tracks 3,6,9 published by Samadhisound Publishing / Campbell Connely & Co Ltd / Copyright Control.
Art direction: David Sylvian
Design: Chris Bigg
Cover artwork: Ruud van Empel, sudy in green nos. 1,5,8 (2003), sudy in green no.16 (2004). Courtesy Flatland Gallery, Utrecht, The Netherlands.
(www.ruudvanempel.nl, www.flatlandgallery.com)
David Sylvian portrait and related drawings: Atsushi Fukui
Art direction and Liaison (A. Fukui): Yuka Fujii
SHM-CD

This album is released in Japan as a SHM-CD. What's the difference with a regular CD?
The high quality SHM-CD (Super High Material CD) format features enhanced audio quality through the use of a special polycarbonate plastic. Using a process developed by JVC and Universal Music Japan discovered through the joint companies' research into LCD display manufacturing, SHM-CDs feature  mproved transparency on the data side of the disc, allowing for more accurate reading of CD data by the CD player laser head. SHM-CD format CDs are fully compatible with standard CD players.
Gallery
Tracklist
Booklet