Released at June 8, 2011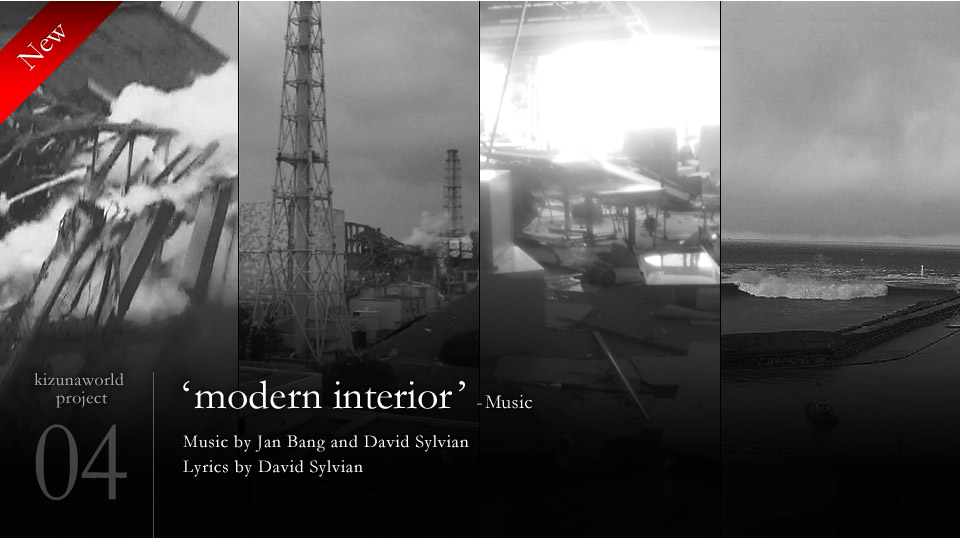 Kizuna (Ryuichi Sakamoto, Tomoyasu Hirano), David Sylvian, Jan Bang
Lyrics
And just because we stand in place
And just because we tow the line
Our hand still shake the dream away
And just because we stand in place

We still feel extremely well
We still feel extremely well
We still feel extremely well

We won't show so you can't tell
And we still feel extremely well
And this is what we sacrifice
Last one to leave turn out the light

(lyrics by reader of davidsylvian.net)
Exclusive, beautiful track by David Sylvian and Jan Bang for the Kizunaworld Project (founders Ryuichi Sakamoto and Tomoyasu Hirano). Artists involved in the project are Ryuichi Sakamoto, Arve Henriksen, Valerio Berruti, Alva Noto.
Great track by David and Jan Bang. Let the small sample convince you to donate the project.
'modern interior' was composed exclusively for Kizuna with the recent suffering and sacrifices of the Japanese people uppermost in mind. I'm an advocate for a nuclear energy
free world and disasters, such as the one we've witnessed this year in Fukushima, only go to reinforce how volatile these kinds of facilities are with the inherent dangers far outweighing the potential good. These sentiments are echoed, somewhat obliquely, in the song itself.

– David Sylvian
Currently the project features the following videos and audio tracks:
Kizuna – prayer for japan- (videoby Valerio Berruti & music by Ryuichi Sakamoto)
Kizuna World (Music by Ryuichi Sakamto feat. Arve Henriksen & video by Tomoyasu Hirano with Norika Sora)
Kizuna motonoto version (Music by Ryuichi Sakamoto, re-modelled by Carsten Nicolai (Alva Noto))
Modern Interior (Music by David Sylvian and Jan Bang)
Getting the tracks and videos is simple: make a donation on the site (read the instructions!) and you'll recieve the download link.
About kizunaworld.org
On 3/11/2011, a massive earthquake and tsunamis hit Japan.
The extensive and tragic damage that the natural disasters caused, along with other human-rooted disasters (Fukushima nuclear disaster), call for an enormous amount of funding to reconstruct the disaster-stricken area.
Already, many people throughout the world have been active in raising money, but the amount raised will never be enough. Ryuichi Sakamoto and Tomoyasu Hirano have founded '"kizunaworld.org', a project to support and rebuild the afflicted area as quickly as possible.
We want to do whatever we can as individuals to help the afflicted people, without any affiliation with an agency, record label or any type of organization.
At 'kizunaworld.org'" we hope to have like-minded artists donate their work, which we hope will in turn encourage even more contributions. The money raised will be given to the five aid organizations that we have determined are necessary to the reconstruction.
This project will start up initially with sales of "'kizuna'", a collaborative artwork created for charity by Ryuichi Sakamoto; the project founder, and Valerio Berruti.
We are also thinking of adding artwork by other artists endorsing this endeavor as time goes on, to keep the project fresh with newly donated works. By doing so, this will become more than a temporary, one-shot project but rather something that can continue long-term. We want to continue and extend our assistance to the stricken area through this project for as long as the need is there.
Although the help one person can provide may be limited, every little bit helps, and it will make a big difference if those who agree with this thinking can act together.
We humbly await your assistance.
Founders:
Ryuichi Sakamoto (Composer/Musician)
Tomoyasu Hirano (Media Creator)
Gallery
Kizunaworld.org