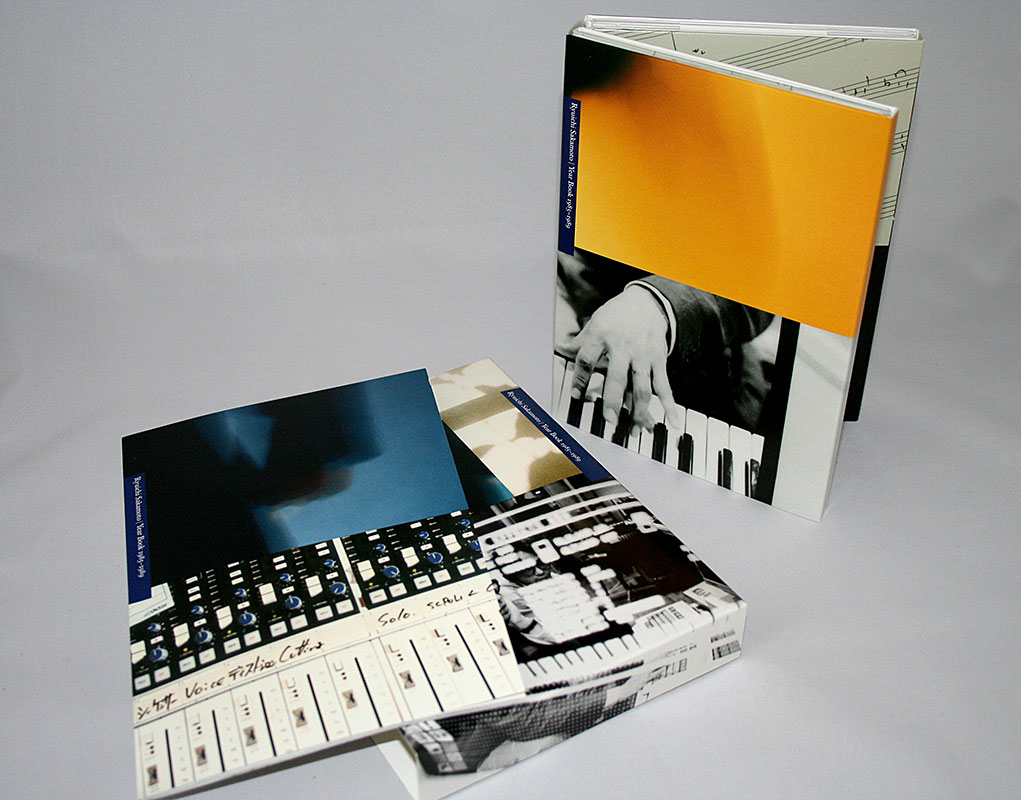 Released at February 18, 2018
Commmons ‎– RZCM-86486-90
Beautiful 5CD boxset in slipcase, including a 52-page booklet. On disc 5, the track Steel Cathedrals is included.
Ryuichi Sakamoto Archive "Year Book Series" 4th release 2018/02/28 release. Contains rare sound sources from works from 1985 to 1989.
Koharu Kisaragi, Yuji Takahashi, Haruna Miyake, Kazumi Watanabe et al. "Matthew 1985" performance full-length, session at Roppongi INKSTICK, excellent song that was not recorded in "Future School" even though completed) "89 years NHK FM special number Co-star with Taeko Onuki, "Rachael / Sandy & the Sunsets (first CD)", not yet released "The Garden (TOKIO KUMAGAI)", etc.
[Recording contents (music name / demonstration artist)]
DISC 1 [TV War] / Ryuichi Sakamoto
※ A live recording of the performance performed with radical TV at the Ibaraki Prefectural International Science and Technology Expo in 1985.
The edited version of "TV WAR" is released as a video work in 1985, but this work is a full-length live sound source.
DISC 2 [Inkstick Session]
/ Sakamoto Ryuichi (KB), Bill Laswell (Bass), Kondo Toshinori (Tp), Yamaki Hideo (Drums), Carlos ・ Aroma (Gt)
※ chord progression also tempo A live recording of a 1985 improvisation at Tokyo Roppongi Inkstick, held without prior meetings.
Ryuichi Sakamoto joined at the fairlight.
1. Ending
2. City
3. Robot
4. Live
5. War
6. Opening
DISC 3 & 4 [Matthew 1985-that person did nothing]
/ Watanabe Kazumi + Miyake Haruna + Sakamoto Ryuichi + Takahashi Eiji + Kisaragi Koharu & NOISE
+ Support Musician: Greg Lee (Bass), Murakami "Ponta" Shuichi (Drums), YAS-KAZ (Perc), Joh Sakimoto (harmonica), Tokoe Naoko (Vln)
* A music performance created to commemorate Bach's 300th birthday in 1985.
DISC 5
(01) Rachel / Sandy and the Sunsets
(02) NHK 'Science Expo Highlights' Ending Theme / Ryuichi Sakamoto
(03) Steel catherals / David Sylvian
(04) Neo Plant / Koharu Kisaragi
(05) Futurista ("Future School" album not recorded song) / Ryuichi Sakamoto
(06/07) Fuji TV CM "Shinayaka Shiso" theme song A type + Type B / Ryuichi Sakamoto
(08) Chaishin the air / Yosuke Yamashita + Bill Laswell / Ryuichi Sakamoto
(09) Undo – Demo # 3 / Ryuichi Sakamoto
(10) Wind Road (10 From NHK-FM special number "Acoustic Concert") / Tae Onaki + Ryuichi Sakamoto
(11) The Garden (From not for sale "Tokio Kumagai") / Ryuichi Sakamoto
Gallery
Ryuichi Sakamoto - Year Book 1985-1989 Front

Ryuichi Sakamoto - Year Book 1985-1989 back

Ryuichi Sakamoto - Year Book 1985-1989 disc

Ryuichi Sakamoto - Year Book 1985-1989 panel 1 - 2

Ryuichi Sakamoto - Year Book 1985-1989 panel 3-4

Ryuichi Sakamoto - Year Book 1985-1989 panel 5-6

Ryuichi Sakamoto - Year Book 1985-1989 disc panel 1 -3

Ryuichi Sakamoto - Year Book 1985-1989 disc panel 4-6
Tracklist
Booklet