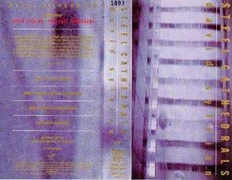 Released at December 14, 1985
Short video, shot in two days in the area of Tokyo (industrial part).
Limited to 2000 copies
David's notes:
This short film was shot in two days of November 1984 in, and around the outskirts of, Tokyo, Japan. A large part of the music was completed during that same month and recorded over a period of three days. I later updated the material in London, in an attempt to elaborate on the theme started earlier in Japan, and to further improve the quality of the soundtrack.
DS, Aug 1985.
Gallery
Tracklist