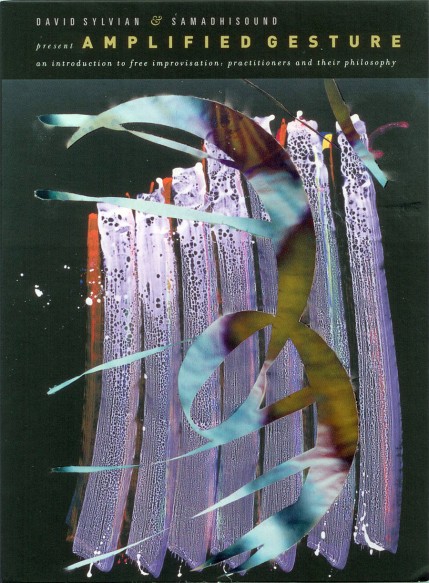 Released at January 23, 2013
Samadhisound sound ssdvd01
David Sylvian & Samadhsound present standalone DVD release of Aplified Gesture. An introduction to free improvisation: practitioners and ther philosophy.
Extended version of the dvd that was previously released as part of the deluxe Manafon box.
Like one of those underground rivers lurking beneath London's streets, improvised music keeps on flowing
(text on inner panel)
Presented in a dvd digipak (with a matt laminate and spot gloss finish)
featuring artwork by Katharina Gross, art direction by David Sylvian,
designed by Chris Bigg.
Credits
Art direction: David Sylvian.
Design: Chris Bigg
Cover image: Katharina Grosse
Untitled, 2010 acrylic on canvas 96 1/4 x 80. Courtesy of Private
Collection California and Christopher Grimes Gallery, Santa Monica
Katharina Grosse and VG Bild-Kunst Bonn, 2011.
DVD contents
Coaxing or pummelling?
by Clive Bell
A Man Of No Significance
by David Sylvian
Amplified Gesture
by Phil Hopkins

The First Input
Evolution pt.1 AMM
Evolution pt.2
Raw Materials
A Dedicated Proposition
Artist Audience & Architecture
The Perpetual Stimulus
The Collective

Artist biographies and extras
Subtitles
Liner notes
When David Sylvian finished work on his new album Manafon he wanted to document the individual philosophies of the various musicians who contributed to the project, to ask what had driven them throughout a lifetime of experimentation and inquiry. The list of players includes Christian Fennesz, Toshimaru Nakamura, Evan Parker, Eddie Prvost, Keith Rowe, John Tilbury and Otomo Yoshihide, among others.

The film bears witness as the musicians discuss their work, influences, the evolution of ideas, their personal philosophies. In essence, how they came to find themselves on the particular paths they've taken. The original intention was to give context to Manafon, but the film grew in scale to become an intimate portrait of musicians pursuing a line of inquiry in their life and work to create innovative, free spirited music of uncompromising integrity.
Available for the first time as a stand alone DVD release. Amplified Gesture has been revisited and revised by director Phil Hopkins. This edition also includes a short introductory film by David Sylvian, along with preciously unseen footage and biographies of the film's participants.
From samadhisound.com:
Amplified Gesture was first released in 2009, within the deluxe edition of David Sylvian's groundbreaking album, Manafon.
The film explores the journeys and philosophies of a select group of experimental musicians including Keith Rowe, Evan Parker, Eddie Prevost, Otomo Yoshihide, Toshimaru Nakamura and Christian Fennesz. Intimately and eloquently, these exceptional artists reveal themselves through their ideas and working practices, creating a captivating document of a thriving and endlessly renewable music scene.
Revised and re-visited, this DVD release features a new chapter, titled The Collective, in which contributors explore political questions arising both within and outside of their respective musical ideologies. In addition to artist biographies, the disc also contains interview excerpts and outtakes on a range of subjects; Fennesz talks of the notions of depth and impact within his sound world, while John Tilbury discusses Cornelius Cardew and Keith Rowe reflects on the role
of architecture in AMMs performances.
Also included on the disc is a short introductory film, written, directed and narrated by David Sylvian.
A Man of No Significance documents the journey and modus operandi of the Manafon recording sessions and the creative rationale for the production of the film.
Cover image: Katharina Grosse.
Untitled, 2010 acrylic on canvas 96 1/4 x 80. Courtesy of Private
Collection California and Christopher Grimes Gallery, Santa Monica
Katharina Grosse and VG Bild-Kunst Bonn, 2011.
In 2009 David Sylvian released Manafon, one of the riskiest, most adventurous albums of his career. The culmination of years of studying the techniques of free improvisation and automatic writing, Manafon is built on ensemble performances by some of the worlds leading improvisers. To accompany that release, Sylvian produced the documentary Amplified Gesture, featuring in-depth yet accessible interviews with the practitioners of this craft. Previously available only with the deluxe edition of Manafon, the documentary now sees a well-deserved standalone DVD release that includes new material and a short documentary by Sylvian, A Man of No Significance.
Directed and edited by Phil Hopkins, with interviews conducted by Nick Luscombe, Amplified Gesture takes us to the studios and workspaces of eleven leading improvisers across Europe and Japan from legends like saxophonist Evan Parker to rising stars including Christian Fennesz. Their conversations teach us about improvisation as a practice and as a culture. The aim was to pique the interest of the audience in the hope that they would wish to find out more, says Hopkins. I do think there are insights in this film which apply to anyone concerned or connected with other kinds of artistic endeavour. By focussing principally on the ideas and philosophies, I think we arrived at something quite pure.
There's isn't, to my knowledge, a comprehensive film on this subject, these musicians, the history of free improvisation as seen through the eyes and ears of its European practitioners, says Sylvian. It's a unique branch of the evolution of free jazz through to free improv, a story thats not adequately been told on film. We attempt to touch upon the opening of the East to these influences and the significant impact artists such as Otomo Yoshihide and Toshimaru Nakamura have had upon the scene, and how that exchange broadens the conversation, contributing to an ongoing evolution of ideas.
Keith Rowe and Eddie Prvost recall the birth of Englands groundbreaking ensemble AMM, while in Japans younger onkyo scene, practitioners such as Yoshihide, Nakamura, and Sachiko M describe their relationship with machines that defy mastery, like Nakamuras no-input mixing board. Their discussions range from how they first began this practice leaving behind old idioms and popular music in pursuit of the unknown to the unending process of learning from their collaborators, their instruments, and the ever-changing circumstances in which they find themselves. As saxophonist John Butcher explains in the film, It
wasn't an idiomatic choice you were making. It was a life choice, about how you wanted to approach life, and how you wanted to approach creativity, and how you wanted to approach music.
Instrumental outtakes from Manafon provide the score, but the documentary eschews that project to focus on the musicians, and the almost fifty years of history and discovery that they represent. To tie the two projects together, Sylvian has produced a new short film shot at his home and studio in New England. In voiceover he discusses his own study of free improvisation, from the first time he discovered Derek Bailey's Aida in his twenties, to his efforts to incorporate improv and automatic writing into his compositions and songcraft. This new feature joins other outtakes including longer interviews with Fennesz, Rowe, and
John Tilbury.
Free improvisation is a field that is rarely documented and often misunderstood. This gorgeously-filmed and quietly intriguing documentary will lure in new listeners, while rewarding fans with new insights and rare glimpses into the hearts and minds of these musicians the pioneers who commit to improv as a form, a challenge, and a lifelong journey.
The Facebook announcement:
On Januari 20th 2013, David posted a message on Facebook but removed it quickly afterwards. The reason for removal is unknown.
This was the post that was removed:
David Sylvian
David on Amplified Gesture:
"Phil was commissioned to make the film but his knowledge of the subject matter was a little sketchy to say the least so the project was something of an exciting learning curve for him. I thought this might prove to be a blessing of sorts because the aim of producing the documentary was to introduce a potentially new audience to the working philosophies of the practitioners of free improvisation (hence the subheading of the film) in effect mirroring Phil's own growing awareness of his subject matter. As the DVD's first outing was as a bonus feature attached to the manafon album (not a 'making of' by any means but an anticipation of questions that might arise on listening to the work) we were undoubtedly going to be introducing these musicians and their discipline to virgin ears. Nick Luscombe brought with him his personal knowledge of the genre and a set of questions we hoped might help shed
light on why these musicians chose to take the road less travelled.
There isn't, to my knowledge, a comprehensive film on this subject, these musicians, the history of free improvisation as seen through the eyes/ears of its european practitioners. It's a unique branch of the evolution of free jazz through to free improv, a story that's not adequately been told on film. We attempt to touch upon the opening of the East to these influences and the significant impact artists such as Otomo Yoshihide and Toshi Nakamura have had upon the scene and how that exchange broadens the conversation, contributing to an ongoing evolution of ideas. As i said, AG can in no way be seen as comprehensive, rather, it's simply an introduction to a much larger overview of the history of the genre which I hope someone will one day find the means to produce however, i did keep in mind the notion that this documentary might have a life of its own, removed from the context of Manafon, might just turn up on cable or late night TV somewhere at some point in time, and in that sense it had to stand strong independently, hopefully whetting the appetites of those that tuned in to learn more. Although still producingoutstanding work, some of the best of their respective careers, a number of the musicians featured in the film are in the september of their years. Here was an opportunity to record them speaking intimately about their work that I felt we couldn't afford to miss. I only wish we'd had the means to do more."
david sylvian dec '12
(from japansylvian.com)
Gallery