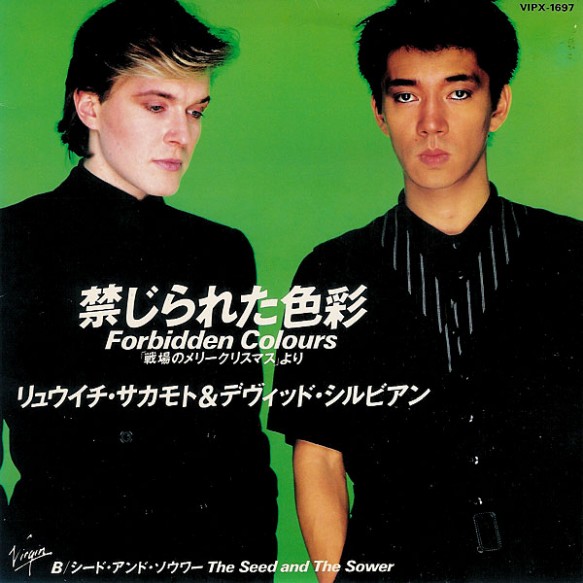 Released at July 2, 1983
7": VS601
12": 601-12
7": Japan VIPX1697
CD: VJCP14025 (Japan)
Second, succesful collaboration between David Sylvian and Ryuichi Sakamoto. Vocal version of the theme of the movie "Merry Christmas Mr. Lawrence".
Credits: Produced by R. Sakamoto. Original cover by David Sylvian and Yuka Fujii.
7″: VS601
a-side: Forbidden Colours
b-side: Seed and the Sower [Sakamoto instrumental]
Note: On the thick cardboard sleeve of the Japanese single, the lyrics are written on the back and contains a printed inlay.
3″: CDT13
1. Forbidden Colours
2. Bamboo Houses
3. Bamboo Music
5″: CDF18
1. Forbidden Colours
2. Bamboo Houses
3. Bamboo Music
4. Forbidden Colours (version)
12″: Virgin|Ariola Germany 600.965
side A: Forbidden Colours, Merry Christmas Mr. Lawrence
side B: Nightporter (Japan 1982)
Note: There seems to be a release with the same cover but rotated 90 degrees and the text:
Japan
Sylvian
Sakamoto on the right in black text.
The German release attempted to cash in on both the successes of Japan's Nightporter and the movie Merry Christmas Mr. Lawrence, featuring the vocal- and instrumental versions.
On the left there's another vesion with Instrumental Forbidden Colours on the b-side. The shown back cover sports the movie promo picture with it's the title "FURYO"
Forbidden Colours 5″ Japanese 4-track version


Above is printed the magnificent Japanese version of Forbidden Colours on 5″ CD (VJCP14025) from 1991. This is a real collector item and quite often it is listed for sale (not cheap though). If you are really a Sylvian collector, get this one!
Gallery
Tracklist