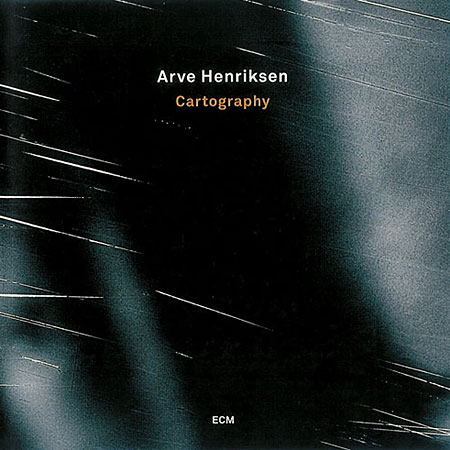 Released at October 20, 2008
From Arve Henriksen, Cartography (recorded between 2005 and 2008) is a beatiful album . Packed in a slipcase with 16 page booklet.
The album was released on 20th October 2008 on MUSIKKOPERATRENE AS (ECM) and was later released worldwide in November on ECM.
Full tracklist:
Poverty And Its Opposite (Henriksen/Bang/Kleive)
Before And Afterlife
Part 1 (Sylvian)
Part 2 (Henriksen/Bang)
Migration (Henriksen/Bang)
From Birth (Henriksen/Bang/Kleive)
Ouija (Henriksen/Bang/Honor)
Recording Angel (Henriksen/Bang)
Assembly (Henriksen/Bang/Honor)
Loved One (Henriksen/Bang)
The Unremarkable Child (Henriksen/Bang)
Famine's Ghost
Part one (Henriksen/Bang/Honor/Brooks)
Part two (Henriksen/Bang/Kleive/Storlkken)
Thermal (Lyrics by David Sylvian, music by Henriksen/Bang/Kleive/Aarset)
Sorrow And Its Opposite (Arntsen/Skeie)
Personel:
Arve Henriksen trumpets, voice, field recording
Jan Bang live sampling, samples, beats, programming, bass line, dictaphone, organ samples, arrangement
Audun Kleive percussion, drums
David Sylvian voice, samples, programming
Helge Sunde string arrangement and programming
Eivind Aarset guitars
Lars Danielsson double-bass
Erik Honor synthesizer, samples, field recordings, choir samples
Arnaud Mercier treatments
Trio Mediaeval voice sample
Vrne Andronikof vocals
Vytas Sondeckis vocal arrangement
Anna Maria Friman voice
Stle Storlkken synthesizer, samples
Album Description (press)
First ECM leader date for the widely-admired Norwegian trumpeter Arve Henriksen, 'Cartography' explores a range of changing, beautiful landscapes with electronic wizards Jan Bang and Erik Honor and guests such as singers Anna Maria Friman and David Sylvian (here reciting his own poetry). It's very "visual" music, like soundtracks for unmade films, emphasising melody and atmosphere.
'Cartography' is produced by Jan Bang and Erik Honor, co-founders of Kristiansand's Punkt Festival, location for several of these recordings. The pair have collaborated for many years – they work as a duo also called Punkt and as a travelling remix unit. As shapers of soundscapes they are in search of a relaxed yet intense openness, a description that can be applied to the music here. Much of the music is freely created but its particular freedoms are applied to horizontal movement: Heniksen's trumpet glides over the changing terrain created by his associates. Amongst the many guests is singer David Sylvian, making his ECM debut reading two of his poems; Trio Mediaeval are sampled on the track "Recording Angel", and Anna Maria Friman sings on "Famine's Ghost".
Personnel:
Arve Henriksen – (trumpets, voice), with: Jan Bang – (samples), Erik Honor – (synthesizer), Audun Klieve – (percussion), Eivind Aarset – (guitars), Anna Maria Friman – (voice), David Sylvian – (speaker) and others
Arve Henriksen site
Gallery
Tracklist