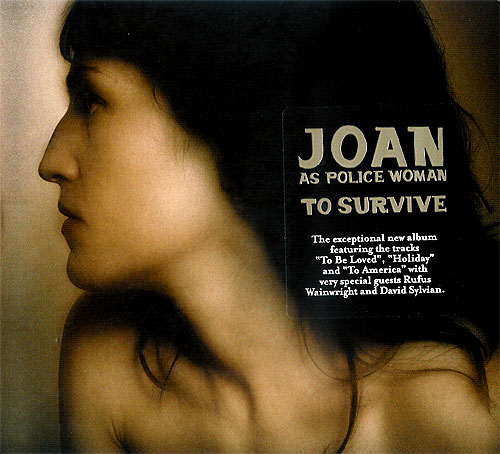 Released at June 6, 2008
Echo Label Inc., PIAS Recordings
Joan As Police Woman (Joan Wasser) released her second album nearly two years to the date after her debut Real Life arrived.
To Survive is available through Reveal Records as a CD, download and a LP version which also comes with a bonus CD.
The European/US version contains ten new songs, including the single To Be Loved and the closing track To America – featuring Rufus Wainwright.
This version contains Honor Wishes, featuring David Sylvian.
Tracklist:
Honor Wishes (feat. David Sylvian)
Holiday
To Be Loved
To Be Lonely
Magpies
Start Of My Heart
Hard White Wall
Furious
To Survive
To America (featuring Rufus Wainwright)
The beautiful digi-pack contains a poster with all credits and lyrics.
Japanese version
The Japanese version (PIASR121CDJ) contains 3 bonus tracks (!):
No Question (featuring David Sylvian)
Take Me
Radish (To Be Free
Remarkable is that the Japanses version uses the standard digi-pack packaging, with all standard label numbers but has replaced the disc and added the obi and Japanese inlay (lyrics in Japanese only). Only the obi shows the Japanese catalogue number.
Gallery
Tracklist