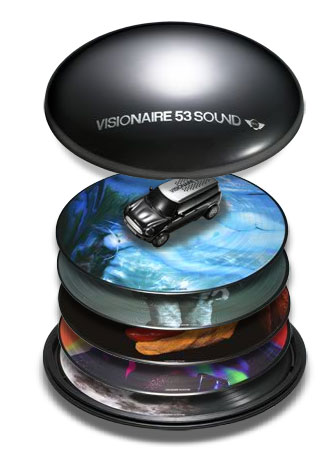 Released at March 17, 2008
Visionaire Publishing, LLC
VISIONAIRE 53 SOUND
ISBN-10: 1888645687
ISBN-13: 978-188864568
A stunning 5 LP/2 CD Box Set with a mini clubman mini-record player all in one neat-box. Part of a numbered limited edition of 4,000 only.
Featuring everybody from Lalo Schifrin to U2, Unkle, Delia Derbyshire, Pet Shop Boys, Sunn O))) and many more. "Visionaire SOUND will consist of five 12-inch vinyl records, imprinted with images (picture discs), containing approximately 100 minutes of sound content featuring audio experiments, unreleased songs, samples, and spoken word pieces.
The 5 records are ackaged inside a domed case that also houses a custom-made Mini Clubman "Vinyl Killer" Record Player: a battery-operated toy car containing speakers and a needle. As the little car drives along the record's groove, it plays each track, acting as a fully portable record player and sound system.
These contributions amount to over 100 minutes of previously unreleased audio experiments, samples, spoken word pieces, and even actual songs. The images on the picture discs were created by a number of artists you might recognize from their work on your favorite album covers, including Peter Saville, Cindy Sherman, Raymond Pettibon, and Robert Longo.
The issue also includes 2 CD's with all the sound content, and a booklet of credits and instructions.
Musicians: David Byrne, U2, Fergie, Michael Stipe, Courtney Love, Laurie Anderson, Cat Power, Adam Horovitz (Beastie Boys), Lee Ranaldo, Antony & the Johnsons, Thurston Moore and Kim Gordon (Sonic Youth), Malcolm McLaren, Ryuichi Sakamoto, David Sylvian, Andrew WK, Danger Mouse, featuring Jezebel Jade Jagger, Nigo featuring TERIYAKI BOYZ, Lou Doillon, Liza Minelli
Artist: Mario Testino, Yoko Ono, Cerith Wyn Evans, Christian Marclay, Doug Aitken, Robert Wilson, Gary Hill, Sylvie Fleury, Vito Acconci, Mariko Mori, Carl Michael Von Hausswolff, Milla Jovovich, Linda Evangelista
Bands: The Knife, Littl'ans, Unkle, Animal Collective, SunO))), Gang Gang Dance; DJ's Paul D. Miller (DJ Spooky), miss kittin, Trevor Jackson, Towa Tei, Nigo, Hiroshi Fujiwara
Fashion designer Karl Lagerfeld, Alexander McQueen, Helmut Lang, Stefano Pilati and many others.
Price is about 199.99 (US$250).
Gallery
Tracklist