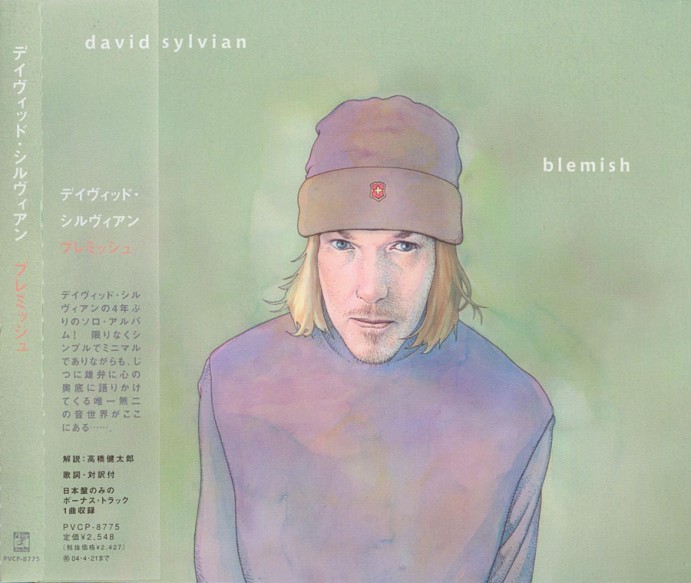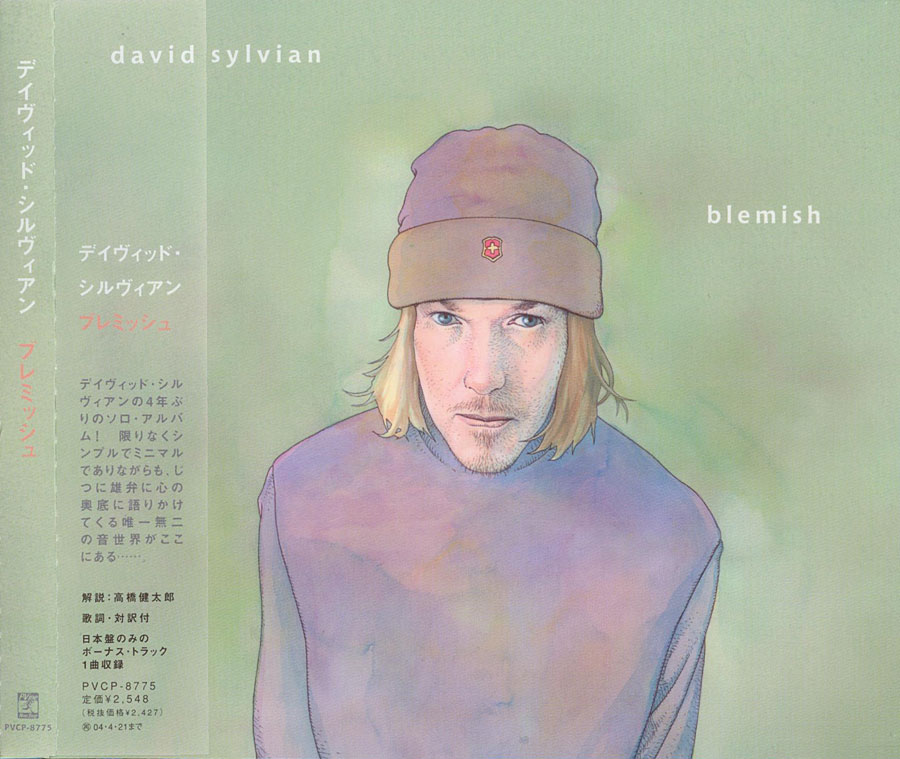 Released at July 21, 2003
© 2003 samadhi sound llc. The copyright in these sound recordings is owned by samadhi sound llc.
Japanese version with bonus track Trauma.
Trauma is only available on the Japanese release of Blemish. Besides the bonus track and the obi, you will also find in the digipack a folded sheet with lyrics and liner notes.
Credits
Art direction and design by Yuka Fujii
Cover artwork by Atsushi Fukui
Produced, composed, performed, engineered by David Sylvian, except tracks 2/5/7
Guitar by Derek Bailey (tracks: 2, 5, 7)
Composed by Derek Bailey and David Sylvian. track 8. Electronics and arrangement by Christian Fennesz
Derek Bailey sessions engineered by Toby Hrycek-Robinson (tracks: 2, 5, 7) at the moat
Mixed by David Sylvian
Recorded at samadhi sound studio feb/march 03
The announcement:
David set aside a month to write and record the album while taking a break from the project that he and his brother, Steve Jansen, are currently working on. He has created an impromptu suite of songs for guitar, electronics and voice. The compositions were crafted from improvisational sessions captured live in the studio. Working almost entirely alone david has created an emotionally raw, minimal work, of immediacy and stark beauty.
Although there are elements in his previous body of work that hint at the direction taken here the cd, entitled simply 'blemish', appears to cover new ground in style, content, intensity of emotion, and in the seemly open ended nature of the compositions themselves. Adding to the intensity and air of experimentation is the presence of Derek Bailey. Three of the pieces included on 'blemish' were written with, and feature, the legendary free-jazz guitarist. The final track of the CD features a haunting electronic arrangement by Christian Fennesz.
The album was recorded in the month of February 03 and mixed in March 03.
All aspects of the recording were handled by David himself.
David has committed to working on a number of projects simultaneously and is currently continuing work on his album with Steve Jansen, as well as creating sound design work for the films of photographer Charles Lindsay, developing live performances, and collaborative sessions with the likes of Christian Fennesz……
Gallery
Tracklist