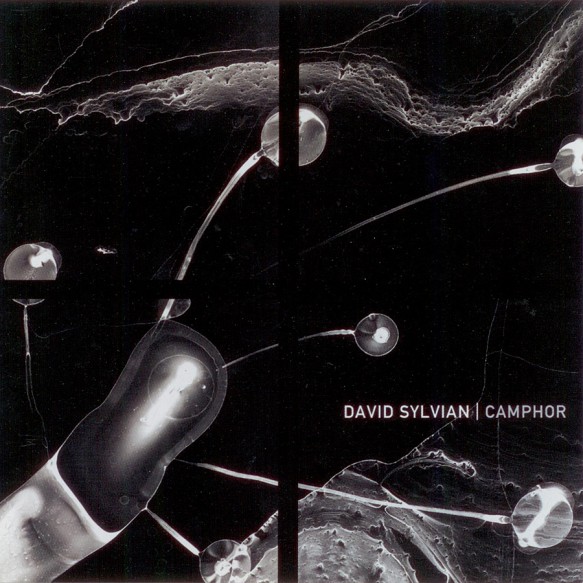 Released at June 5, 2002
2002 Virgin Records Ltd. Made in Japan
Venture VJCP-68424,
Virgin 7243 8 12197 2 0
Manufactured by Toshiba-EMI Ltd., in Japan.
Japanese version: Mutability (detail) ONLY on Japanese and 2CD Deluxe version.
Producer: David Sylvian at Samadhi Sound Studios
Technical advice and assistance: Dave Kent
Art Direction: Yuka Fujii, David Sylvian
Design: Russell Mills assisted by Michael Webster
Photography cover: Charles Lindsay
Portrait photography: Kevin Westenberg
Album is dedicated to David's manager and best friend, Richard Chadwick and to Declan Colgan.
Design of the artwork is (of course) by Russell Mills, with assistance of Michael Webster.
The Japanese version:
Besides having an obi, the Japanese version differs from the regular version by having a bonus track, Mutability (version), that can also be found on the bonus CD of the double CD Limited Edition released in the UK. There is no word of this extra track printed on the back-inlay, nor English Booklet. However, both the obi and the extra Japanese inlay mention it though. This additional Japanese inlay contains liner notes from some Japanese
critic and a forword by David, slightly different from his notes on the US press
release. Read it below.
David's linernotes on the credit sheet
Camphor isn't the compilation I had in mind to make when entering into this, my final project for Virgin Records after a span of 22 years. I'd originally intended to create a somewhat more languorous collection composed of edits or details of the longer instrumental works that I've composed on and off for the past 18 years interspersed with shorter pieces. Compositions such as "Steel Cathedrals", "Words with the Shaman", the collaborations with Holger Czukay, and the more recent installation "soundtracks". I found the task of cutting these works down, loping off tops and tails in search of a section that might reasonably encompass the whole in essence, dispiriting. I gave up after one or two attempts and returned to an impromptu compilation, which took form as the requested 2 track masters arrived in stages from Virgin UK. I'd been loading these piecemeal into the computer and rather surprisingly a workable form had rapidly begun to take shape. Along with the 2 track masters I'd requested a number of original multi-tracks. I started re-rnixinq these for reasons of curiosity and self-gratification ~reSUmablY, this would be the last time I'd have access to this material) rather than in the hope of finding a place for them on the compilation. Nevertheless, a number of the re-mixes did find a home among the tracks culled from the "Gone to Earth" album and the "Rain Tree Crow" sessions among others. When Virgin requested material for a bonus CD to be part of a limited edition package I volunteered t~e re-mixes I'd completed of Sylvian / Czukay compositions. A beautiful contribution from Nils Petter Molvaer of a reinterpreted "Mother and Child" becomes the center piece of a surprisingly coherent collection of (mainly) instrumental compositions.
Virgin are in the process of re-mastering the solo catalogue and are including the Alchemy CD previously only available as part of the limited edition "Weatherbox" set. Pieces that failed to find a home on the compilation (Steel cathedrals, Words with the Shaman) will once again be widely available.
Recording the instrumental works over the years hasn't always been easy. Although Virgin Records were magnanimous enough to grant me creative freedom the level of interest, commitment and financial support didn't necessarily follow through. I remember working on the instrumental portion of the Gone To Earth album at the close of each day once the daily criteria for the vocal work was completed as the budget only allowed for the one (vocal) album. The albums with Holger, born out of spontaneous late night sessions at Can Studios. The installation work created at home. Recordings made in absence of, or with minimal budget. The exception to the rule being the Rain Tree Crow recordings. We were given the largest budget it's been my pleasure to work with on the back of our collective reputation as a somewhat bankable entity. As far as sales went it fared worse than just about anything I've released since 1980. A great shame as the album was on the whole a joy to make and remains something of a favourite of mine. Irrespective of the legal wrangling that went on behind the scenes in an attempt to get these projects completed, I feel nothing but gratitude for the tremendous freedoms given to explore musical avenues that most other major labels wouldn't have given consideration to.
Not one given to reviewing past work I'm greatly relieved that this drawn out process of compiling material from the past 20 odd years is finally over and that the, in recent years, rather thorny relationship with Virgin has finally come to a close. I've seen many faces come and go during my time with the label. My gratitude to those it's been my pleasure to work with in the Virgin family. Deserving of special mention are Simon Draper and Declan Colgan whose enthusiasm and support have played an important role in allowing this material to find its way into the world.
David Sylvian January '02
Gallery
Tracklist
Booklet