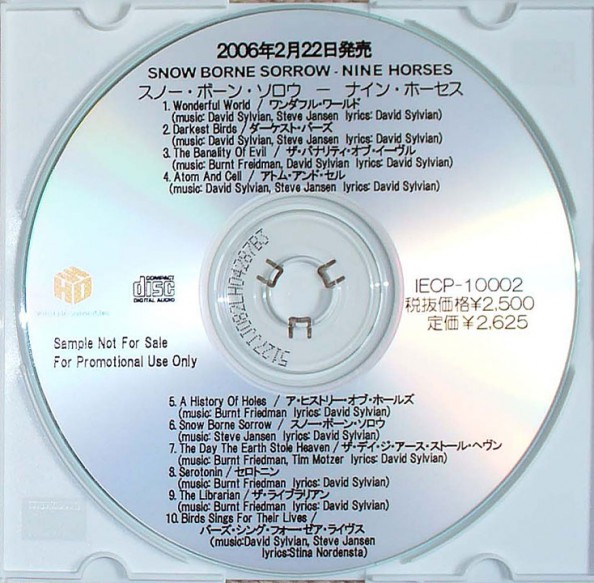 Released at October 10, 2005
Japanese CDR promo, probably P-Vine
This promo CDR was probably distributed to radio stations as all credits are printed on the disc.
No artwork included, no inlay, just a printed CD-R in a slimcase box.
Nine Horses' 'Snow Borne Sorrow' is a collaboration between David Sylvian, his brother and frequent collaborator / drummer Steve Jansen (also formerly of Japan) and electronic composer / remixer Burnt Friedman.
executive producer David Sylvian
engineered by sylvian, jansen, friedman
mixed by david sylvian with steve jansen at samadhisound
except Snow Borne Sorrow: mixed by david sylvian with steve jansen and burnt friedman
A big thanks to Simon Millar for the information and image.
Tracklist as regular release:
Wonderful World
Darkest Birds
The Banality Of Evil
Atom And Cell
A History Of Holes
Snow Borne Sorrow
The Day The Earth Stole Heaven
Serotonin
The Librarian
Gallery