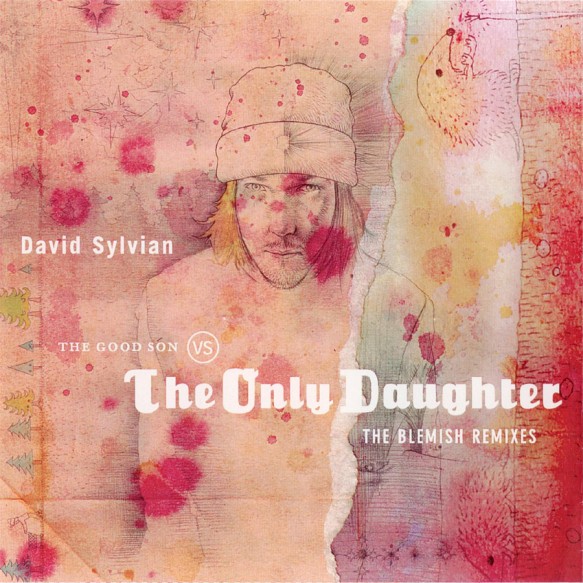 Released at January 26, 2005
Japanese CD-R promo with artwork
On The Good Son vs. The Only Daughter Sylvian takes the Blemish recordings, and, in collaboration with a group of remixers including Ryoji Ikeda, Akira Rabelais, Burnt Friedman and Readymade FC, offers a set of radical re-workings of the originals, transforming them into yet unheard of delights.
There are actually 2 promos released in Japan to accompany the release of The God Son vs. The Only Daughter.
1. CD-R with custom sleeve
The CD-R, with no printing on it, is packed in a plastic sleeve with a custom printed inlay (folded). The front of the sleeve is like the album. The back contains release info, tracklist and information about P-Vine.
2. Regular Japanese release with 'sample' CD.
This promo is equal to the commercial Japanese release with the difference that the disc has the text 'SAMPLE' on the inner side.
Part of the promotional releases is a 3 page (A4) press-sheet with album info and in depth descriptions of the participating remixers (all in Japanese)
Tracklist as on the official release:
The Only Daughter (Remixed by Ryoji Ikeda)
Blemish (Remixed by Burnt Friedman)
The Heart Knows Better (Remix by Sweet Billy Pilgrim)
A Fire In The Forest (Remix by ReadyMade FC)
The Good Son (Remix by Yoshihiro Hanno)
Late Night Shopping (Remix by Burnt Friedman)
How Little We Need To Be Happy (Remix by Tatsuhiko Asano)
The Only Daughter (Remix by Jan Bang & Erik Honore)
Blemish (Remix by Akira Rabelais)
Gallery