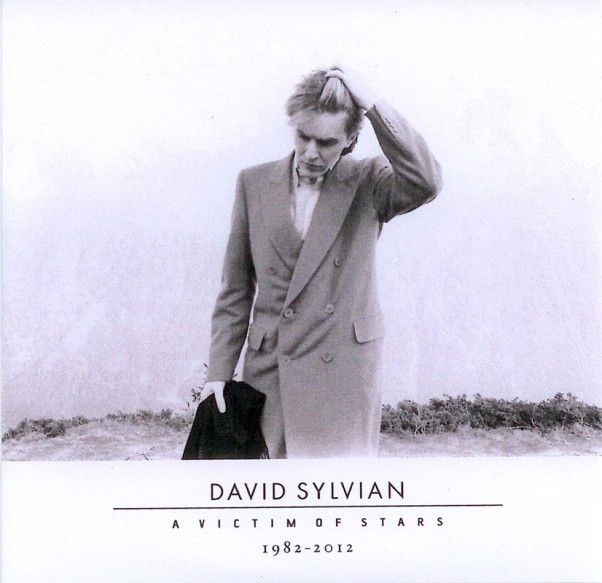 Released at February 27, 2012
2012 Virgin Records Ltd. and 2012 EMI Records Ltd.
Official EMI UK 2 CD-R promo for A Victim Of Stars 1982-2012
EMI UK promo on CD-R, packed in 2 stickered PVC sleeves
EMI distributed the 2CD-R set with a press sheet.
Full tracklist as on original.
Disc One
Ghosts (Remix)
Bamboo Houses
Bamboo Music
Forbidden Colours
Red Guitar
The Ink In The Well
Pulling Punches
Taking The Veil
Silver Moon
Let The Happiness In
Orpheus
Waterfront
Pop Song
Blackwater
Every Colour You Are
Heartbeat (Tainai Kaiki II)
Disc Two
Jean The Birdman
Alphabet Angel
I Surrender
Darkest Dreaming
A Fire In The Forest
The Only Daughter
Late Night Shopping
Wonderful World
The Banality Of Evil
Darkest Birds
Snow White in Appalachia
Small Metal Gods
I Should Not Dare
Manafon
Where's Your Gravity?
Included press-sheet text:
A Victim Of Stars,1982 – 2011′ brings together material from the last 30 years of David Sylvians solo career, encompassing material released with Virgin Records, along with his more recent work released on his own label samadhisound, as well as a brand new recording exclusive to this compilation.
On his solo records of the '80s, Sylvian's explorations in music took him from the pop-funk, stylish jazz and windswept exotica of 1984s Brilliant Trees; the ambient landscapes and epic ballads of 1985s Gone To Earth; and the romantic orchestrations of 1987s Secrets Of The Beehive.
His collaborators included leaders of progressive music, from jazzmen such as Mark Isham, John Taylor and Kenny Wheeler to the rock and fusion guitarists Robert Fripp, Bill Nelson, and David Torn.
Regular collaborations with composer and Yellow Magic Orchestra star Ryuichi Sakamoto yielded Sylvian's first international hit, "Forbidden Colours', along with 'Bamboo Houses' and 'Bamboo Music'.
In the early '90s, Sylvian embarked on a series of acclaimed tours with Robert Fripp, leading to their 1993 studio release The First Day. And 1991 saw the release of Rain Tree Crow, a Japan reunion under a different name. But Sylvian grew less prolific as the decade wore on, taking four years to finish 1999s Dead Bees On A Cake.
Dead Bees included the hit single "I Surrender," where Sylvian crafts an eye-openingly beautiful vessel around his spiritual journey.
His determination to confront his vulnerabilities led to arguably his most powerful album to date, 2003s Blemish.
More recently, he has also released Snow Borne Sorrow and Money for All, an LP and EP from the band Nine Horses. Nine Horses is a trio that includes his brother and regular collaborator Steve Jansen and electronica artist Burnt Friedman, as well as contributions from singer Stina Nordenstam, trumpeter Arve Henriksen, and Ryuichi Sakamoto on piano.
In 2009, the project that began in Blemish continued with Manafon, an album that assembled the worlds leading free improvisers, including Evan Parker, Keith Rowe, Fennesz, Sachiko M, Otomo Yoshihide, and John Tilbury, among several others.
And completing the source material for the compilation is his most recent release Died In The Wool, made up of variations on Manafon and including collaborations with acclaimed composer Dai Fujikura, producers Jan Bang and Erik Honor and a stellar roster of contemporary musicians and improvisers.
Many thanks to Richard Onslow (EMI) and Stefan C. Attrill for providing this info.
Gallery