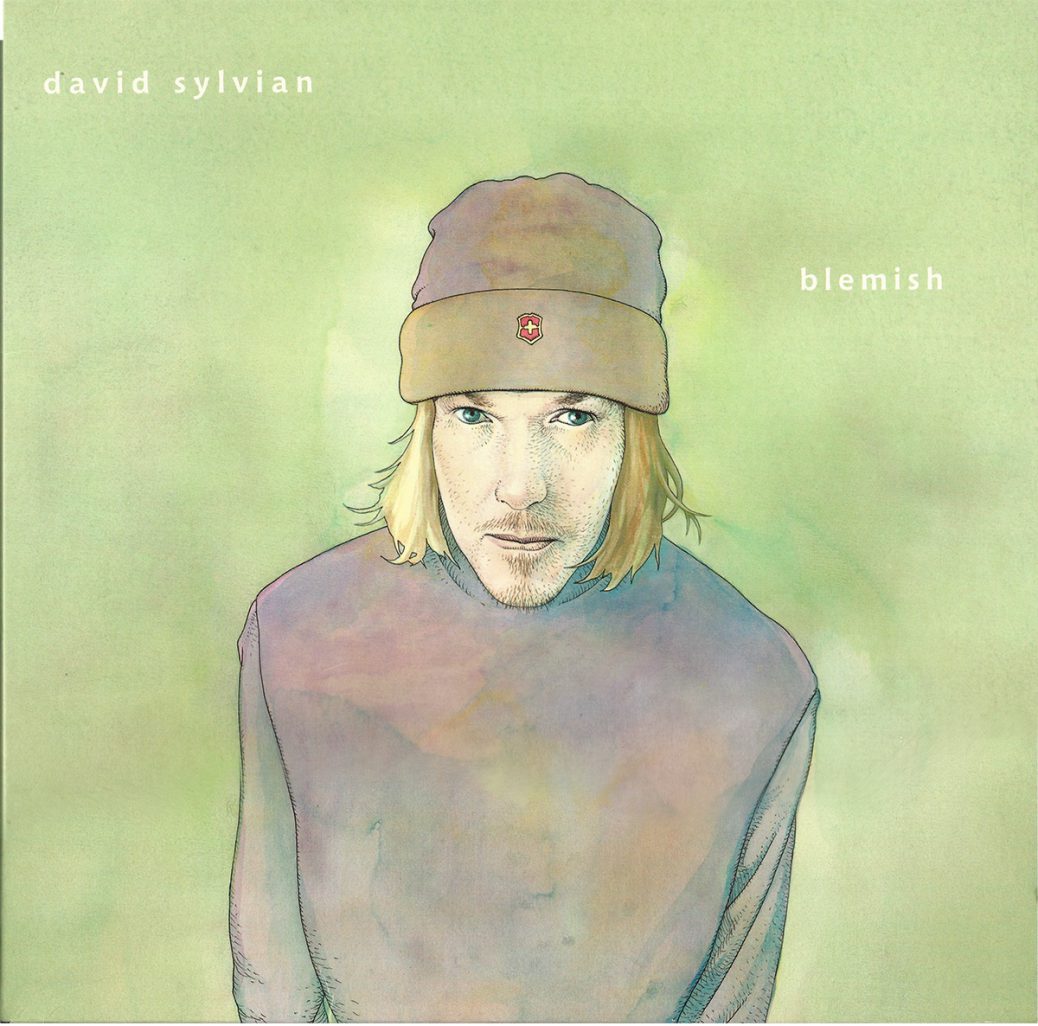 Published at October 23, 2003
The Japanese version of Blemish is released on October 22nd 2003 and features the bonus track Trauma. Read more about the Blemish release and the promo.
In May 2003 the new solo album from david sylvian was released, his first since Dead Bees on a Cake. It is the debut release for his own samadhi sound label.
The announcement:
David set aside a month to write and record the album while taking a break from the project that he and his brother, Steve Jansen, are currently working on. He has created an impromptu suite of songs for guitar, electronics and voice. The compositions were crafted from improvisational sessions captured live in the studio. Working almost entirely alone david has created an emotionally raw, minimal work, of immediacy and stark beauty.
Although there are elements in his previous body of work that hint at the direction taken here the cd, entitled simply 'blemish', appears to cover new ground in style, content, intensity of emotion, and in the seemly open ended nature of the compositions themselves. Adding to the intensity and air of experimentation is the presence of Derek Bailey. Three of the pieces included on 'blemish' were written with, and feature, the legendary free-jazz guitarist. The final track of the CD features a haunting electronic arrangement by Christian Fennesz.
The album was recorded in the month of February 03 and mixed in March 03. All aspects of the recording were handled by David himself.
David has committed to working on a number of projects simultaneously and is currently continuing work on his album with Steve Jansen, as well as creating sound design work for the films of photographer Charles Lindsay, developing live performances, and collaborative sessions with the likes of Christian Fennesz……
The Blemish cd announcement on davidsylvian.com:
An impromptu suite of songs for guitar, electronics and voice. An emotionally raw, minimal work, of immediacy and stark beauty with outstanding contributions from Derek Bailey and Christian Fennesz.
1. blemish
2. the good son
3. the only daughter
4. the heart knows better
5. she is not
6. late night shopping
7. how little we need to be happy
8. a fire in the forest
9. trauma (japanese release only)
Produced, composed, performed, engineered by david sylvian
Except tracks 2/5/7 guitars derek bailey. composed by derek bailey and david sylvian. track 8 electronics and arrangement by christian fennesz
mixed by david sylvian
recorded at samadhi sound studio feb/march 03
derek's session engineered by toby hrycek-robinson at the moat.
—
5 star review for Blemish in The Irish Times review section
Composed, performed and produced in his Samdhi studio over two months, David Sylvian's new album is the most fully concieved and realised of his twenty year eclectic solo career – previous collaberations have included avant guitarist Robert Fripp, kraut rock maverick Holger Czukay and multi-instrumentalist, Ryuichi Sakamoto. With contrtibutions from jazz guitarist Derek Bailey and electronic composser Christian Fennez, Sylvian combines shimmering guitars, electronic noise ( pulsing clicks, abrupt skips ) and hand claps with his signature breathy croon ( which he occasionally distorts electronically ) to create a unique collection of songs – their playful experimentation sounds both raw-ly improvised and exquisitely wrought. Sylvian's stripped-down instrumental palette and intensly introspective lyrics infuse Blemish with a rare somatic and expressive power, particularly the delicate lyricism of the title track, the reflective intensity of The Heart knows Better and the narritive simplicity of The Only Daughter. Jocelyn Clarke (July 24th, 2003).
—
"Blemish" review from The Guardian
David Sylvian's Blemish (Samadi Sound, ?14.99) is a one-man affair for more than half its playing time: just David, some noise-making devices and a large dose of personal anguish. If you're into electronic introspection, this is cordon bleu stuff, starting with the sparse, throbbing, 13-minute howl of despair that constitutes the title track. This is a very strange pop album, make no mistake, but it's oddly affecting. My initial puzzlement has turned into cautious admiration for Sylvian's blurting "honesty".
Blemish is more crafted than it initially sounds. Even the distortion is beautifully recorded. And I'm impressed by the way Sylvian has slipped a couple of "singles" into his bleak, avant-garde catalogue of mid-life crises. Fire in the Forest has Sylvian accompanied by Christian Fennesz's lushly glitchy electronica, inspiring him to sing with a melodic breadth that recalls his best 1980s solo material. The song – floating slowly, painfully, over two understated chords – has the musical and timbral substance to reward repeated listening; it would be a nice addition to the Radio 2 playlist.
The brief How Little We Need to Be Happy, in which Sylvian is accompanied by improvising guitarist Derek Bailey, is more suited to the Jazz FM playlist. Only joking! I meant Late Junction – always in the market for a slice of finely wrought gloom. My tip for the top is the slow, hypnotic Late Night Shopping, multitracked over long synth %@!#%& notes and off-beat handclaps. Yet it conforms to many of the conventions of hit singles, with hooks, easily memorable lyrics, a last verse sung in a "radio voice" and an instrumental break apparently performed on supermarket trolleys. Plus, it comes in well under the three-minute mark. Some big star should snap it up for a cover version. You can imagine the ad campaign: "Kylie. Late Night Shopping."
Atsushi Fukui's cover portrait shows the ghost of a smile hovering around the singer's lips. Another sleeve image, like a child's storybook illustration, shows him patiently rolling his shopping cart into a snowy forest. I don't think he's suffering too much – the future looks very bright for Sylvian.
(Friday 11th July)