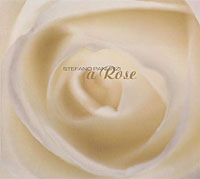 Italian musician (and Sylvian fan) Stefano Panunzi released another remarkable album. One of my favorite albums is Stefano's Timelines and I was happily surprised that this album is even better! Many (Sylvian related) guest musicians too.
Release info: Emerald Recordings ER-CD 01/09
Tracklist:
1. State Of Mind
2. Fades
3. On Line, Now!
4. Child Of Your Time
5. I Miss You
6. Unreality
7. Where Is My Soul
8. The Bridge
9. Tonight
10. Lights And Shades
Personal:
STEFANO PANUNZI : keyboards, electronics, programming.
ROBBY ACETO : guitars, vocal.
GIACOMO ANSELMI : guitars.
MIKE APPLEBAUM : trumpet.
TIM BOWNESS : vocal.
ANDREA CHIMENTI : vocal.
GIANCARLO ERRA : guitar, vocal.
EMANUELE ERRANTE : samples.
LUCA FARERI : drums.
FABIO FRASCHINI : bass.
CHRISTINE HANSON : cello.
MICK KARN : bass, vocal.
THOMAS LEER : vocal.
NICOLA LORI : bass, guitars.
SANDRA O'NEILL : vocal.
LAURA PIERAZZUOLI : cello.
GIAMPAOLO RAO : drums.
MARKUS REUTER : warr guitar.
SIRENEE : vocal.
GIOVANNA STRIVIERI : backing vocal.
THEO TRAVIS : flute.
ADRIANO VITERBINI : guitars
Review: A ROSE – STEFANO PANUNZI (EMERALD RECORDINGS ER-CD 01/09)
Timelines, Stefano Panunzi's debut from 2005, was a fine piece of work, on which songbased progressive rock (somewhere between No-Man, Porcupine Tree and the music of ex-Japan-members) was frequently varied with instrumental pieces, strongly inclined toward ambient and atmospheric jazz. With A ROSE this Italian composer/keyboardplayer chooses clearly for the song-structure, for which he invited some authentic singers to recite their own lyrics. The Austrian SiRenée (alias for Renée Stieger) opens this cycle both whispering and strongly with STATE OF MIND. This piece immediately shows Panunzi's quality as an original composer and a keyboard-player, specializing in modern and (frequently heavily) symphonic sounds. The sounds of "cloud guitars" and the constantly buzzing bass also can be heard and they will return often in the following tracks. Then shines Tim Bowness in an intense ballad called FADES, which, partly due to Theo Travis' melancholic flute-playing and a tin-whistle-like syntheziser-melody, unites all the beauty of a No-Man-track. Additionally Mick Karn's prominent bass lines drag the listener into a Blaxploitation-like soundtrack, entitled ON LINE, NOW!, in which funk proceeds gradually into jazz-rock, with leading roles for the deformed guitar-sounds from Robby Aceto and Mike Applebaum's jazzy trumpet. CHILD OF YOUR TIME is again an appealing symphonic ballad, this time celestially sung by Sandra O'Neill (A Marble Giant, Samuel Smiles). After that, modern synthersizer-effects herald I MISS YOU, one of the albums emotional peaks. Andrea Chimenti, whose own discography is also very advisable, brings in this down-tempo song full of devotion and passion, with a terrific bass melody from again Karn and a guitar-solo from Nicola Lori, played on top of a bombastic backing. The second instrumental, UNREALITY, brings back memories of the ambient side of Timelines, with Applebaum's Jeff Oster- and Mark Isham-like trumpet-playing and the spherical, guitar wizardry from Aceto, slightly related to the work of David Torn. Next, Aceto excels on vocals too in his co-composition WHERE IS MY SOUL, which leaves you longing for a follow-up to his solo-album Code (2006, Alchemy Records). The often praised Nosound can be heard in the person of Giancarlo Erra in THE BRIDGE, where he lays the emphasis on the song-based side of his so called soundtrack-rock. Thomas Leer, well-known from the alternative New Wave-scene and the project Act (with Propaganda singer Claudia Brücken) concludes the vocal part of A Rose with TONIGHT, once again a catchy ballad, emotionally sung and accompanied by a stately violoncello. Finally the symphonic mid-tempo rocker LIGHTS AND SHADES forms the epilogue of this impressive album, with which Panunzi and his musical friends will please especially the lovers of the SONG in the progressive music-scene.
By: René Yedema, reviewer for the Dutch progressive rock magazine iO Pages
REVIEW AT PROGNAUT.COM
1. Why did they make this album? What was the passion or message that forced them to produce what they have? Or, simply what was their motivation for the themes they chose for this album?
"Stefano Panunzi was born in Rome and now lives in Torvaianica, Italy." "He studied flute at the S.Cecilia Conservatory of Rome and Pedagogy of Musical Education." "His musical career began in television, cinema and opera starting at an early age singing for the Renata Cortiglioni' R.A.I. (Italian State Television) chorus, and later with the Paolo Lucci' ARCUM chorus (http://www.myspace.com/stefanopanunzi, 2010)."
"As a flautist he performed in concerts as part of a quintet. As a vocalist he was involved in the works of some famous conductors among whom N. Rota, G. Pretre, G.L. Tocchi. E. Macchi."
"During the 70s and 80s, Stefano has been involved in rock and new wave music, performing in some groups as a keyboard player." "Later he began to work on soundtrack music for various types of short films for television, instruction and performances in general." "Since 1980 he has been a teacher of musical education in secondary schools (http://www.myspace.com/stefanopanunzi, 2010)."
2. What message are they delivering through their lyrics and music?
State of Mind – Brilliant piano and orchestration opens this fine CD. Then Sirenee's inspired vocals pour through the clearing, "Like water in my hair I'm flying." A nice dreamy sequence of sound full of piano, drums, trumpet, guitar and keyboards. Mystical and a magical beginning to this project. The guitar and key solos in the middle are stunning. "Walking in the air, see the state of mind." "It feels like flying." The power of the piano fills the room with sound. The trumpet and eerie sound of Sirenee's voice echoing off into the distance is a memorable effect.
Fades – Tim Bowness on vocals, with slow plucked guitar and keyboard effects filling the room. "Sometimes there might be blood." "Sometimes there might be love." Few vocalists know how to capture the power and emotion of those two lines. Theo's flute adds powerfully to the effect of this song, and is highlighted well during the solo. Tim's echoing, almost backing vocals, and the guitar riffs and keys make this the standout song on the disc for me. The guitar solo, along with the key orchestration help develop the dark/light emotion of the song.
On Line, Now! – Cool funky 'disco with bass' beat as the trumpet soars into the scene. Nice, nightlife cruising the streets of South Beach sound, with cool jazzy guitar riffs flying in all directions before the heavy riff pounces in. Perfect instrumental interlude.
Child of Your Time – "A thousand days, a thousand nights." Sandra's beautiful voice filling the room, with the accompaniment of strings and that warm piano sound. Soft drums and the launching piano surging ahead with strings following behind in pursuit. Feels like the ocean ebb and flow as the music envel
opes your ears and surrounds you with feeling.
I Miss You – Now the sound of the ocean as the piano and synth sounds surround. Then Andrea's Italian lyrics and vocals enter the sound. Drums, bass, and the continuously warm surrounding sounds of the ocean and synths creating that perfect atmosphere. Giovanna's backing vocals supporting Andrea in harmony. Closing with that perfect piano and the ocean waves surrounding.
Unreality – Another instrumental interlude with complex keys and that trumpet sounding out through a cool fog. The guitars and keys really create a wonderful surrounding soundscape for dreaming or just thinking.
Where Is My Soul – Guitar and keyboards building that atmosphere, before the crashing drums and guitar enter with rhythm. Drums and percussion figure prominently on this one and sound perfect with the heavier guitar chords. Rhythm, yes, this music knows exactly how to capture that rhythm of nature in all its complex magnitude.
The Bridge – Cool keyboard effects to open this one. Then Giancarlo's familiar vocals, "we crossed the bridge and down the valley." "I saw your smile in the haze of the morning." Remembering with fondness an old relationship. The guitar riffs in the middle sound a new direction for Giancarlo. Stefano's surrounding keyboards creating that dreamlike atmosphere.
Tonight – The keys welcome you to an eerie atmosphere before the warm piano clears the way for Thomas Leer's vocals. In the darkness wishing to be together with an old flame. Cool song full of mystery. "The streets still wet from ran, like mirrors reflecting the pain." The cello is brilliant at lending a hand to the sad atmosphere and creating an overall feeling that is trancelike. (Editor: It should be noted that Christine Hanson provided cello for this song).
Lights and Shades – More warm keys to open this instrumental mix and close out the album with a performance to leave the listener with memories of emotions to take with them. The use of the cello, drums and cymbals for effect is wonderful. Another highlight of the album, perfectly timed to make you want to search out more and anticipate the next one.
3. Does this music improve, change, or add to the genre? What does the listener receive from listening to the music? This album was a suggestion from Tim Bowness and like No Man and Giancarlo's Nosound; it captures the power of nature and all of its dynamic presence so perfectly. The ability of Stefano and the other musicians on this album to build that power and emotion on CD is something I have really appreciated over the last year and a half since I found Nosound and No Man.
This album maintains that high caliber recording process and quality which is rare but growing in the field of art music. This music captures emotions we all feel throughout our lives and only wish we could find a soundtrack to play when these emotions are present.
The entire album is full of twists and turns of emotion and really demands your attention and your full appreciation. The listener is rewarded with a complete soundtrack to experience these emotions.
4. Does it have longevity? Is it something a fan will like to play again and again?
Absolutely. Rarely leaves my CD player since Stefano sent it to me. I have requested to review the rest of his collection based on the power of this album. It's a keeper!
Rating: 10/10 – Fantastic album and I now want to hear more!
Reviewed by Prof on February 7th, 2010