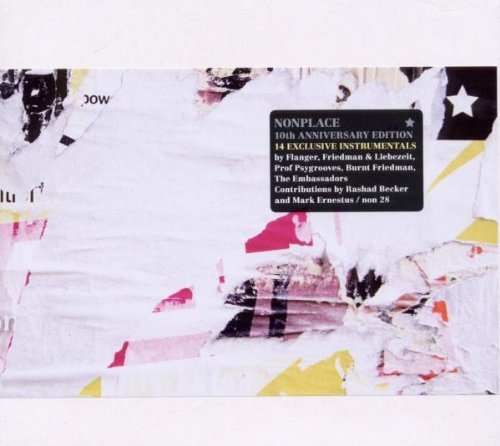 With this Anniversary Edition featuring fourteen exclusive tracks, Nonplace celebrates ten years of labeldom. Ever since Burnt Friedman shortened his pseudonym Nonplace Urban Field to Nonplace back in 2000, the title has provided an ideal formula for music that soars upward with no intention of being pinned down. In sociological terms, Nonplace Urban Field refers to the fragmentation of American cities whose commercial zones moved out to the suburbs, the evolution of post-industrial container deserts devoid of centre.
Nonplace
10th Anniversary Edition
NON28 CD
tracklisting
01 Friedman & Liebezeit: The Librarian (Friedman Remix) 4:25
02 Prof. Psygrooves: Flow (Friedman Remix) 4:25
03 The Embassadors: Iboga Dreamtime (medium) 5:30
04 The Embassadors: Makena (Mark Ernestus Mix) 3:44
05 Burnt Friedman: Where Should I Go ? (Instrumental Remix) 3:46
06 Burnt Friedman: Roots Automation 5:15
07 Flanger: Funeral March (Remix) 2:37
08 Root 70 (plays Flanger): Nightbeat (Flanger Remix) 2:55
09 Flanger: Crime In The Pale Moonlight (Remix) 3:42
10 Flanger: Crime In The Pale Moonlight (Rashad Becker Remix) 4:10
11 Flanger: Peninsula (2010 License Version) 1:32
12 Liebezeit & Friedman: The Sticks (Rashad Becker Remix) 6:12
13 Dream Sequence (Soundtrack) 2:33
14 Root 70 (plays B.Friedman): Gruppenreise (Rashad Becker Remix) 4:50
15 Friedman & Liebezeit: Wirklich (Friedman Remix) 3:25
From the nonplace site:
Nonplace can be grasped as the antithesis of commonplace or also in terms of quantum theory. The whole is always more than the sum of its parts. Quantum physics, that most exact of sciences, considers not just the particles but also their interrelationships. When Nonplace music is coming into being, the smallest, even most random event influences the work. Nonplace is a formula for high improbability, since the sounds happen more on the fringes. In this respect, Nonplace is the counter-programme to the ubiquitous striving for higher redundancy (simplification by digitalization, coding, standardization). Details and rhythms are the agents that de-core the songs and potentially transform them into further versions. The attention shifts away from the individual contribution of any one instrument or player, away from the defining hook and towards the micro-elements of the groove with its patterns of linkage that inhabit the musical forms. In music of this kind, the role played by subjects and grand gestures is no longer central.
That ties in with Friedmann's notion of dub: "Dub is a method! It allows me to obtain constantly different results on the basis of the same material. The more pronounced the level of improvisation during the mix, the more the raw material, the original, is forced into the background, sometimes even maltreated to the point of being unrecognizable. The procedure allows me to highlight certain musical features of a song while wholly ignoring other ingredients – most likely foreground components such as vocals or instrumental solos. The resultant numbers (tracks) come closer to my own perspective: they're de-cored, so to speak, no longer have a centre. From this point of view neither jazz nor dub are styles. They are tags made up to avoid the artist's name, to give them a commonplace, as opposed to a Nonplace!" Accordingly, Friedmann's music and the process of its creation reveal no explicit place that might aid orientation, no genre codes or recipes.
The best-known label project is Friedmann's collaboration with Jaki Liebezeit. They joined forces in order to quietly transgress musical idioms without demonstrative gestures of destruction and deconstruction. With breathtaking precision, their cyclical, uneven rhythms intermesh the played with the programmed: sequences, drums, synthesizers. In spite of rules and binding expressive forms, the strangely abstract, improvised ritual music that results falls somewhere between trance, dub, differentiation and reflection. Nonplace has existed as long as they've worked together.
Since Hayden Chisholm (wind instruments) and Joseph Suchy (electric guitar) began working with Nonplace about seven years ago, they have made their mark on numerous label releases. Moving steadily away from jazz into unknown territory, Chisholm authors The Embassadors and pops up on numerous other Nonplace tracks. Listen without preconceptions, become a medium, risk playing a game with no rules: the subconscious reactions associated with blind spots in causal history equally hold true for the playing of Joseph Suchy.
The compilation also features five tracks by Flanger. This cooperation between Atom™ and Friedmann began in Chile in 1996 with Atari computers, samplers, and Akai MPC 3000, and resulted in three programmed post-jazz album releases on Ninja Tune. Since 2005, Flanger has been publishing on Nonplace. Rashad Becker, the label's resident mastering engineer, not only mastered the anniversary CD but re-mixed three back-catalogue tracks at the same time. In addition, Mark Ernestus (rhythm & sound) mixed and co-produced a previously unreleased Embassadors title.