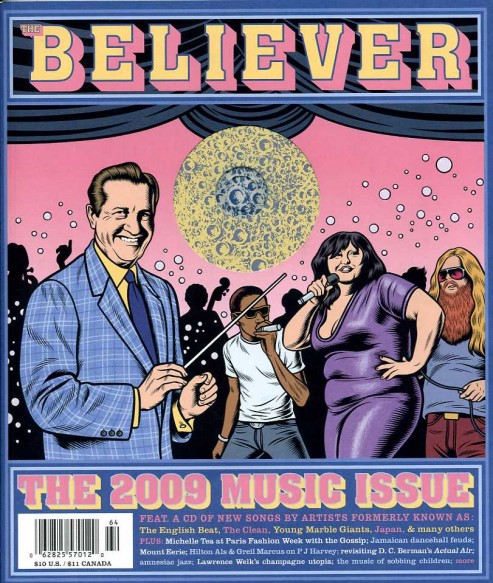 Jacqueline is the title of the (unreleased) track that has been released on the CD "FANTASTIC AND SPECTACULAR", which is enclosed with the July/August issue of the US magazine The Believer 2009 Music Issue.
The CD is compiled by Daniel Handler, who is the author of three novels and many, many books for children.
Listen:
Completist note: Jacqueline will NOT be on Manafon.
To read more about this release and order the magazine, go to The Believer online.
Daniel wrote:
Back in April, we asked some of our all-time favorite songwriters, including a few who haven't been recording new material lately, to send us acoustic versions of new songs. Surprisingly, they did so. We're thrilled to be able to present a brilliant collection of new work from these masters of the form, available here and only here.
"FANTASTIC AND SPECTACULAR"
The 2009 Believer Music Issue CD
compiled by Daniel Handler
TRACKLISTING
CD enclosed with the July/August 2009 print issue1. Sam Phillips, "What It All Means"
2. Robert Scott, "From the Diary of an Early Settler"
3. Mike Scott (The Waterboys), "A Wild Holy Band"
4. Lloyd Cole, "Coattails"
5. Phil Wilson, "Found a Friend"
6. Stuart Moxham, "Warning Signs 2"
7. Dave Wakeling, "Never Die"
8. Lisa Germano, "It's a Rainbow (Blame Me)"
9. Mark Robinson (Cotton Candy), "Fantastic & Spectacular"
10. Beth Sorrentino, "Such a Beautiful Day"
11. David Sylvian, "Jacqueline"
12. Stephen Duffy (The Lilac Time), "Memory and Desire"
13. Mary Margaret O'Hara, "40 Stories"
14. Wreckless Eric, "(Swimming Against) The Tide of Reason"
Extremely Secret Bonus Track: Haunted Love, "San Dominico"