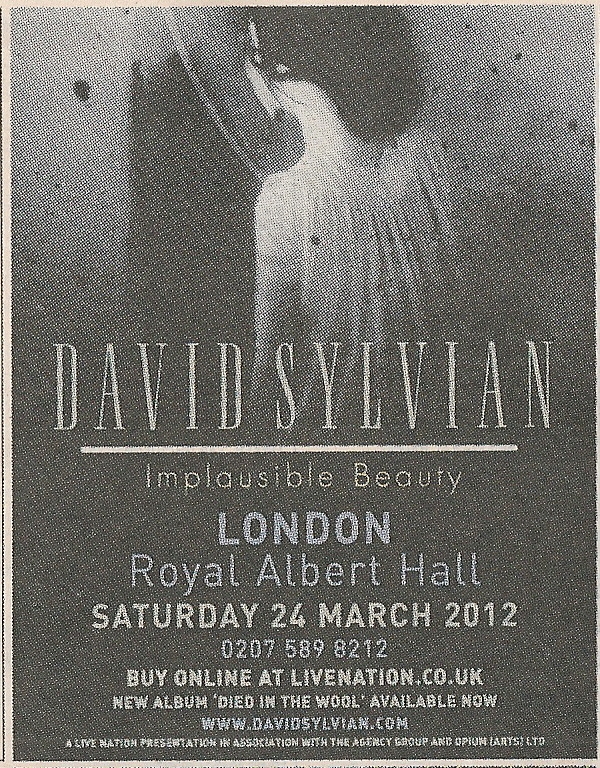 Tour is postponed!
David Sylvian will tour Europe in March 2012, his first series of performances since 2007.
David Sylvian's 'Implausible Beauty 2012' tour will start in Padova, Italy on the 1st March 2012.
NEW: Hildur Guðnadóttir to tour with David
NEW: David Sylvian will be playing in Paris on April 13th as part of the Banlieues Bleues Festival. David's concert will be the closing event of the festival. Tickets wil be on-sale in the middle of January and we will be providing a pre-order ticket link exclusively to David's fans in advance of the general on-sale.
NEW: Read the personal message by David about this tour (through Samadhi Sound newsletter) @2011-12-02
Latest:
Hildur Guðnadóttir to tour with David
Hildur has been invited to join David Sylvian's 2012 "Implausible Beauty" tour. Hildur will be performing cello, vocals and electronics.
"I will be joining the lovely David Sylvian next year for his Europe tour. It is a very exciting ride and I hope to see you all out there somewhere."
See hildurness.com
Note from Samadhisound newsletter:
Some may have christened the project 'The Implausible Tour', as David has become increasingly reclusive and private in most aspects of his life and the notion of live performance seemingly anathema to him. However, recently, he has found a line-up of musicians with whom he's genuinely excited to perform live and to whom he's most grateful for their commitment.
Personal message by David (through Samadhi Sound newsletter) @2011-12-02
There are key moments in one's life where you feel a corner has been turned, milestones where what was will never be again, at least not in a manner that might be considered comparable or even recognisable. Over the past decade I feel I've had a number of these pivotal experiences in both my public and private lives. Some of these changes are welcome, in fact most are, but with some come a sense of regret. In 2007 I felt certain my touring days were behind me. I simply couldn't see myself going out on the road or, more pertinently, the stage again. As the work I produced became increasingly improvisational and abstracted and other, conflicting, issues arose, so the likelihood of my touring appeared all the more remote. But mercifully life is nothing if not capricious and unpredictable. So it is with a disconcerting degree of anticipation that I find myself preparing to take to the road again albeit for a relatively short, sharp, restorative jaunt. Here's a response to a tour related question asked by the online magazine deluxxdigital.com which gives a little insight into how this came about:
"The notion of a tour has been floating in the ether for a couple of years but, when considering recent releases, I couldn't, in my own mind and within seemingly tight restrictions, make the transition from studio to stage. It's the smallest of gestures or coincidences that can take something that seems completely unlikely into the realm of possibility. This is generally the coming together of one or two elements that act as catalysts for what will be. Working with Jan Bang might be considered one such catalyst. There's an ease and a trust that's growing between us that it'd be interesting to explore further in a live context which is where Jan appears to be very much at home. I've had notions in the back of my mind regarding the material, how it might be tackled. There are numerous possible permutations so it boils down to what appeals to me at any given point in time and what is a real possibility.
It gets increasingly harder to put together the show one would like to take on the road so one tends to wait until the cards line up in one's favour. I think that's currently what's happening here."
 I hope that gives you a idea of how I feel about the upcoming tour. In the past I've tended to hit the road with a 'this will be the last time I put myself through this' kind of attitude. It's always helped see me through the difficulties, the intangibles, the worrying lack of control over the experience in total, but this time around I find myself thinking along the lines of 'how on earth will we pull this off' with a sense of excitement animated by the range of possibilities available to us. This in turn gives rise to a renewed sense of optimism that this tour might be the first step in a transformation of the live experience for myself and audience alike. But, with thoughts of this nature, I'm getting a little ahead of myself. We'll see how the months ahead unravel. In the meantime, to those of you that have stayed with me on this journey regardless of the divisive nature of the material and the varied responses to it, my gratitude. Whether the theatres are full or there's just a handful of you out there in the auditorium, we're going to be enjoying this journey and your participation in it is most welcome.
It's my pleasure to introduce to you the musicians who'll accompany me on this personal milestone. Some you'll know already, others, I hope you'll take the time to get to know. Eivind Aarset on guitars, Jan Bang sampler and live sampling, Hildur Gudnadóttir on cello, vocals and electronics, Gunnar Halle on trumpet and electronics, Sebastian Lexer on piano, keyboards, and electronics.
I look forward to sharing this experience with you.
god bless
d
x
---
Tour dates:
March 1st – PADOVA Gran Teatro Geox
March 2nd – MILANO Conservatorio Sala Verdi
March 4th – ROMA Auditorium Della Verdi
March 5th – BOLOGNA Teatro delle Celebrazioni
March 7th – KÖLN Tanzbrunnen
March 8th – BRUSSELS AB
March 9th – AMSTERDAM Rabozaal (Melkweg)
March 11th – COPENHAGEN Vega (Main Hall)
March 12th – OSLO Sentrum Scene
March 14th – STOCKHOLM Filadelfia Church
March 16th – BERLIN Uni Der Kunste
March 18th – EINDHOVEN Fritz Philips Musiccentre
March 19th – FRANKFURT The Gibson
March 20th – STUTTGART Theaterhaus
March 23rd – MANCHESTER Bridgewater Hall
March 24th – LONDON Royal Albert Hall
March 26th – BIRMINGHAM Symphony Hall
March 27th – NOTTINGHAM Royal Concert Centre
March 28th – GLASGOW Royal Concert Hall
April 13th – PARIS, Banlieues Bleues Festival
Check the official tour site on davidsylvian.com