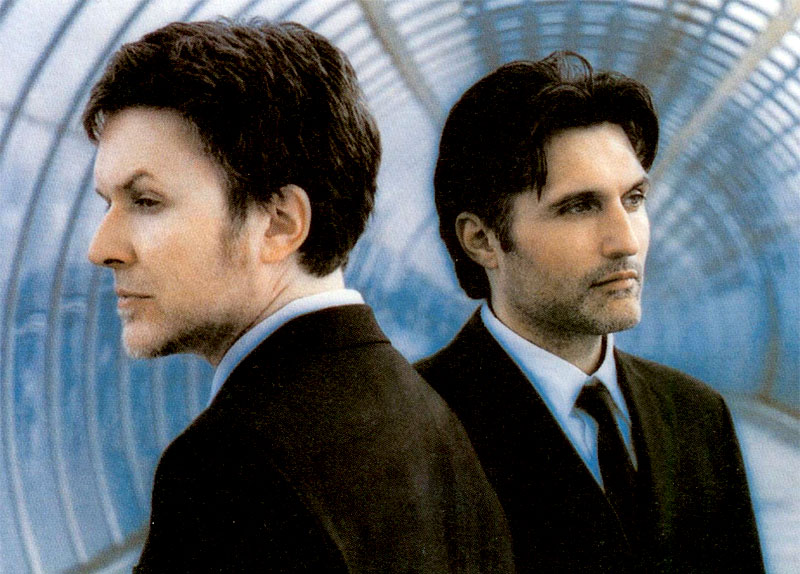 The new album of David Sylvian, Steve Jansen and Burnt Friedman will hopefully released on 10.10.05 as Nine Horses with the title 'Snow Borne Sorrow'. Tracklisting:
 Wonderful World
Darkest Birds
The Banality Of Evil
Atom and Cell
A History Of Holes
Snow Borne Sorrow
The Day The Earth Stole Heaven
Serotonin
The Librarian
Stunning new group project featuring David Sylvian, Steve Jansen and Burnt Friedman.
Nine Horses' 'Snow Borne Sorrow' is a collaboration between David Sylvian, his brother and frequent collaborator / drummer Steve Jansen (also formerly of Japan) and electronic composer / remixer Burnt Friedman. Lyrically and vocally, 'Snow Borne Sorrow' continues the maturing darkness of Sylvian's last solo release 'Blemish' – songs of struggle, doubt and resolve, Bergman-like glimpses of the realities and difficulties of intimate relationship, flashes of light and humility and, continuing his engagement with the political situation in post-0911 America, begun on his 2004 single with Ryuichi Sakamoto, World Citizen, caustic words about the excuses our leaders manage to find not to "love thy neighbour". 'Snow Borne Sorrow' was made with a cast of contributors, including Norwegian trumpeter and Supersilent member Arve Henriksen, Swedish vocalist Stina Nordenstam, who adds marvelously elliptical responses to Sylvian's vocal on the opening "Wonderful World", and Ryuichi Sakamoto on piano. On the title for the album Sylvian says: "Winter provokes introspection. Even more so the long hard winters surrounded by that cushioning, muted, numbing whiteness. It can also be a time of enormous creativity, of resolutions, resoluteness, clarity and conviction." 'Snow Borne Sorrow's' sound is expanded, maximalist, full, rooted in traditional song structures like some of Sylvian's classic discs including Brilliant Trees, Secrets of the Beehive and Dead Bees on a Cake.
Marcus Boon