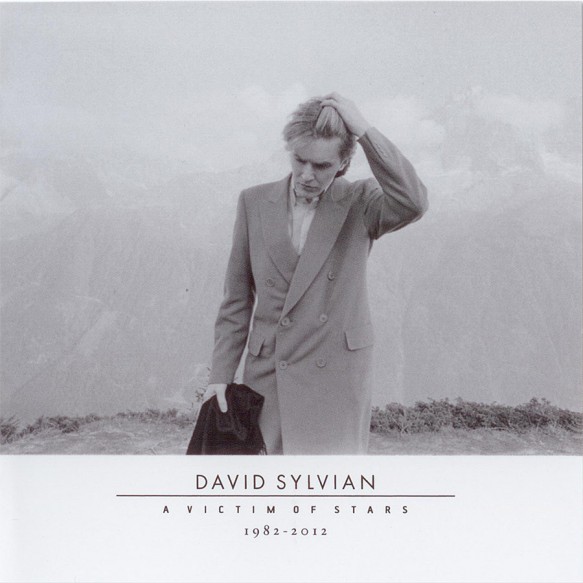 EMI, A Victim Of Stars, 1982-2012
with new song Where's Your Gravity?
The new David Sylvian collection album "A Victim of Stars, 1982-2012" will be released at the beginning of next year. On leap day February 29, the double-CD hits the stores.

update 2011/12/20: article added from FACT Magazine.
EMI already announced this compilation in July 2011 and mentioned it to be released in September 2011. This date seemed to be impossible and now the release is scheduled for Februari 2012.
"A Victim of Stars" picks the best from David Sylvain 30-year musical career, from '80s pop-funk via jazz in the 90s to the 2000s leaning to electronica, according to a press release. Last year, released David Sylvian "Sleepwalkers", also a compilation album, but focused on the songs released in the last decade, with guest appearances by musicians such as Ryuichi Sakamoto, Tweaker, Nine Horses and Steve Jansen.
A Victim of Stars, 1982-2012 contains the following tracks:
CD1:
1. Ghosts (Remix)/ 2. Bamboo Houses / 3. Bamboo Music / 4. Forbidden Colours / 5. Red Guitar / 6. The Ink In The Well / 7. Pulling Punches / 8. Taking The Veil / 9. Silver Moon / 10. Let The Happiness In / 11. Orpheus / Waterfront / 12. Pop Song / 13. Blackwater / 14. Every Colour You Are / 15. Heartbeat (Tainai Kaiki II)
CD2:
16. Jean The Birdman / 17. Alphabet Angel / 18. I Surrender / 19. Darkest Dreaming / 20. A Fire In The Forest  / 21. The Only Daughter / 22. Late Night Shopping / 23. Wonderful World / 24. The Banality Of Evil / 25. Darkest Birds / 26. Snow White in Appalachia / 27. Small Metal Gods / 28. I Should Not Dare / 29. Manafon / 30. Where's Your Gravity?* (new track)
(parts taken from- and translated from gaffa.se)
triggered by new on japansylvian.com
Publication on FACT Magazine:
The best of David Sylvian's solo work is compiled on a new 2xCD compilation, A Victim of Stars, 1982-2011.
The comp is to be released by EMI on February 27, 2012, and features 30 tracks – one of which, 'Where's Your Gravity', is new. Sylvian first rose to fame as the hollow-cheeked frontman of Japan, most fondly remembered for their chilling, minimalist 1982 single 'Ghosts', which reached #5 in the UK singles chart but wasn't enough to stop the band splitting up a few months later. It would subsequently be sampled by Goldie and Doc Scott for Rufige Kru's early jungle classic 'Ghosts Of My Life', cited by Tricky as an influence on his early work and featured on King Midas Sound's acclaimed FACT mix.
Following the break-up of Japan, Sylvian embarked on a solo career that would mark him out as one of the most adventurous and experimentally-minded "pop" artists of his generation. Following his 1984 debut Brilliant Trees, he released the Eno-esque instrumental LP Alchemy – An Index Of Possibilities. Gone To Earth followed in 1985, combining that ambient sensibility with some of his most affecting songwriting and vocal performances; lavish orchestral arrangements were favoured on 1987′s Secrets Of The Beehive.
Sylvian has always sought to collaborate with interesting musicians, and his solo career benefited significantly from the input of such figures as Ryuichi Sakamoto, Bill Nelson, Kenny Wheeler, Can's Holger Czukay (with whom he helmed two magnificent ambient LPs, Plight & Premonition and Flux + Mutability) and Jon Hassell. He continued to release albums throughout the 1990s and 2000s, notably teaming up with Robert Fripp for '93′s The First Day. 2009 saw him push himself yet further as an artist, writing songs around the improvisations of Fennesz, John Tilbury, Keith Rowe, Evan Parker and others. His most recent album, 2011′s Died in The Wool, is made up of variations on Manafon.
The release of A Victim Of Stars, 1982-2011 heralds Sylvian's Implausible Beauty European tour, which includes a date at London's Royal Albert Hall.