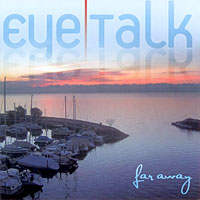 Eye Talk is widely known for their collaborations with their musical heroes: Steve Jansen of David Sylvian and Japan. Iva Davies of Icehouse, Jamie West-Oram of the Fixx and Wes Hightower backup vocalist for Carrie Underwood and George Straight.
Sylvian fans……. read more!
Alan and Bob Clark have delivered another shimmering collection of 10 pop song, continuing their tradition of creating fresh and new sounding maerial, wich has brought them critical acclaim in Australia.
This CD, however, is mostly a duo effort – with some notable exceptions. Phoenix-based Jerry Donato plays saxophone on five tracks, and Nashville's Wes Hightower sings backup on "One More Chance." Bob and Alan each contributed five songs and they alternate on lead vocals throughout the collection. Escape into their sample and loop-filled world. join them on a journey fueled by desire, regret, and the power of dreams.
Downloads are available on CDBaby.com and iTunes.com. You'll find samples, MP3's, photos, news updates, and tour information at eyetalkmusic.com.
Tracklist:
1. Where Do We Go From Here?
2. Until Now
3. Whole Lives Before Us
4. One More Chance
5. Words
6. Plan For The Future
7. Come Around
8. One Love Will Go On
9. Far Away
10. Time Won't Heal
Personal:
Alan Clark – vocals, guitars, keyboards, drums, loops and programming
Bob Clark – vocals, bass
Jeremy Donato – Sax
Wes Hightower – vocals
Produced and recorded by Alan Clark at Eye Talk Recording in Phoenix AZ, USA
Mixed by Jason Losett
Mastered by Dave Shirk at Sonrous Mastering
Photos by Alan Clark and Avalon Clark
Artwork by Tony Amato at Amaato Image Design
Still lif photos of sunrise and sunset at Neuchatel, Switzerland by Alan Clark
Review at Awhatukee.com by Kathleen Gormley
February 27, 2010
Ahwatukee Foothills residents and part-time musicians Alan and Bob Clark, of the duo Eye Talk, released their fourth self-produced recording last month, entitled Far Away.
The brother duo has been making pop music for 10 years, since Alan relocated to Phoenix from their hometown in northern California.
The two got their start at age 12 when guitar lessons offered in their middle school sparked an interest in music.
In 2005, the pair returned to California to record with their middle school band teacher for their Anything is Possible album.
"He had never been on a CD before, so that was really cool for him," Alan said.
Since then, Alan has picked up keyboard, vocal, producing and drum programming skills. Bob plays bass and sings on the duo's fourth recording, and Alan edits and produces each.
The brothers hold master's of business administration degrees. Alan works for a technology company, and Bob is a financial adviser.
Outside the studio, the brothers enjoy spending time with their families. Alan is also an amateur tennis player.
"We do music for fun on the side," Alan said. "Our hobby is to hire all of our rock star idols from when we were kids."
Throughout the duo's decade-long career, they have collaborated with Steve Jansen, a London-based artist and producer; David Sylvian, a "rock star" in Europe and Asia; Ive Davies, part of a top-selling rock band in Australia; Wes Hightower, a backup vocalist for Brad Paisley and Carrie Underwood; and Jamie West-Oram, of the '80s band The Fixx.
"All of these guys we worked with, they all had some element that we wanted to learn or bring to our music," Alan said.
"Once we hired them, we learned how to do their special techniques. Far Away is a culmination with all the different rock stars." The album's sound is "stripped-down," Alan said, with less "clutter and instrumentation" than on past records. The cover art is a photograph of a 2007 sunrise in Switzerland, Alan said.
The pair had been working on their latest album for two years, and have begun writing songs for their next album, to be released in 2011.
"Now we're focused on playing live, and doing things in the Valley," Alan said.
Eye Talk performs the first Saturday of every month at Down Under Wines in Gilbert, northeast of McQueen and Warner roads.
They also perform the third Friday of each month at Fired Up Grill, southwest of Ray Road and Priest Drive in Chandler.
Alan describes Eye Talk as "an acoustic-electronic duo."
At each performance, the duo pairs bass, guitar and vocals with a laptop on stage that plays an electronic keyboard at a low volume.
"We're a little acoustic band in the corner, but there's also a whole band there," Alan said. "We don't play so loud that people have to yell over us."
Far Away is available on iTunes and the duo's Web site, www.eyetalkmusic.com
Kathleen Gormley is interning this semester for the Ahwatukee Foothills News. She is a sophomore at Arizona State University.
– Named "Best Independent Band" by Unsignedbands.com (December, 2006)
– Reached #4 on Australia's independent music charts (February. 2007)
– Listed as one of the top ten best CD's of 2005 and again in 2007 by Radio in Sardinia. Italy