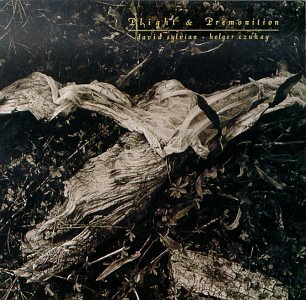 According to Holger Czuckay's official website, there will be a re-issue of Plight & Premonition in December.
He writes:
the release of
–   on the  way to the peak of normal
–   rome remains rome
–   the east is red
–   plight & premonition
will be now postponed to middle of december. sorry for the delay but not my fault.
He further wrote:
beginning of last month I said that issue 3 of my back catalogue was already finished. but I hadn't considered all the little details which take most of the time. it was planned to rerelease plight & premonition which david sylvian and myself created about 20 years ago. I also suggested to david adding an additional remix to the original new mastered cd. they became too, couldn't help to find out what could be done different in a new version. and both remixes became very different to the original ones without losing its original character.
plight remix is a combination of german spoken lyrics by ursa major, the music of anton webern and the remixed multitrack material whereas premonition remix stayed instrumental only. so the cd should be filled to the edge. would presume that most of you have never heard the name of anton webern who was a composer during the fist half of the last century with a special sensivity for the quality of emptiness – what shall I say more, better you lend your ears to this timeless combination of different genres.
Latest news on the Holger Czukay site (March 3, 2009):
sorry for the little delay but we have a blockade situation with the further releases of my back catalogue. total still stand now! from my side we could go on any moment to let you hear all the new remixes and bonus tracks etc which i'm really proud of. however, i have to retain all tracks as my momentary record company hasn't paid outstanding bills for years and from david sylvian i don't get any reaction about rereleasing our 2 common albums plus 2 remixes. sorry, that's the way it goes sometimes, dear. time will tell…