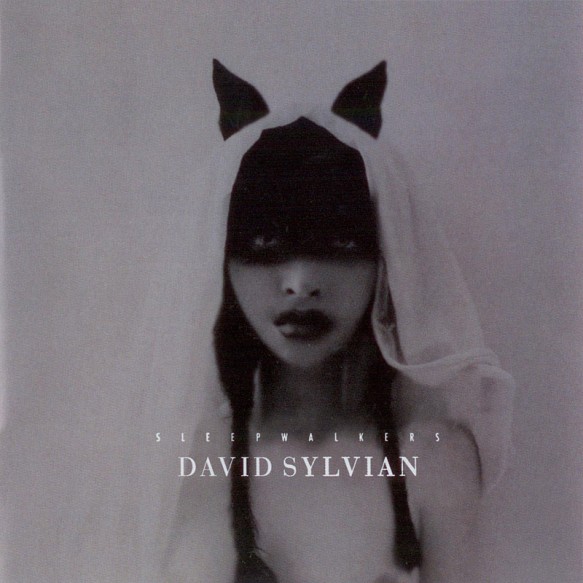 This page contains a compilation of reviews as found online, in papers and magazines about David Sylvian album Sleepwalkers.
Latest:
– Dusted magazine (December 2010)
– Mousique (October 2010, dutch)
– Mojo (December 2010)
– Prog Archives (November 2010)
– Irish Times review (November 2010)
– Pitchfork review (November 2010)
If you have/found a review which is not listed here or a review by yourself? Please contact me to give it a home on this page.

Dusted Magazine (2 December , 2010)
David Sylvian :: Sleepwalkers
by Marc Medwin
Those who admire David Sylvian's solo trajectory over the last 26 years do so, in part, because the language of his music has changed so drastically and so often. Even from the post-Japan romantic pop of his debut, Brilliant Trees, to the jazz-inflected ambiences of Gone to Earth only a few years later, composition and timbre have morphed considerably. Sleepwalkers is a compilation of non-album collaborations encompassing the last 10 years, and now, the only sound unifying all tracks is the dark-tinged smoothness of Sylvian's voice. The music ranges far and wide, embracing acoustic and electronic instruments with equal frequency while allowing for the pregnant pauses that Sylvian uses to interject his pithy lines.
If points of definition in Sylvian's career might be referenced, the musical language here does not go beyond that on 2003's stark Blemish, save in one case. As with that album, the ghosts of instruments related to popular music rear their heads regularly. Even the outtake from Manifon that gives the compilation its title, a collaboration with Martin Brandlmayer, does not share a soundworld with Sylvian's latest disc. That said, the song's scorching lyrics and percussion, by turns stuttering and booming, makes it a wonderful opener. By way of fine contrast, at the other end of the spectrum, the only solo track, "Trauma," bristles with energy and writhes through a complex drone. Even the more "traditional" material, such as the two Nine Horses tracks, are only so on the surface, brimming with sublimated energy and dotted with rhythmic accents.
The album's biggest challenge comes with "Five Lines," the most recent track here and a first-time collaboration with composer Dai Fujikura. The lean-textured impressionistic strings are a perfect foil to the spare vocals, each gesture brimming with drama. Fujikura thrives on staggered repetition, which is also in play throughout this miniature masterpiece. As with Webern's piano variation set, we get glimpses of the same motivic material from many angles, but Sylvian's melodies keep the situation fresh and the piece from stagnation.
As good as this album is, it's clearly meant for more recently initiated listeners. Most of the material has been available before, and the alternative mixes don't add much to these songs. For die-hard fans, and I'm one, the disc just conjures impatience for the next Sylvian full-length.

Mousique (18 October , 2010)
David Sylvian :: Sleepwalkers
by relirel
David Sylvian, wie is dat toch, zullen veel lezers misschien denken. Als ik zeg dat hij vroeger de zanger van de glamrockcultband Japan was gaat er vast een lichtje op, en de hardcore muziekliefhebbers kennen zijn post-Japan werk natuurlijk ook, inclusief het meesterwerk Manafon uit 2009.
Zijn meest recente album is Sleepwalkers, wat eigenlijk geen nieuw album is maar een compilatie. Dit album is een goede manier om kennis te maken met de veelzijdige en briljante muzikant die Sylvian is. Ook al is het geen best-of (het album bevat voornamelijk samenwerkingstracks en leftovers, toch is zijn hele ouvre, wat uiteenloopt van jazz, avant-garde, electropop tot verstild singer-songwriter materiaal, erop vertegenwoordigd. Veel nummers zijn ook opnieuw opgenomen of geremastered, waardoor het ook voor de verwoede verzamelaar nog interessant is.
Het eerste nummer is erg minimaal en verstild, waardoor Manafon weer in herinnering wordt geroepen. Money For All is heel anders, uptempo jazzy, en komt van Nine Horses, het project waarin Sylvian weer eens samenwerkte met broer en ex-Japan lid Steve Jansen. Het is, voor Sylvian's doen, een vrolijk nummer. Persoonlijk kan ik Sylvian het meest waarderen wanneer hij met zijn lome, zware stem in alle rust zijn trieste teksten voordraagt op een achtergrond van minimale gitaarmuziek en electronische noisetapijtjes, zoals bij het nummer World Citizen, waarin hij samenwerkt met de Japanner Ryuichi Sakamoto, en het nummer Transit, waar hij net als op Manafon samenwerkt met Christian Fennesz. Ook het nummer Five Lines, een geslaagde samenwerking met de klassieke componist Dai Fuijkura, is prachtig met zijn springerige strijkers.
Zo af en toe maakt Sylvian ook prachtige sfeertracks waarop hij poëzie voordraagt, zoals bij het nummer Thermal, een gedicht voor zijn dochter.
Al met al een afwisselend album voor de liefhebber; Sylvian is – ondanks zijn vaak wat sombere inslag (understatement) – een intrigerend mens en een bijzonder artiest, die ik wel zal blijven volgen.

Mojo (December, 2010)
David Sylvian :: Sleepwalkers
by Mike Barnes
4 out of 5 stars
Compare Sleepwalkers with 2000's Everything and Nothing and it's clear that since then, Sylvian has steered his cappuccino-smooth vocals into some difficult places. He has the confidence to transform the most abstract musical backing into a song – giving this eclectic set coherence. Sachiko M and Toshimaru Nakamura's twitchy electronica on the title track evokes the free improv settings of last year's Manafon album. Sylvian's vocal cadences ar
e stately as ever, but he excels when singing something as old-fashioned as a song with chords in it. Ballad Of A Deadman is a sassy, bluesy duet with Joan (As Police Woman) Wasser, written by brother Steve Jansen; World Citizen – I Won't be Disappointed is a melancholic ballad sung against Ryuichi Sakamoto's luminous electronic backdrop; and Dai Fujikura's string quartet is exquisite on Fine Lines.

Prog Archives, the ultimate progressive rock music website (November, 2010)
David Sylvian :: Sleepwalkers
4 out of 5 stars
After long period of silence ex-Japan musician David Sylvian released his compilation album at the end of September,2010. features his greatest collaborations from the '00s, including World Citizen with Ryuichi Sakamoto, the Nine Horses project, and the new song Five Lines, a collaboration with Dai Fujikura.
Often thinking about new release of one or another crossover prog (read – pop music with prog elements) artist I afraid that it will be another simlified pop album with some pseudo-prog tricks just to make this product more attractive for (pseudo) intellectual listener. (Those lived in Uk some 10 yrs ago I believe remember popular roadster Toyota -MR 2. It was often named as " Ferrary for poor people" at that time). Unhappily, too often x-over prog releases sound as " King Crimson for simple people" these days…
Now about good things – happily there are real artists in that genre as well. David Sylvian is one of them for sure. After he left Japan (band,not country), he recorded many solo releases with almost every known progressive musician as collaborator. His albums are of different quality, but usually his music is true and open to listener.
This compilation includes his best songs from last decade. Almost all of them are remixed, and as a result this album stylistically sounds more like regular album, not compilation. Dark and light, melancholic, minimalist,electronic-based composition with clever lyrics. Tasty and intellectual music. Some great collaborators as usual.
I believe far not everyone listened to David's albums from last decade. This album is a great possibility to refresh his name in your memory, all in one place. If you like elegant,tasteful accessible music,without cheesy moments and pop in intellectual clothes, try this, you wouldn't be disappointed!

Irish Time review (November, 2010)
David Sylvian :: Sleepwalkers
4 out of 5 stars
David Sylvian's compilation of new and previously released material from the past decade is startling in its range and originality. The Noughties have seen the mercurial singer-songwriter foreground his signature croon as an instrumental force and melodic principle, best embodied in his 2003 Blemish and 2009 Manafon solo albums. His increasingly aleatory compositional approach has been informed by his longtime exploration of post minimalism, new jazz and electronic music. From the new title track and the previously unreleased collaboration Five Lines (with composer Dai Fujikura) to the spoken word compositions Angel and Thermal and the Nine Horses release Wonderful World , Sleepwalkers is a near-perfect recapitulation of Sylvian's recent solo work, and a must-have for both committed Sylvian-ites and still curious Japan-philes. See samadhisound.com

Pitchfork review (November, 2010)
David Sylvian :: Sleepwalkers
by Jess Harvell
6 out of 10 stars
Like many singers who came of age during glam and made their name as the new romantics were wresting English rock from the punks, David Sylvian has a voice– unashamedly mannered and theatrical and oozing wounded romanticism– that's both inimitable and divisive. It's also been the only constant in his music over the last 30 years; the man shreds styles as a rule, often as soon as listeners have adjusted to his latest changeup. So hardcore Sylvian-ophiles are usually in it for That Voice, which has grown warmer and deeper and more restrained with experience while still being recognizable within seconds. It's the reliable pleasure that's carried listeners through Sylvian's less-than-fertile periods, the collaborations that didn't quite spark, the styles that proved an ill fit for the singing, all the downsides to his ultimately admirable brand of creative restlessness.
Sylvian's voice is certainly the only constant on Sleepwalkers, a collection of his 21st century non-album collaborations that's coherently assembled, which means it flows like an album, but artistically all over the map, which means the individual songs range from several undeniable keepers to a small handful of wince-inducing missteps. Naturally, it's the missteps which stand out on first listen. Sylvian's singing, though it's more versatile than his reputation for mannered art-rock melodrama suggests, proves very, very awkward when dropped into a slab of George Michael-esque blue-eyed soul ("Money for All", complete with Vegas-y backup singers). The oddity of appropriating the style doesn't necessarily make the song fun to listen to, but it certainly dispels the rumors that Sylvian's hardened into a pop-spurning experimentalist over the last decade.
Some old-school Sylvian fans have been turned off by his 21st century albums, which have stretched verse-chorus structure to its limit while recasting both improv-style instrumental abstraction and avant electronics as a songwriter's tools. Personally I think 2003's Blemish and 2009's Manafon are minor masterpieces, but it's easy to understand why folks who fell
in love with Japan's lush, tight synth-rock might not be too keen on the way Sylvian's albums now hide the pleasure of his voice inside the forbidding box marked "free music." If you're in that camp, Sleepwalkers, despite its wildly varying quality, may come as some relief. Here, in addition to the knotty electro-acoustic/glitch stuff, brilliant Blemish-esque tracks like "Sleepwalkers" and "Transit", we also get Sylvian goes country ("Ballad of a Deadman"), Sylvian goes piano bar torch singer ("Playground Martyrs"), and so on.
Sylvian's genre-takes are always a little skewed, as befitting a guy who's worked with Holger Czukay, Ryuichi Sakamoto, and other great avant/pop synthesists. Sometimes this tweaking adds frisson to what might have otherwise been too stale, too traditional. Sylvian-goes-country twangs for sure, but it also squeals and clonks and squirms with little Matmos-like musique concrète embellishments. But on a few occasions Sylvian's sound-art touches feel like oddball window dressing on flimsy tunes. And when one of those Blemish/Manafon style songs pops up, you're struck by what a singular sound-world Sylvian's solo albums have created in the last 10 years. That's not an achievement to chuck away lightly, so it's good that Sylvian has these one-off collaborations as release valves. Sleepwalkers naturally doesn't draw you into a world as fully realized as one of Sylvian's true albums. But his fearlessness, if not quite his versatility, at tackling new sounds (and even new structures) is still a beacon, especially at an age when many of his contemporaries have fossilized into post-punk heritage acts.

Igloo review (October, 2010)
David Sylvian :: Sleepwalkers
by Jus Forrest
…Full of intricate detail and elaborate expression, this work, at differing points, features classical embellishments, intelligent composition, vibrant ballad and oriental delicacy – enough to produce almost too many standout tracks to mention…
Up in the ranks of Sylvain's finest, and certainly one of the most innovative releases of 2010, Sleepwakers is an exclusive collection of collaborative work. Featuring compositions by Nine Horses, as well as work with long term writing partner Ryuichi Sakamoto, there's plenty of other partnerships on show here; think Christian Fennesz, Jan Bang and Erik Honoré, Arve Henriksen and contemporary classical composer Dai Fujikura. Full of intricate detail and elaborate expression, this work, at differing points, features classical embellishments, intelligent composition, vibrant ballad and oriental delicacy enough to produce almost too many standout tracks to mention.
To open, "Sleepwalkers" exhibits the endearing naked spirit so closely associated with Manafon. The vocal melodies are tightly sculptured alongside those random sounding, yet most precise percussive expressions. Well-structured beats laid with striking acoustic ambience; producing a depth and intensity that melts into its own decay of reverb. "Money for All" is guided by a plucked oriental sounding backdrop, smoothed over with waves of clarinet, all falling into an exotic embrace. Serene backing vocals steer, while an injection of harmonica from Sylvian shakes up the energies, as do the subtle snippets of funk guitar, taking it into a zesty swing. "Ballad of a Deadman" has a slight southern feel. Diverse vocal harmonies from both Sylvian and Joan Wasser dominate the track with soothing violin offered as accompaniment. "Angels" sees the voice set against tribal beats, stirring faintly in the background alongside bendy bass, while "World citizen's" shimmery cloud expands around a simple chord structure. Featuring the most dramatic string orchestration by Dai Fujikura is "Five Lines." The cast of eclectic, precisely placed cries and answers, tease and contrast in the form of high-pitched violin, with viola and cello undercurrents, all accompanied by Sylvain's expressive vocal. "The Day Earth Stole Heaven" features an attractive acoustic guitar offset with a memorable bass line, acoustic drums and alluring tones of the saxophone. "Playground Martyrs" transmits a cool glow maturing from its lonely piano, before a perfectly contented acoustic guitar ballad follows with "Exit/Delete." "Pure Genius" is an exquisite work; its bass reaches down from dark clouds, immediately flooded with the haunting ambience in its tune; incidentals adding to its exotic appeal. Building into electronic scratching fuzz that rips into its surroundings, while the acoustics of the drums create a reverb that suggests an unrefined coating.
Overall, Sleepwalkers features what must be some of Sylvian's finest work, pulled from many areas of the musical spectrum; a gradual understated luminosity that interacts graciously with some glaring features.

I Left Without My Hat (October, 2010)
Sleepwalkers – David Sylvian Album Review
D'abord l'euphorie. Puis la désillusion. Et finalement le plaisir. La nouvelle de la sortie de 'Sleepwalkers' de David Sylvian a suivi ce schéma dans mon esprit tortueux et torturé.
L'euphorie. Car oui, David Sylvian fait partie de ces artistes qui titillent mon imaginaire et emballent ma joie. Je suis très loin de tout connaitre de sa discographie, mais j'en connais assez – 'Blemish' et 'Snow Born Sorrow' (sous le nom Nine Horses, avec Steve Jansen et Burnt Friedman, pour un des plus beaux disques des années 2000) pour ne citer qu'eux – pour savoir que le britannique reste un artiste capable de renverser mon cœur, entre avant-garde, rock expérimental et ambient, le tout bercé par une voix d'indie-crooner reconnaissable entre mille.
La désillusion. Après un 'Manafon' plus obscur, plus fermé mais toujours fascinant dans sa construction sonore, j'espérais un nouvel album. 'Sleepwalkers' serait celui-là. Sauf que non au final. Car 'Sleepwalkers' n'est «qu'une» compilation qui recense bon nombre des collaborations que David Sylvian a pu faire durant les années 2000. Ici, certains de ceux qui ont fait la dernière décennie se succèdent: Ryuichi Sakamoto, Christian Fennesz, Arve Henriksen de Supersilent, ce genre d'artistes. Bref, pas de nouveautés ici (à une chanson près, Five Lines, avec Dai Fujikura), mais certaines de ses meilleures compositions des dix dernières années.
Le plaisir. Un grand et fort plaisir. Car si 'Sleepwalkers' est une compilation, elle est avant tout une plongée des plus remarquables dans l'œuvre de ce petit génie de David Sylvian. J'ai beau connaître toute sa récente discographie, voir ces 16 titres se succéder avec autant de facilité – et de malice – me surprend encore. 'Sleepwalkers' est une extraordinaire porte d'entrée, un best-of (et dieu sait que je déteste ce mot) idéal pour rentrer dans l'œuvre de David Sylvian. Mais également une très bonne façon de se rappeler quel artiste essentiel il est.
David Sylvian a retravaillé ici certains titres, changé les mixes pour d'autres, histoire de donner une cohérence à l'ensemble. Et c'est une réussite à tous les niveaux. Bref, un best-of, pensé et travaillé et non pas emballé et pesé en moins de temps qu'il ne faut pour dire «argent facile».
'Sleepwalkers' est un must-have, rien de moins, qui mérite de figurer en bonne place dans toutes bonnes discothèques qui se respectent, que celles-ci possèdent les œuvres précédentes ou pas de David Sylvian. Car au delà de la compilation, ce disque pourrait presque être considéré comme un nouvel album tant il est cohérent, riche et incroyablement divers. Ce qui n'est pas le moindre des compliments.

Allgigs.co.uk (October, 2010)
Sleepwalkers – David Sylvian Album Review
by Paul Pledger
You know the story with Mr Sylvian, well at least you should do by now. If not, here's a quick guide to cut out and toss at the dog. Went to school in Catford, formed a glam-rock band called Japan with his brother Steve Jansen, along with amazing bassist Mick Karn, guitarist Rob Dean and king-of-synths Richard Barbieri. Dean left soon after their third (and first decent) album, "Quiet Life", band turned into Orient-worshipping success in the early 80s (big hits were "Ghosts" and re-released "Life In Tokyo"), group disbanded and Sylvian racked up a few solo hits, plus one or two collaborative ones with composer Ryuichi Sakamoto before heading to the hills for life as a musical-hermit.
Cue 2010…
"Sleepwalkers" is a cracking round up of 16 collaborative works that follows on in the spirit of "Camphor", the 2002 compilation that gathered his mainly instrumental work from all corners. This set concentrates on co-written pieces from the past 10 years, including two tracks from "Snow Borne Sorrow" by Nine Horses (occasional project with his brother and others), two from "Slope" (a solo album by his brother – there's a pattern here!), appearances on albums by Readymade, Arve Henriksen (an ECM jazzist), Punkt and, one of the stand-outs here, "World Citizen" with Sakamoto.
If you were expecting a repeat of the tough glitch-techtronics of later solo albums, "Blemish" and last year's "Manafon", think again – most of the sixteen songs are accessible examples of Sylvian and partners' collective muses.
Skipping the profanity-ridden title-track (you can take the boy out of Catford etc), I head to the excellent second and third songs for a true representation of what this man is capable of. "Money For All", again by Nine Horses but this time from an EP, is a smoky almost funky swamp-blues number that links rather well to the following bluesy Steve Jansen track "Ballad Of A Deadman". Excellent pairing – and it gets better. Another essential moody song, "Playground Martyrs" plus the sweet little Durutti-esque "Exit/Delete" by Takagi Masakatsu and more familiar surroundings of "Pure Genius" by Tweaker fill my ears rather pleasingly.
The Sylvian croon shimmers throughout this collection, none more so than on the dozen or so examples above, plus the only track that resembles his more recent period, "Transit" with electronics-powerhouse Fennesz.
Where it slips under the radar, apart from the title track, is on the exclusive track on here called "Five Lines", a wayward and stop-start melange and the all-too-brief "The World Is Everything".
Quite simply, this is Sylvian's most essential album since "Dead Bees On A Cake".
Paul Pledger

Flashlight Music (September 7th, 2010)
David Sylvian – Sleepwalkers
by Jason A. Parkes
4 out of 5 stars
The last decade or so has been hard work for the most ardent followers of David Sylvian. Following the loved-up Dead Bees on a Cake, Sylvian tied up his back-catalogue and twenty-year tenure with Virgin and went somewhere else. That somewhere else was his own indie label Samadhi Sound where he has released exactly what he has wanted to, including his divorce album Blemish and last year's even more "difficult" Manafon.
A key facet of Sylvian's career has been collaboration and while he collaborated with a mass of talents including Holger Czukay, Mick Karn, and Ryuichi Sakamoto, since leaving Virgin he has collaborated even more – it appears that much of this work has fed back into his own records. Sleepwalkers is a 16-track compilation centred on this work, though similar to the Virgin-comp Everything and Nothing, Sylvian has remastered and remixed this work for "personal requirements."
There are many highlights on here, most notably the material from Nine Horses, Sylvian's collaboration with brother Steve Jansen and Burnt Friedman and his most pop-release since 1984's Brilliant Trees. 'Wonderful World', a post 9/11 themed song featuring Stina Nordenstam is easily one of Sylvian's finest moments. A couple of other collaborations with Jansen are present and suggest the pair should work together more often – both 'Ballad of a Deadman' (with Joan Wasser) and 'Playground Martyrs' standout.
There are some obscurities and unreleased tracks including the title track with Martin Brandlmayr, 'Exit/Delete' with Masakatsu Takagi, 'Pure Genius' with Tweaker, an out-take from Blemish ('Trauma'), 'Transit' with Fennesz and 'Angels' with Punkt that all find a deserved place on this compilation. It's also great to find the brilliant Sakamoto-collaboration 'World Citizen – I Won't Be Disappointed' included (this song may have found more of an audience used in the soundtrack to Babel).
Mark Lanegan apart, it's hard to think of an artist w
ho has created almost a separate career in collaborations; indeed it's just a shame that Sleepwalkers is confined to one disc. Had there been another disc there may have been room for such wonders as recent out-takes like 'A Certain Slant of Light' and 'Jacqueline', another Sakamoto-collaboration 'Zero Landmine', the earlier Tweaker-work 'Linoleum', Sylvian's appearance on the last Joan as Police Woman record, 'Messenger' with Blonde Redhead, 'For the Love of Life' from Monster, or the version of 'The Librarian' with Jaki Liebezeit. I would recommend seeking these tracks out also.
With the official release of Sylvian's collaboration with ex-wife Ingrid Chavez (Little Girls with 99 Lives) and a reported appearance on Isabelle Adjani's upcoming album, there's no sign of Sylvian the collaborator ceasing anytime soon. Though in light of Mick Karn's serious illness and lack of funds, if Sylvian felt like playing something with Richard Barbieri and Jansen as Japan in benefit of, that would perhaps be the ultimate collaboration.
Jason A. Parkes

Kevin Milburn for davidsylvian.net (September, 2010)
Sleepwalkers by David Sylvian
by Kevin Milburn
6 out of 10 stars
So, today I got my mitts on Sleepwalkers and have to say am feeling slightly underwhelmed by it. First off, the text seems to be printed upside down on the actual CD (unless Samadhi are just being even artier than usual). Second, the new track 'Five Lines' is a bit of a turkey, with some ropey lyrics by David; won't be holding my breath for the Dai Fujikura remixes of Manafon.
Elsewhere none of the tracks have really been particularly radically re-mixed despite the pre-release blurb. A few extra glitch sounds thrown in, vocals re-positioned in the mix, that sort of thing, but nothing particularly notable, although Ballad of a Deadman does benefit from being 1 minute 10 secs. shorter than on Slope.
Also, as with Everything and Nothing, David can't stop himself from getting everything sounding sonically (and vocally) similar. So one aspect that helped to made tracks like Pure Genius and Exit / Delete originally enjoyable, namely the fact they sounded a bit different to David's own output, is negated here by his incessant tinkering. Pure Genius in particular suffers from sounding less 'rawk' than the original. Thus the resultant effect is that the compilation hangs together fairly beautifully but it all ends up sounding a bit samey and dare I say it one dimensional. Distress seems to be the dominant (though not only) theme. A quick check of the words in the titles: Sleepwalkers, deadman, martyrs, exit, delete, trauma gives a clue to the overall mood.
Personally I think the compilation would have benefitted hugely from the inclusion of more varied sounding tracks such as Messenger (w/ Blonde Redhead); Nine Horses' Get the Hell Out and Atom and Cell; Late Night Shopping (Tweaker remix); For The Love of Life (with Kuniaki Haishima); Late Night Shopping (Chris Vrenna remix); The Only Daughter (Ryoji Ikeda remix); Wasn't I Joe and A Fire in the Forest (original version or the Readymade remix, and given that the song was a co-write with Fennesz surely it's more deserving of inclusion on this album of collaborations than the dreary solo track Trauma?)
Of course Sleepwalkers isn't a bad album and there are some truly wonderful songs on it which, thankfully, more people will now get to hear (e.g. World Citizen – I won't be disappointed, Sugarfuel, Playground Martyrs and Exit / Delete) but overall it's rather dreary, predictable and, dare I say, it po-faced. As a summation of what David's produced over the last decade (the magnificent Snow Borne Sorrow excepted) it's spot on, in that I suspect even most die-hard fans will only play it once or twice a year, once the novelty of it being a new release has worn off.
6/10. Can do better.

King's Road blog (September, 2010)
Sleepwalkers: another masterpiece by David Sylvian
by Ilaria Rebecchi
8.5 out of 10 stars
"We contain multitudes. We're nothing if not contradictory", says about his new masterpiece His Majesty, David Sylvian.
From the rare song World Citizen, written and played with Ryuichi Sakamoto, to the songs featuring Nine Horses, or Pure Genius, born from the collaboration with Chris Vrenna (aka Tweaker) and the new Five Lines (with Dai Fukikura), the retrospective new album by the genius of David Sylvian, "Sleepwalkers", is only the last confirmation to the constant evolution of the self producted solo albums by the artist, that shines with the sparkling eclecticism of his music, perfectly combining experiment and classicism, now full of the post-Japanese influences.
The album features reworking of previously released material (some radically changed and other only a little), from the past works of Sylvian, so the light of his creative essence is extrapolated between two different lines, of the revelation of the evolution of music, and of the apparently optimistic/pessimistic views of a brave new world full of strange and mystic sounds (from violins to synths).
So the Ballad Of A Dead Man sounds like a soft new ballad from Mars touching country lines, and Angels shines of the amazing power of poetry and theatre, like an ode to ethereal spirits of the future, and the gloriusly mellifluous road on pessimism music of Nine Horse, accompained by female voices, is the top of the conquering of walls of emotion.
And, even if there's someone on Earth still not in love with Sylvian, this album will tear off their empty hearts, filling them with the love for his music.
Amazing and unbelievable. As usual!

musicOMH  (September, 2010)
David Sylvian: Sleepwalkers
by Jude Clark
4 out of 5 stars
Post-Japan, David Sylvian has produced a consistently evolving and increasingly intense series of solo albums, in particular over t
he last decade. Culminating in 2009's profound, stark and troubling Manafon, these intimate releases have run parallel to Sylvian's simultaneous collaborative work, with a wide and eclectic range of musicians and artists.
Sleepwalkers is compilation of some of the most significant of these collaborations from the '00s. It features reworkings of previously released material (some radically changed, some merely tweaked), outtakes from earlier albums, and one brand new work. It also represents, in Sylvian's own words, the "more playful side" of his body of work.
So, for those whose experiences of his music to date have come from the two previous albums – Blemish and Manafon – there is a lightness of touch and optimism of mood found here that will seem revelatory. Money For All and Ballad Of A Deadman, the latter featuring Joan Wasser and Sylvian's brother Steve Jansen, are both accessible, tuneful and animated. World Citizen – I Won't Be Disappointed, meanwhile, sings of "break[ing] the indifference", while Sylvian even claims to be "optimistically inclined" in the otherwise fairly bleak break-up song The Day The Earth Stole Heaven.
There is also a fresh earthiness to the work of this artist who has often in the past seemed not quite "of this world". A couple of tracks are peppered with some choice profanities: opener Sleepwalkers ("you fucking sleepwalkers") and Angels, where the "fuck you" is spoken, almost exhaled with a quiet menace. In Thermal he has produced a sensual, sexual and intimate rumination on his lover's body that is both upfront and erotic.
Of course, all is not sweetness and light, even on this playful side-piece. Anger runs through tracks like Sleepwalkers and Angels, while Playground Matters has a nostalgic and sorrowful tone, and Exit/Delete tells a stark and tragic tale of what appears to be "Caroline"'s (drug-induced?) death, poignantly, heartbreakingly asking: "How can it be as quiet as this / This close to the edge?" Several songs also seem to allude to relationship break-ups or breakdown – The Day The Earth Stole Heaven, Exit/Delete and Wonderful World.
This last, created with Nine Horses, is one of the standout album tracks. It's a gloriously tuneful and mellifluous take on pessimism, the accompanying female vocals somehow managing to be simultaneously emotionless yet expressive. Also marvellous are the collaboration with long-time ally Ryuichi Sakamoto, World Citizen, and the mellow, brass-inflected The Day The Earth Stole Heaven. Trauma, closing the album, is its most atmospheric track, an outtake from album-before-last Blemish that features a throbbing, resonating, pulsing backing punctuated by harsh noises such as spiralling wails, deep drones and near-shrieks.
Perhaps the most "difficult" track on the album, in terms of the challenge it presents to the casual listener, is the previously unreleased Five Lines – the first product of the current working partnership between Sylvian and Japanese classical composer Dai Fujikura. This is one of those tracks that seems crammed so full of ideas that it struggles to hang together thematically, lyrically or musically, so tightly has it been packed.
Positioning itself in a niche somewhere between the avant-garde and the more esoteric brand of pop music, this album would serve as a great "way in" to the work of Sylvian and, indeed, his musical partners. Thoughtful, considered, sombre yet still capable of surprising, it is surely set to be recognised as one of 2010's more cerebral listening pleasures.