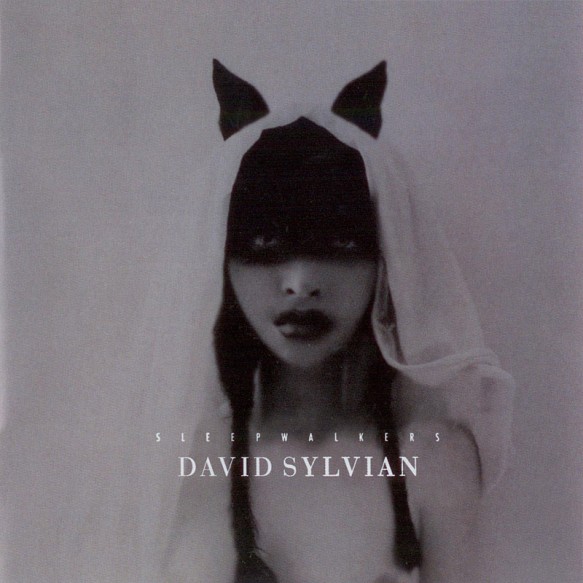 David recently completed work on a compilation cd featuring some of the best of his collaborative work of the last decade or so. Entitled 'Sleepwalkers' it contains fresh remixes by David and a new composition with classical composer Dai Fujikura entitled 'Five Lines'.
This 16 track new compilation will be released in September 26th 2010.
A number of the tracks have been given a subtle remix by David to bring them in line with his personal requirements while others have been given more obvious updates and changes. All the material has been completely remastered.
Sleepwalkers tracklist:
Sleepwalkers (with Martin Brandlmayr)
Money for all (with Nine Horses)
Ballad of a deadman feat. Joan Wasser (with Steve Jansen)
Angels (with Jan Bang and Erik Honoré aka Punkt)
World citizen – I won't be disappointed (with Ryuichi Sakamoto/Chasm mix)
Five lines (with Dai Fujikura/ previously unreleased)
The day the earth stole heaven (with Nine Horses)
Playground martyrs (with Steve Jansen)
Exit/delete (with Masakatsu Takagi)
Pure genius (with Tweaker)
Wonderful world (with Nine Horses)
Transit (with Christian Fennesz)
The world is everything (with Takuma Watanabe)
Thermal (with Arve Henriksen)
Sugarfuel (with Readymade FC)
Trauma (solo outtake from Blemish)
Compilation produced by David Sylvian.
About the artwork
The artwork of Sleepwalkers is by the Canadian visualt artist Kristamas Klousch, North Vancouver, BC. The cover of the Sleepwalkers album is called Bastet (from 2009). More work and information about Kristamas Klousch can be found at:
http://kristamas.net/home.html
http://www.flickr.com/photos/kristamasklousch/
Press release
In the 00s, DAVID SYLVIAN produced two of his strongest and most solitary statements, "Blemish" and "Manafon". But those records don't tell the whole story. In the same period, Sylvian created a more playful body of work: a series of collaborations and side projects with leading talents of pop and improv, electronic and contemporary classical music. The best of these recordings are gathered here on "Sleepwalkers", meticulously sequenced and remixed: the fruits of one-off meetings and lifelong partnerships, they jump from bliss to intrigue, romance to sensuality, as arch-experiments lead into the lushest pop.
The single "World Citizen (I Won't Be Disappointed)", written with RYUICHI SAKAMOTO, is a sublime example, with an impeccable melody and lyrics warmed by Sylvian's gorgeous tenor. Sylvian has worked with Sakamoto for close to three decades. By contrast, on "Pure Genius", a collaboration with Chris Vrenna aka TWEAKER, he sounds like he's walked into a heist flick, singing the part of a delusional, dangerous bedroom genius. As Sylvian explains, tracks like this "give me a chance to write in a way that's completely non-personal, playful. It's an exercise of some kind, working within the parameters of a given assignment."
Sylvian's longest-running partnership is with his brother, drummer and electronics artist STEVE JANSEN, and two of their projects find their way here: the NINE HORSES trio with BURNT FRIEDMAN, and Jansen's debut album (and Samadhisound release) "Slope".  "Sleepwalkers" also spotlights the innovators who contributed to "Manafon" and "Blemish". CHRISTIAN FENNESZ hangs a crackling, shimmering curtain behind the vocal on "Transit", matching his signature mass of sui generis sounds to Sylvian's stately performance, and the title track began with an instrumental handed to Sylvian by MARTIN BRANDLMAYR of POLWECHSEL, soon after the first recording session for "Manafon". Spite crackles in the gaps between the percussion, and onkyo artists TOSHIMARU NAKAMURA and SACHIKO M set the stage for the scathing lyrics in the chorus.
Like 2000's "Everything and Nothing", "Sleepwalkers" is a retrospective of the past decade – but it's also an eye-opening complement to his solo releases. As Sylvian explains, "Some collaborations seem to be a one-off exchange but you can never be too certain of that fact. Others have been long term. Ryuichi comes to mind as, of course, does Steve. And then there's others with whom you hope to continue working as you feel you've barely scratched the surface. Other times offers come out of the blue, welcome, inspired. Regardless, it's wonderful to have so many possibilities to juggle with. Each collaboration seems timely. It's as if there's a rightness to the exchange at a given moment in time."